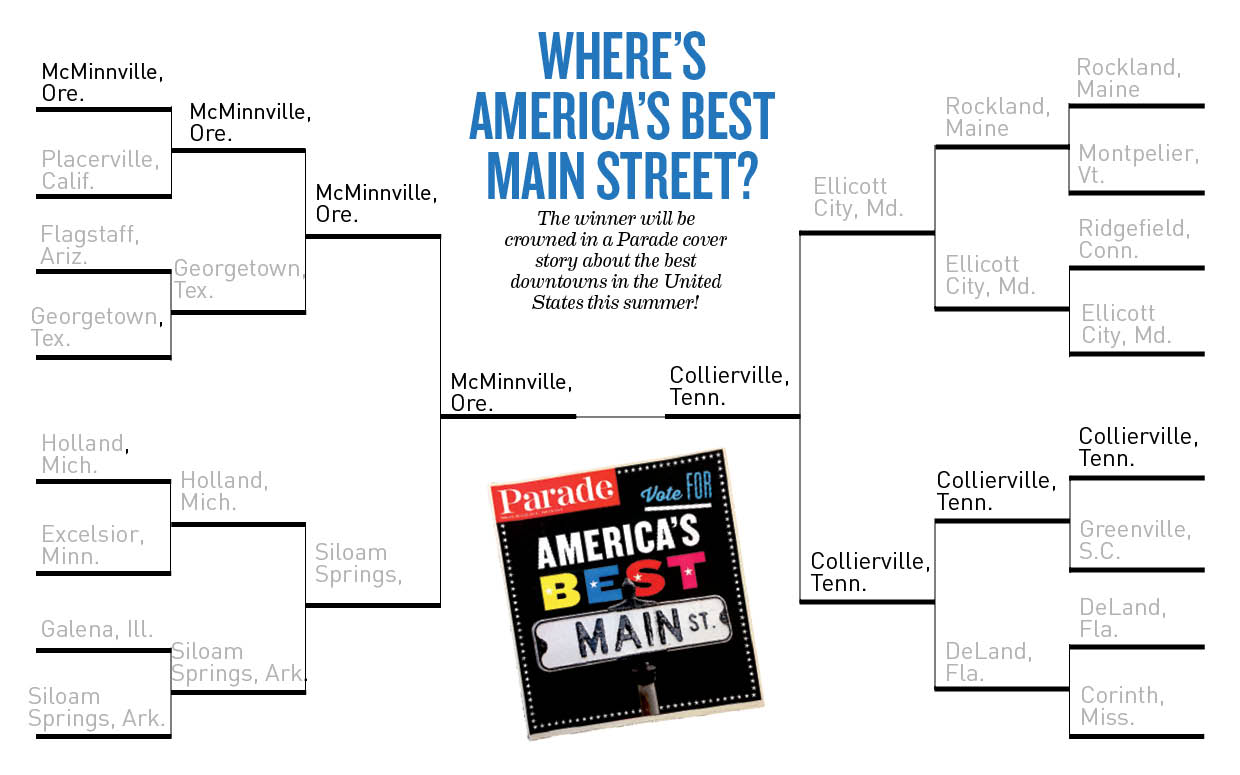 By: Jennifer Casey, LinkedIn & Twitter

If the Town of Collierville had a formula for successful communication, it would be our Strategic Communication Plan. The plan starts with a mission that reflects the overall vision of our elected officials, administration, and organization as a whole. Having a Strategic Communication Plan ensures that we articulate a consistent message while establishing goal-setting objectives to measure success. Our goals are a reflection of our values – and reaching these goals prove the value of our organization to residents and elected officials.
The Public Information Office is responsible for all of the Town's communication programs and messages. Staffed by two full-time employees and one part-time employee with experience in public relations, corporate communications, and social media, the Public Information Office integrates all messages through traditional and digital platforms to reach the 50,000 residents we serve.
"Our priority as the Public Information Office is to help this organization reach its business goals by developing communication programs that strategically position the leadership to articulate the mission, values and future direction in a consistent, professional and proactive manner. Instituting a strategic communication plan helps build a total team approach to creating a distinct message and identity for Collierville," said Mark Heuberger, Public Information Officer.
Using our "synergistic voices" and various forms of media (press releases, website content, social media posts, etc.) we are able to measure audience reach and engagement in multiple ways. A press release may be reprinted in our local newspapers or followed up with a broadcast story; social media posts across multiple platforms are shared by engaged followers.
We meticulously track every press release reprint, broadcast story, social media insights, ecommunication statistics, and website analytics. Compiling this data allows us to analyze our successes or pinpoint areas of improvement. As the Emerging Media Specialist, I have very specific goals to measure our digital communication success. For example, one of my current goals is to drive 500 sessions per month from social media sites to our website.
Using Google Analytics, I view a "Network Referrals" monthly report to see how many sessions occurred. With the same report, I can discover which platform was the most successful. Not only do I see if I met my goal (which was down during the summer, but took a huge leap back up in August!) but I see which platform consistently drives the most website traffic (Facebook).
Having the website session goal gives us a definitive way to measure our successes or shortfalls. When a month falls under 500 sessions, we can compare the messaging to a month that exceeded our goal, and gain some insight about what our audience wants. From my personal experience with digital communications, there is a lot of data available – to the point where it can become overwhelming. Setting specific goals helps to cut through the influx of data and focus on an area that we want to improve.
One of our most memorable accomplishments that garnered national attention came from the Parade Magazine "America's Best Main Street" contest in 2014. Choosing Facebook as the primary communication method, we posted the contest information and encouraged citizens to nominate Collierville. Over 2,000 main streets were nominated, yet only sixteen towns were selected as finalists; Collierville, Tennessee was chosen among other towns including McMinnville, Oregon, Siloam Springs, Arkansas, and Corinth, Mississippi.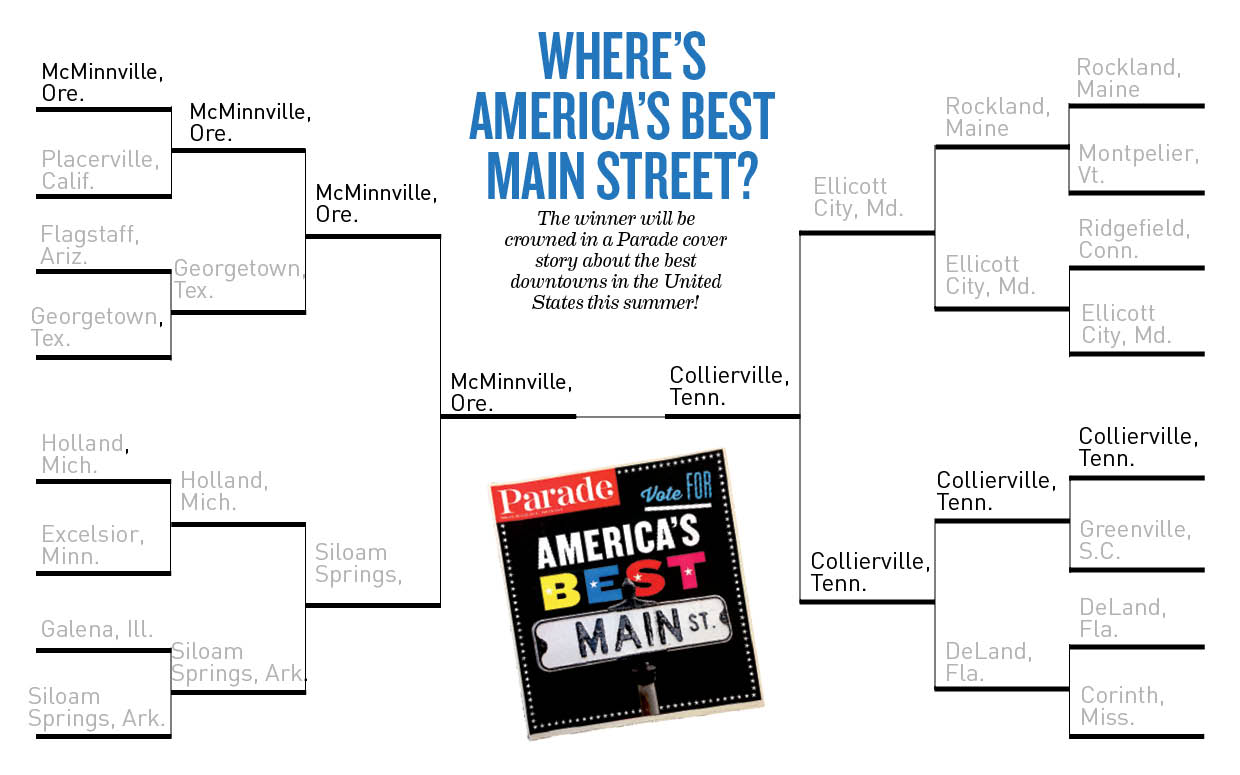 Over a four day period, the winner of Parade's "America's Best Main Street" was chosen by a daily elimination, bracket-style competition online at parade.com. During the first day of the contest, Collierville was up against Greenville, South Carolina starting a tenacious social media campaign throughout the competition until Collierville reached the final round against McMinnville, Oregon. The first day of voting reached 31,400 Town of Collierville Facebook followers; by the end of the fourth and final voting date, posts encouraging people to vote for Collierville reached 83,354 followers growing by 51,954 Facebook users. Parade wanted to announce the winning town in their August 17, 2014 edition of Parade magazine, however, they allowed the Memphis Commercial Appeal to break the news locally on Friday, August 15, 2014. When we shared the news on Facebook, the post made 106,068 impressions spanning Facebook users all across the nation.

Parade retweeted the announcement via Twitter exposing the Town of Collierville to 13,800 of the magazine's followers. The news was also announced by three local television networks, multiple area tourism websites, and even announced on the September 19, 2014 Congressional Record by Tennessee House Representative Stephen Fincher. In addition to the various media engagement, the Town received an influx of phone calls and emails regarding Collierville being chosen as "America's Best Main Street." One resident from McMinnville, Oregon (the other finalist in the contest) wrote Collierville Mayor Stan Joyner calling Collierville "a really great American town."
With the Parade Magazine title, the need to formally share our communication success to our Board of Mayor and Aldermen wasn't entirely necessary – the proof was definitely in the results. However, we do meet with them on a quarterly basis, along with our Town Administrator, to share all the communication data we track from reprints to Instagram followers. We compile the information into an executive summary that justifies the value of our communication efforts. We feel it's important to demonstrate our effectiveness to our leadership and include them in our process.
On a bi-weekly basis, Town Department Directors get together to discuss ongoing projects (which proves to be a great time to pick up story ideas for us) and gives us an opportunity to share communication success, especially relating to specific departments. While Department Directors pass success stories to their employees, we have a Town employee email list that we use to share internal information. We also copy Town employees on every press release sent to the media, so employees can be included in the process and help communicate our message to the public.
To be truly effective, today's communication professionals must be able to make the case for the budget, staffing, and programs in a communication plan. Measurement and evaluation are critical elements toward providing the facts to show your value, your credibility, and most importantly, your success.
---
Jennifer Casey is the Emerging Media Specialist for the Town of Collierville's Public Information Office, writing content for traditional and online communication, and covering creative messaging through graphic design, photography and videography. She is a graduate of the University of Memphis with a degree in Journalism.