CANCELED: Stories of Pride: Kevin Marples
---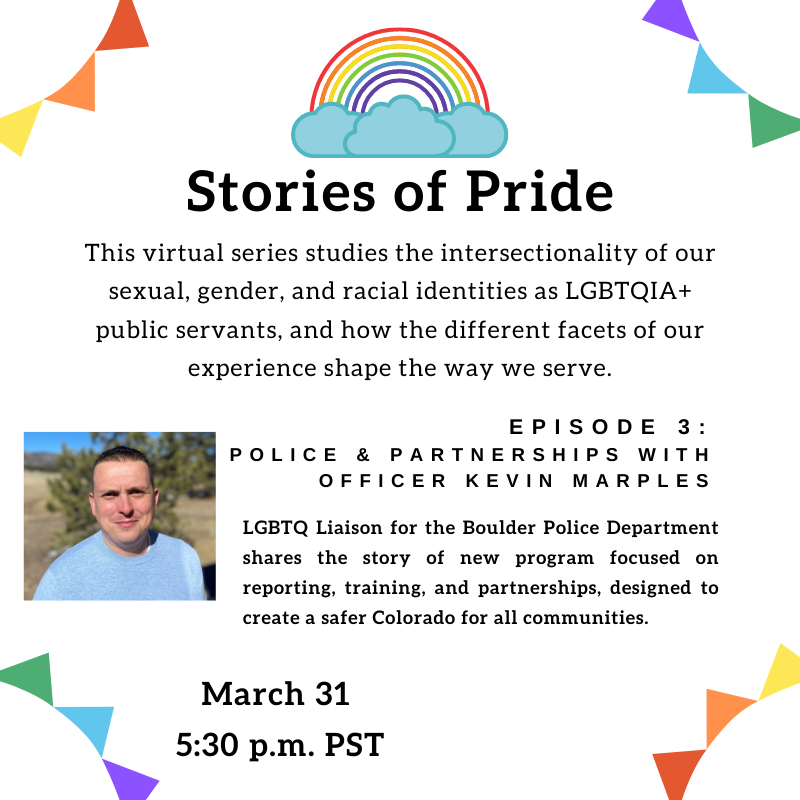 Dear Stories of Pride Attendees,
We are reaching out to inform you that this week's Stories of Pride event will be indefinitely postponed due to the grievous incident that occurred in Boulder, Colorado last week. The featured speaker for this Stories of Pride event, Kevin Marples, as well as two board members, work for the City of Boulder, and have requested that the event be canceled so that they can focus on their community and serving the needs of their constituents at this time. We will reschedule this event for some point in the future when the time feels appropriate. Please stay tuned for our next events.
On behalf of the CivicPRIDE Board, we would also ask you that you keep our colleagues in Boulder on your mind and think about the work you can do in your own community to help prevent senseless violence. As employees of local government, we are the frontline of government that responds to these types of crises, and we understand the difficult nature of these events. Our hearts go out to them at this moment and to all of the victims of gun violence in this country.
Best wishes during these difficult times,
The CivicPRIDE Board
---

Hosted by CivicPRIDE and ELGL, "Stories of Pride" is launching as a virtual storytelling platform via web-conferencing, where we ask a speaker to discuss their experiences as an LGBTQIA+ public servant. These stories may be uplifting and demonstrate community acceptance of the speaker's identity, showcase difficulties that a speaker has faced and where they have found strength to press on, or how they've met challenges in their careers and communities. Please join us for an hour of stories with time for questions and answers with Officer Kevin Marples who serves as the LGBTQ Liaison for the Boulder Police Department. We've included Kevin's bio below in full.
---
Born and raised in the Denver-metro area, Kevin started his career in law enforcement in July 2011 with the University of Colorado – Boulder Police Department (CUPD). After attending a six-month regional training academy, Kevin started the multi-phase field training process. In Spring of 2012, Kevin successfully passed training and was assigned to the Patrol Section, where he spent the majority of time working night shift. CUPD coordinated with the Division of Student Affairs to initiate community oriented policing models, which included officers working with specific Residence Halls on campus to address community concerns.
Amongst other duties, Kevin partnered with the Hallett Residence Hall, which housed the Diversity Program. The Diversity Program was a safe space for LGBTQ residence and community allies. It is through this program that Kevin first began his focus of looking for specific partnerships to increase trust with members of the community who historically had strained relationships with law enforcement. In 2015, Kevin left the CUPD, at the rank of Corporal, to join the Boulder Police Department (BPD). On June 12, 2016, the actions of an armed man resulted in the mass casualty event at the Pulse Nightclub, an LGBTQ establishment in Orlando Florida. The following days were filled with somber events and candlelight vigils, in which one of these events were held outside of the Out Boulder County (OBC – www.OutBoulder.org) Pride House, located in downtown Boulder.
OBC hosted a candlelight vigil remembering those victimized by the violence. While working Kevin volunteered to participate in this event, with hopes of providing some sense of security as members of the community attended this somber event. It is at this event where Kevin's personal life as a gay man and his role as a police officer intersected for the first time. This is also the event where Kevin met OBC's Executive Director Mardi Moore. Kevin describes this event as being the launching pad for his partnership with OBC and the inspiration to create new programs and resources for members of the LGBTQ communities. In 2017, and with the support of then BPD Deputy Chief Curtis Johnson, Kevin teamed up with Officers Trudy Hunter and Amie Roth, and OBC staff to launch the LBGTQ Liaison Program.
Since launching the LGBTQ Liaison Program, additional partnerships have been fostered with multiple law enforcement agencies. This work led to the creation of a Regional LGBTQ working group which was the inspiration for the Colorado Pride in Report Project (www.PrideInReporting.com), which launched in 2021. This program was developed with the goals of increasing the reporting of incidents of hate, providing relevant training to law enforcement, fostering meaningful partnerships, and most importantly creating a safer Colorado for all communities. Kevin is currently assigned to the Detective Section where he is a member of the Major Crimes Unit and focuses on finding justice for survivors of bias motivated crimes and sexual assaults. Kevin would also like to give a big thanks (a hug) to OBC staff members Mardi Moore and Michal Duffy, for without their help, none of this would've been possible.