Our new feature the "Executive Search" will give you an inside look into the world of executive recruitments. The world of executive searches is often misunderstood and carries a veil of secrecy. We hope you will takeaway from these features a tips for improving your profile and a better understanding of how high level recruitments are handled.
Colin Baenziger is a student of local government and responsible for the executive recruitment function at Colin Baenziger & Associates (CB&A).  Over the years, he has worked with a number of cities on recruitments and on management, operational and organizational issues.  In his efforts, he focuses on the positive and on satisfying the client's needs.  As a former manager and as someone who actively consults with governments in Florida, he understands what it takes to do the manager's job and to do it effectively.  He also understands the complexities and stresses the every manager lives under.
Starting his executive recruiting business from scratch in 1998 in Florida, CB&A is now a nationally recognized local government recruiting firm.  Some of his firm's more recent searches in the Pacific Northwest are the following:
City Manager, Tacoma, WA
City Manager, Fife, WA
City Manager, Yakima, WA
City Manager, Normandy Park, WA (currently underway)
Executive Director, South Sound 911, Pierce County, WA
Finance Director, Oregon City, OR
His firm also recently completed the search for the Borough Manager of Matanuska-Susitna Borough, Alaska.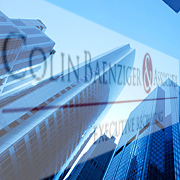 Mr. Baenziger has a Master's Degree with Distinction in Public Administration from Cornell University's Graduate School of Management and a Bachelor of Arts degree from Carleton College.  He is active in the International City Management Association as well as the Florida and Utah Chapters.  He has worked for the District of Columbia in its water and sewer utility and its tax collection department.  He also served as the first Village Manager in Wellington, FL, as a Peace Corps Volunteer in Sierra Leone, West Africa and as an economist for the Justice Department during its antitrust case against IBM in the mid-1970s.
Colin has two children.  The younger, Ian, is presently attending Brigham Young University and studying computer science.  The older, Sean, has a B.S. in psychology from BYU and an MSW from the University of Utah.  He currently works as a firefighter in North Port, FL, as a marriage and family counselor and a research assistant for CB&A.  Colin's hobbies include exercise, reading, scuba diving and growing orchids.
Give us your funniest or strangest story from a recruitment.
I cannot really think of anything particularly funny or strange that I have gone through as a recruiter.  I have probably blocked all those stories out as they tend not be anything funny at the time.  I will admit, however, that they are often strange.  People always say to me, "I'll bet you have seen everything and I always respond, "Yes, until the next search."
Three professional achievements that you are most proud of.
Building my own recruiting business from scratch to the point where it is now a nationally recognized firm.

Turning around the water billing operation in the District of Columbia.  It had been a mess for 40 years.  In fact, I was appointed to lead it in 1984 and there was a 1948 GAO report that was still largely applicable (except the operation had automated all the cockamamie practices from yesteryear and added a few new ones).  Three years later, the operation received an "A" rating from Washingtonian magazine.

Designing a computer system for the Recording Industry Association of America to pay royalties to featured recording artists and record companies based on media and equipment sales.  No, I never got to meet Dolly Parton or any of the other artists.
 Complete the sentence – before I die I want to…..
I want to return for a visit to Sierra Leone, West Africa, where I was a Peace Corp Volunteer for three years in the early 1970s, visit Costa Rica and dive the Great Barrier Reef in Australia.
Three tips for improving our profiles.

Write your resume for the job you are applying for.   Focus on what you have done in your current and past jobs that is directly applicable to the next job.  If you can show the reader you have already done many of the aspects of the job you are applying for, you will have a much better chance of getting that job.

Include achievements in your resume.  Many resumes focus on the duties of current and past jobs.  That shows what you have done but does not let the reader know that you did it well.  You need to add achievements to do that so include them.

Use the spelling and grammar functions in your word processing package and then get a good proofreader.  You have no idea how many Masters of Pubic Administration degrees there are in this country.
Give us your favorite interview questions:
If I gave you those, I would be giving away trade secrets.  Seriously, I like the following:
"Tell me what your biggest weaknesses are?"  It is a stock question that most people are ready for.  The answers I hear most are:
I work too hard.

I am impatient with people who do not care about the job as much as I do.

I am a perfectionist.
My follow-up question is then, "How is that a weakness?"  I often add, "As an employer, I like people who work really hard."  Or, "I should want you to be happy about people who do not care about their jobs?"  And so on.  The moral of the story is if you are going to give self-serving answers, be ready for the follow-up.  Better yet, when you give a weakness, do it in a way that shows why it really is a weakness.
"Give me six adjectives or phrases that describe yourself."  That tells me how you see yourself.  We also ask your references the same question and it is interesting to see if there is alignment.
 "Tell me what you see as the major drawback of accepting this position."  A thoughtful candidate will have given some consideration to both the good and not so good aspects of the job and have an answer.
ELGL is hosting its first annual conference next October in Portland. Help our planning committee by giving three recommendations for relevant topics and/or speakers.
I do a seminar entitled, "How to Market Yourself for the Next Job."  It deals with preparation, resume writing, references, and interviewing.  I would be happy to do it for your group.

"What to do if unflattering stories are on the Internet about you."  That would probably be a panel discussion with a headhunter, a manager and an attorney with some expertise in telecommunications / anti-defamation law.

"How to Deal with the Unethical in Government."  That is also probably a panel, this time with experienced City Managers and Attorneys.
 What the longest resume (by number of pages) that you have seen? 
It was at least 16 pages.  I stopped reading after 5 and counting after 16.  I believe a resume should never exceed four pages.  If you having trouble getting down to that, you probably cannot prioritize and need to attend my seminar on marketing yourself. 

Is government adequately prepared for the mass retirements expected in the coming years?
Some organizations are.  Most are not.  The key is to have a succession plan but I do not see many agencies that do or have taken it seriously.
Three most common mistakes by job applicants.
Not knowing when to stop talking.  The answer to an open ended question should be about three minutes long and never more than five.  Hit the high points and stop.  If the interviewer wants more information, he/she will ask a follow-up question.  Further, if the interviewer asks a yes or no question, then answer yes or no and ask if the interviewer would like you to explain.  That is an impressive response as all the other candidates will probably jump right in and explain their answers in detail.
Not knowing how to dress.  A white shirt or blouse conveys truth and sincerity.  A conservative suit or outfit is appropriate.  For women, skirts should be a decent length.  Short skirts are distracting and will not get you the job.  For men, wear a conservative, regimental striped tie.  If you are applying for a job in advertising or the movies, then ignore the preceding advice.

Bringing your cell phone to the interview.  If you want job, leave the phone in the car.
What are two reasons that our members should consider using your firm for recruitments? Two deliverables that we can't receive from handling a recruitment internally.
First, you can do everything my firm does.  It does, however, take time, expertise and resources to do it properly and most cities and counties lack one or more of those.  You all have full time jobs doing other things and recruiting properly for city managers and department heads takes quite a bit of time.  I compare it to building an addition to your home.  You can get a do-it-yourself book at the library and build the addition but it will probably take you at least twice as long and you will probably make more than a few mistakes (hopefully none that are serious).  A few years ago, we did a survey comparing how long it took us on average to complete a City Manager with how long it took the average city to do it internally.  Our average was 88 days.  The average for a City doing it internally was 8 months.
Reasons to Hire Colin Baenziger & Associates/ Deliverables
We think what separates us from the cities doing internal requirements and from our competition is:
Candidate Background Investigations.  We do all of the following before we propose the candidates we believe should be finalists for a job.
References.  In any search, we tell the candidate with whom we wish to speak.  In a City Manager Search, for example, these include current and former elected officials, the municipal attorney, the external auditor, staff members, peers, news media representatives, the director of the local chamber of commerce, community activists, and others who know the candidate. Typically we reach eight to ten people and prepare a written summary of each conversation.
Background Checks.  We conduct the following checks:  criminal records at the county, state and national level; civil records at the county and federal level; bankruptcy and credit; and motor vehicle.  We also verify education and employment for the past 15 years.
Search the Internet and Newspaper Archives.   Virtually every local newspaper has an archive that provides stories about perspective candidates, the issues they have dealt with, how they resolved them and the results.  These articles also provide insight into the candidate's relationship with the public and the elected officials.  Of course, not all news sources are unbiased and we consider that in our evaluation.
We firmly believe that all background work we have outlined above should be completed early in the process and on the top six to twelve candidates.  The client then knows that the individuals it reviews and selects from are all top performers.  They also do not have anything embarrassing in their pasts that might come to light after selection.
Our Guaranty. We will complete the search in 90 days, meet every milestone and will never ask for anything beyond the quoted price.  We will repeat the search at no cost to the client if the candidate leaves for any reason within one year and for our expenses only if the candidate leaves in the second year.
In the News
[youtube http://www.youtube.com/watch?v=SHkrnBNl1G4&w=420&h=315]