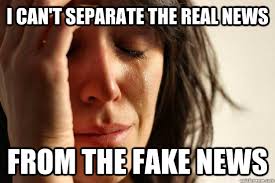 In this post, Bang the Table CEO, Matthew Crozier, discusses what local government can do to head off one of the perils of fake news.
---
The era of fake news is well and truly upon us.
A Stanford study found that fake news stories about the Presidential elections were shared close to 40 million times. The authors note that when combined with the distributive power of social media, fake news is "a potential game-changer in terms of the degree of polarization in this country."
A Pew Research Center survey found that two out of three adults (64%) felt that "fabricated news stories cause a great deal of confusion about the basic facts of current issues and events".
The threat of fake news has the potential to disrupt the ability of government organizations to make sound and rational decisions.  It also divides communities and creates fear and suspicion undermining community resilience.  
Local government has a key role to play in ensuring that fake news is not disruptive within our communities.  
It's worth pointing out that the fake news phenomenon is not entirely new.  For many years those with an agenda have exaggerated or twisted the facts to suit their own arguments and governments have used propaganda and outright lies to further their interests.
But the recent resurgence of fake news feels different. The internet was supposed to make us all better informed; social media was going to bring us together.  Instead, they are being used to mislead people on a massive scale.  Fake news has become an industry.  People are profiting from it and it is responsible for confusion, fear, and loathing on a worrying scale.
In the face of this, it is more important than ever that our local communities are resilient and cohesive.  Local government has both a key role to play, and an interest in, ensuring that factual and objective information reaches citizens.  It is no longer ok to leave this to the media because people get their news from such diverse and often unreliable sources.
The City of Longmont, Colorado is addressing this challenge through its library services, by offering a lecture to the community on how to spot fake news.  That the lecture is sold out is an illustration that the community needs and wants help with this issue.  Fortunately, the City will make the event available through the city's YouTube channel. It will be essential viewing.
Another way to address the threat of fake news is to step up direct engagement between government and citizens.  Direct engagement enables a government organization to address citizen questions and comments directly and hopefully to deal with any rumors and fake news that might be circulating head on before it does damage.
The City of Oshawa, Ontario CA gathered and responded to dozens of questions posted online by its citizens about the budgeting process. Australia Post has addressed more than 1000 questions about the future of Australia's postal services. Mandurah, a small council on Australia's west coast, dealt with more than 100 community generated questions about the plans for an historic local bridge. Auckland, New Zealand answered its community's questions about the renewal of its transport infrastructure.
All of these projects contain the sort of issues where rumors can quickly gain currency and locally targeted fake news can be used to drive political and policy decision-making.  Answering people's questions in a public and transparent way not only promulgates reliable information, it also ensures that the community does not have to go to social media for their answers.
As the world navigates an uncertain era local governments should be taking a lead role to help ensure that our communities remain cohesive and resilient.