Playing with Fire by Scott Lazenby
It rains a lot in Trillium, Oregon, but not enough to douse the political, personal and literal fires that surround the man in the hot seat, Ben Cromarty, Trillium's city manager. A suburb of Portland in the shadow of the snowy Cascades, Trillium has come a long way from its sleepy days as a sawmill town. The population is bursting. High-tech businesses are moving in. And the citizens are getting cantankerous. A proposal to reorganize the fire department quickly escalates beyond a dry policy debate. It divides the community, pitting council members against each other, the firefighters against the city, and business against business. In the middle of it all is Ben Cromarty, struggling to keep the city from consuming itself–and to keep his job. The conflict over the fire department–and over Trillium's future–plays itself out in political intrigue, legal wrangling, personal vendettas and sundered friendships. Before it is over, the city's troubles arshed across front pages, its political structure is shaken to its core, Cromarty's family faces danger, and a self-inflicted assault on Cromarty's marriage threatens to pull his personal life into the public crisis.
Convictions by John Kroger
Convictions is a spellbinding story from the front lines of the fight against crime. Most Americans know little about the work of assistant United States attorneys, the federal prosecutors who possess sweeping authority to investigate and prosecute the nation's most dangerous criminals. John Kroger pursued high-profile cases against Mafia killers, drug kingpins, and Enron executives. Starting from his time as a green recruit and ending at the peak of his career, he steers us through the complexities of life as a prosecutor, where the battle in the courtroom is only the culmination of long and intricate investigative work. He reveals how to flip a perp, how to conduct a cross, how to work an informant, how to placate a hostile judge. Kroger relates it all with a novelist's eye for detail and a powerful sense of the ethical conflicts he faces. Often dissatisfied with the system, he explains why our law enforcement policies frequently fail in critical areas like drug enforcement and white-collar crime. He proposes new ways in which we can fight crime more effectively, empowering citizens to pressure their lawmakers to adopt more productive policies. This is an unflinching portrait of a crucial but little-understood part of our justice system, and Kroger is an eloquent guide.
 A Prayer for the City by Buzz Bissinger
A Prayer for the City is Pulitzer Prize-winning journalist Buzz Bissinger's true epic of Philadelphia mayor Ed Rendell, an utterly unique, unorthodox, and idiosyncratic leader who will do anything to save his city: take unions head on, personally lobby President Clinton to save 10,000 defense jobs, or wrestle Smiley the Pig on Hot Dog Day–all the while bearing in mind the eternal fickleness of constituents whose favor may hinge on a missed garbage pick-up or an overzealous meter maid. It is also the story of citizens in crisis: a woman fighting ceaselessly to give her great-grandchildren a better life, a father of six who may lose his job at the Navy Shipyard, and a policy analyst whose experiences as a crime victim tempt her to abandon her job and ideals. Heart-wrenching and hilarious, alive with detail and insight, A Prayer for the City describes a city on its knees and the rare combination of political courage and optimism that may be the only hope for America's urban centers.
Up the Capitol Steps by Barbara Roberts
Up the Capitol Steps is a personal and political memoir by Oregon's first (and only) woman governor, one of only 34 women who have served as state chief executives in the history of the United States. Barbara Roberts offers a behind-the-scenes glimpse of a woman's life in politics and aims to "demystify" leadership by telling the story of her own unlikely rise to power. The mother of an autistic child before the advent of special education, Roberts began her life in public service as an advocate for the rights of children with disabilities. She documents her expanding political career from school board member to legislator to Secretary of State and finally, Governor. In this gripping and poignant memoir, hotly contested elections and tough policy decisions are interspersed with intimate details of personal ups and downs. Throughout, Roberts reveals the warmth and humor that show the "real" person behind the politician. Only the third published memoir by a woman head-of-state, Up the Capitol Steps is "a very significant contribution to Oregon history, the history of women in politics, and especially the history of women governors," according to series editor Melody Rose. Roberts' autobiography captures a period of our nation's political history and a view of women's expanding role in government that will bring new understanding to the term, "social revolution."
Parks and Recreation: Season Two [4 Discs] [DVD]
Parks and Recreation: 94 Meetings, Parks and Recreation: Beauty Pageant, Parks and Recreation: Christmas Scandal, Parks and Recreation: Freddy Spaghetti, Parks and Recreation: Galentine's Day, Parks and Recreation: Greg Pikitis, Parks and Recreation: Hunting Trip, Parks and Recreation: Kaboom, Parks and Recreation: Leslie's House, Parks and Recreation: Park Safety, Parks and Recreation: Pawnee Zoo, Parks and Recreation: Ron and Tammy, Parks and Recreation: Sister City, Parks and Recreation: Summer Catalog, Parks and Recreation: Sweetums, Parks and Recreation: Telethon, Parks and Recreation: The Camel, Parks and Recreation: The Master Plan, Parks and Recreation: The Possum, Parks and Recreation: The Practice Date, Parks and Recreation: The Set Up, Parks and Recreation: The Stakeout, Parks and Recreation: Tom's Divorce, Parks and Recreation: Woman of the Year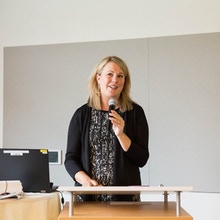 I'm the co-founder and executive director of ELGL. I love my job. Other things I love: local government, my family, my dog Michael Jordan, sandwiches, naps, books, and skee-ball.