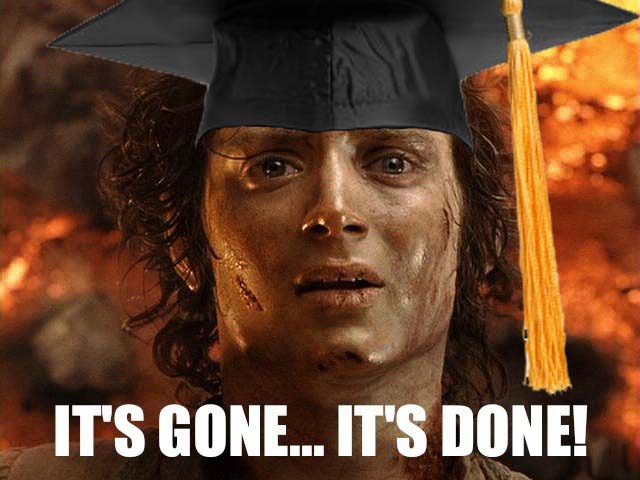 Today's Buzz is written by Lindsay Jacques, Local Government Management Fellow in Hillsboro, OR. Follow her on LinkedIn or Twitter!
What I am working on: Dockless mobility device strategy.
What I am reading: Nomadland by Jessica Bruder
What I am looking forward to: ELGL19!!
---
Graduation is around the corner for many soon-to-be full time local government professionals. Having interned in a City Manager's Office for a year and a half before I graduated, I thought I was prepared for the 'eight to five life' ahead of me. Turns out, as with any change, there were growing pains as I began my first "real job."
In an effort to prepare next year's graduates for the working life, here are some thoughts on beginning your career:
Let it go. You're no longer in control of your tasks and the way things are accomplished. You will probably have layers of bosses dictating how to get things done. It has been difficult to let go aspects of my work, especially if I'm passionate about what we're working on, and put it in the hands of others. But it's an essential part of any job to let things go, because you can't do everything, and you can't do certain things as well as someone else can.
Council meetings ARE my hobby. It was easier to have a work-life balance in graduate school (somehow between classes/ jobs/ school clubs??) because I had built-in friends always willing to go out. Starting a new job in a new place has made it so easy to spend two to three nights a week at work as I no longer have night classes to fill that time. Making intentional time for myself has been a struggle, but overall has improved and helps bring my best self to the workplace.
I'm not crying, are you crying?? You should work on not taking criticism personally. You'll working with a range of personalities and communication types. It can sometimes feel like your work, ideas, and what you bring to the table is being attacked. Try to remember that it's almost always about the work product, not about you. Not everyone has the gift of communicating criticism delicately, but you have power over how you receive and internalize the message.
Goin' out on a Tuesday?? Suddenly you're surrounded by people in different places in their lives than you. In college, we are exposed to this, but for the most part I had colleagues in exactly the same boat as me. It's important to remember you have to meet people where they're at as you begin to transfer out of your full-time student life and to be mindful about the different circumstances we're all in.
What does he do again? Learning whom in the organization should be contacted for what, and who to on copy on certain emails – learning organizational acronyms and lingo – learning which meetings are more important than others. Dealing with people that are hard to get in contact with (do I keep sending them emails, should I call them on their personal cell, should I contact their boss instead?). These questions come up where you're new to an organization, and can sometimes be layered with history that can lead to touchy subjects. Luckily, you can usually find someone who has been in the organization for 15 + years to help iron out the logistics.
I'm not an Intern, I promise. Shifting from feeling like a professional as opposed to an intern took some time. I spent so much time following people around and asking questions when I started, I felt like I was still a college student. But you have to remember you've officially made it! Own your new responsible adult life, get out there, and become that #localgovballer you were meant to be.
We're all in this together. The best part about moving through a career in local government is you don't have to do it alone. Rely on the connections you built in school to help you though this transitional period. Speaking with my friends from college and sharing what we were going through reminded me that I wasn't alone. Call your old classmates, reach out to other members of ELGL, and lean on the support systems you've created.
---
A special shout out to Katie Welch and Lynze Jones for sharing some of their experiences with me and for being an awesome support system. Give these two boss ladies a follow!