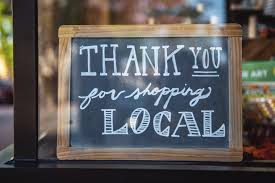 Today's Buzz is brought to you by Rafael Baptista, Senior Manager for Community Economic Development for the City of Raleigh, NC. You can connect with him on Twitter and LinkedIn.
What I am Reading: Deciding what to read next!
What I am Listening to: Latin Hits playlist on Amazon Music
What I am Watching: Boy Meets World on Disney Plus
---
In addition to the public health impact, COVID-19 is having a massive economic impact in our communities, especially on small businesses and its employees. About 17 million Americans have filed for unemployment insurance and many small businesses have had to close, some temporarily and others permanently. In today's post, I'll discuss the importance of small businesses and their short-term needs associated with the impacts of COVID-19. 
I have heard the saying "small businesses are the engine of the American economy" many times and it's pretty true. America's approximately 30 million small businesses employ about 37.5 million Americans. These businesses keep money in a local community, are active members of the community and tend to be the drivers of the culture of a community. They tend to be the sponsors of local school groups and sports teams and are the unofficial gathering places in a community. They are a key part of the fabric of any community, and many are hurting. A new report by Main Street America estimates that about 7.5 million small businesses are at serious risk of permanently closing in the next five months due to the impacts of COVID-19. Many of the 17 million Americans who have filed for unemployment work for small businesses. 
For many small businesses, revenues have been significantly reduced (or have completely disappeared) on a temporary basis while many of their expenses, such as rent, remain. Clearly, most small businesses will need some element of a short-term cash infusion (either through loans or grants) to cover their expenses. Some local governments will have the financial ability to meet some of those needs but most local governments will lack the ability to provide meaningful financial support to a significant amount of their small businesses. 
One area where local governments can be helpful is providing technical assistance to help small businesses navigate the complex maze of PPP loans and SBA Disaster Injury loans. I regularly talk with small business owners who are overwhelmed by the sheer amount of information out there and that are confused about which programs to apply to, how to apply, and what steps they need to do to be eligible for the forgiveness part of these loans. 
At my local government, we have hosted weekly technical assistance webinars for small business owners and hold regular conference calls with our local business alliances to share information and learn what our small businesses need. I encourage you to contact your business alliances, Chamber of Commerce and other small business support groups to help you out in this effort. The Main Street American report included a random sample of small businesses and actually found that for most small businesses, two of their biggest needs are technical assistance and penalty-free extensions on payments. 
I also encourage you to publicly share that your local government supports its small business community. 
Our nation's small business community is facing a massive crisis and we have an opportunity as a local government profession to step up and help them.