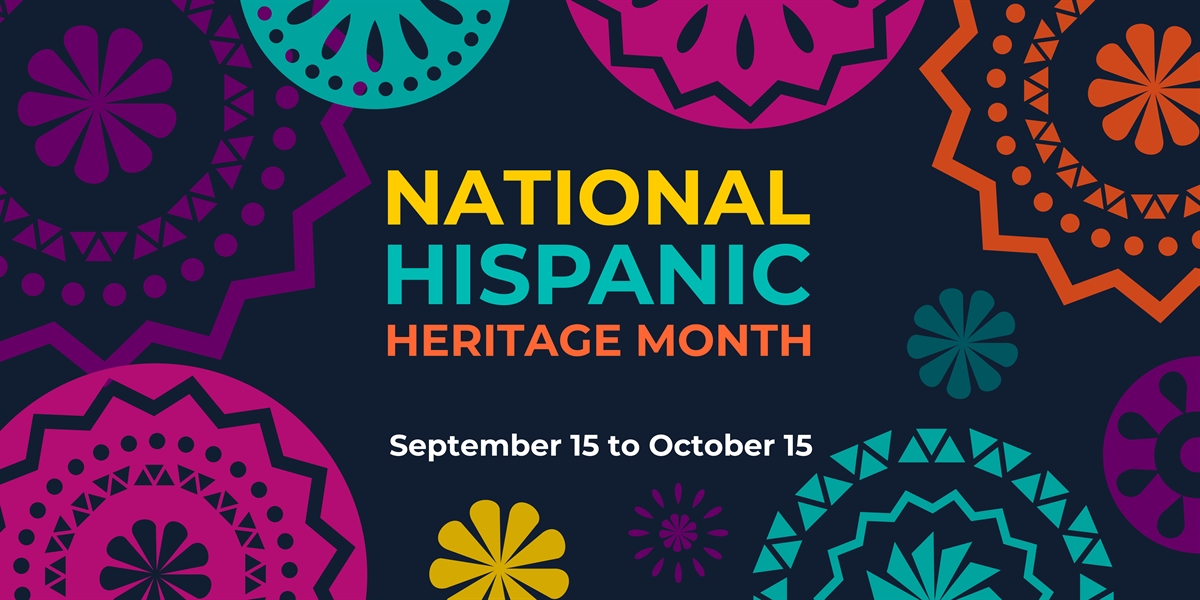 Today's Morning Buzz is brought to you by Nancy Retana, Grant Specialist/Development Coordinator for Kenosha County Division of Parks, WI. Follow Nancy on LinkedIn.
What I'm Listening To: Crime Junkie Podcast.
What I'm Watching: Manifest on Netflix. Not so much "watching" as I am "binging."
What I'm Reading: Malinche by Laura Esquivel.
---
National Hispanic Heritage Month is observed Sept. 15-Oct. 15 each year, marking a celebration of the histories, cultures and contributions of Americans whose ancestors came from Spain, Mexico, the Caribbean, and Central and South America. What began in 1968 as Hispanic Heritage Week was expanded in 1988 over a 30-day period, beginning with the anniversaries of independence for several Latin American countries. More information about the month and educational material can be found at the Library of Congress website, https://hispanicheritagemonth.gov.
Per the International City/County Management Association, the tribute that Hispanic Heritage Month plays is less about Hispanics celebrating their own culture and traditions, but more about their institutions recognizing the community's efforts and accomplishments.
Hispanic Heritage Month is an opportunity to create visibility, foster acceptance, and allow second and third generations of Hispanics to understand, appreciate, and feel more connected to their ancestry.
Hispanics are the nation's largest ethnic or race minority in the U.S. with a population of 58.9 million accounting for 18.1% of the population as of 2017. Many local governments have much larger and growing Latino/Hispanic populations. There are many ways local governments can recognize the many contributions of Latinos/Hispanics in your communities during this month. These include:
Promoting local regional tourism by organizing and promoting cultural festivals. A local festival that comes to mind for me is Mexican Fiesta, a weekend long celebration that brings the sound, culture, and taste of Mexico to Milwaukee's lakefront annually.
Foster community conversations. Gathering local community members, stakeholders, and local government officials creates a unique opportunity to foster conversations and build relationships between individuals of different backgrounds in a festive setting. These connections last beyond Hispanic Heritage Month, facilitating difficult conversations down the road and building a strong and resilient community.
Attract diverse talent by creating a diverse and inclusive (D&I) environment. Diversity encompasses acceptance and respect, while inclusion fosters an environment where individuals are valued for their differences. The Government Alliance on Race and Equity (GARE) is a national network of government working to achieve racial equity and advance opportunities to all, providing knowledge on this topic.
As a Hispanic woman in local government, I am proud of my own community of Kenosha County, WI this celebratory month. Local government leadership such as the Kenosha County Executive and other local government officials have supported Hispanic initiative throughout the years, especially recognizing local Hispanic Heritage Month celebrations. Kenosha County's diversity is enriched by a vibrant Hispanic culture, and there are many events and other opportunities to celebrate it over the coming month.
The local senior center is partnering with the Kenosha Unified School District for an "Abuelitos Day" Program, celebrating Grandparents' Day with loteria (Mexican bingo), and a Hispanic Heritage presentation.
The Kenosha Creative Space, a local creative hub supporting artists and other entrepreneurs in the community, will be hosting the "Orgullo Hispano," Festival This free, outdoor event will celebrate Hispanic culture with authentic food, live music, dancers, and more.
The Kenosha Coalition for Dismantling Racism will host a virtual conversation that explores the effects of racism on the Hispanic community and the ongoing debates surrounding the terminology used to describe the community. Local colleges and universities and the Kenosha Public Library are hosting programs and events throughout the month.
As the closest extension of government to the people, local governments have the task to reach out to the community and celebrate diversity and inclusion.
How will you and your organization celebrate Hispanic Heritage Month? For more information and resources on National Hispanic Heritage Month, contact the Local Government Hispanic Network.