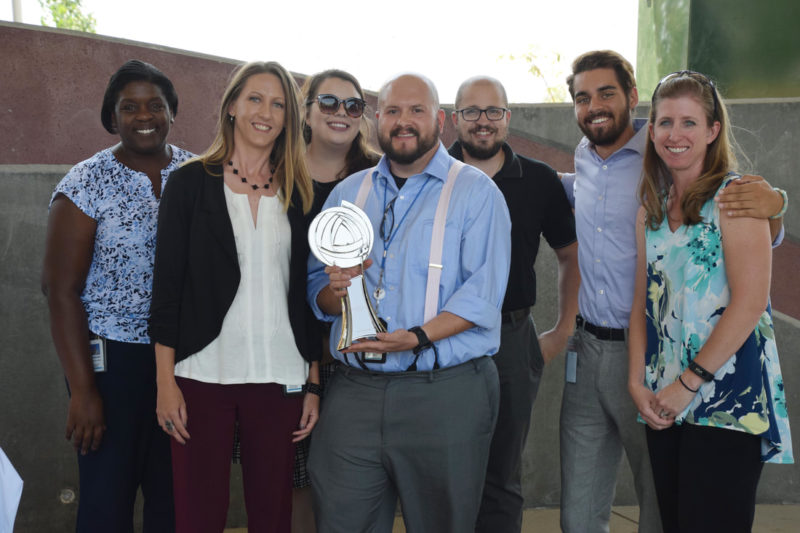 [vc_row][vc_column][vc_column_text]
This is a guest post by Sheri Chadwick, the Communications Director for the City of Centennial, CO.
CentennialCO.gov | Facebook  | Twitter | Sheri on Twitter | Sheri's LinkedIn
[/vc_column_text][vc_separator style="dashed" border_width="4″][vc_column_text]The City of Centennial became the first city government to receive the Gallup Great Workplace Award, an honor that recognizes a select group of organizations around the world for their ability to create engaged workplace cultures that drive outcomes.

Scott Brown, Gallup's Director of Business Development visited Centennial to present these three awards. "The Great Workplace Award has been around for 11 years and Centennial is the first local government to receive this recognition. This is a very competitive award and is a culmination of the best of the best," says Brown.
"Engagement is a strategic driver to performance and an organization thrives when people are engaged."
Also, Centennial's internal wellness committee received the Gallup Trailblazer award which recognizes the City for creating new roads of employee engagement that future generations of managers and employees will follow.
"Being recognized as a first time Gallup Great Workplace Award winner and seeing the City also be recognized as a Trailblazer in employee engagement is extremely humbling. I am privileged to work every day with such incredibly talented and committed City staff," says Centennial Human Resources Director Paula Gibson. 

Last but not least, Deputy City Manager Elisha Thomas received an award for being a finalist for Gallup's Manager of the Year. The 12 finalists for this award are managers who have shown high levels of performance, attain high retention of employees and achieve consistent engagement scores over time. 
Gallup's rigorous scientific research links employee engagement to nine integral performance outcomes: customer metrics, profitability, productivity, turnover, employee and patient safety incidents, shrinkage, absenteeism, and quality.
Companies with this winning combination have a competitive edge — organizations with highly engaged workforces can grow at a rate that is 4.3 times greater than that of their competitors.
All of the award recipients have shown measurable business impact as a result of having a more engaged workforce. They have achieved this by integrating engagement into four areas that Gallup has identified as vital to cultivating a workplace culture of engagement:   
Strategy and leadership 

Accountability and performance  

Communication and knowledge management

Development and ongoing learning 
For more information about Centennial's engagement journey, please email Paula Gibson.
[/vc_column_text][vc_separator style="dashed" border_width="4″][vc_video link="https://youtu.be/PQ3HA6acZ7s" el_width="80″ align="center"][/vc_column][/vc_row]