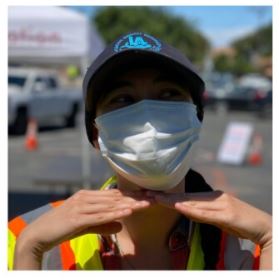 Today's Buzz is by Kendra Davis, Senior Management Analyst with the City of Santa Clara. Follow her on
Twitter,
LinkedIn
, and
Instagram
. 
What I'm Listening To:

Takénobu
– a cellist who sings and has occasional violin accompaniment that reminds me of Andrew Bird; very soothing and lovely
What I'm Watching:
Ginny and Georgia – I love a good mother daughter show, especially one that tackles racial identity, sexual intimacy and teenage emotions!
What I'm Reading:
I got VERY into lady detectives in historical fiction as a genre and just finished the
Lady Sherlock series by Sherry Thomas
. Very entertaining and mildly romantic. Also read quite a few ladies as Pinkerton detectives books, so obviously we're in a bit of a theme right now.
---
Over the last year, it seemed like mutual aid groups and initiatives were popping up everywhere (though it's a practice that is deeply ingrained in the history of tightly knit communities). Part of developing the connections inherent in a community like that survival, especially for marginalized folx. We need access to resources wherever we are, and in 2020, resources were in high demand. Toilet paper, face masks, even basics like bread and milk were nowhere to be found as the pandemic spread across the world. Later, as protests against police brutality and racial injustice bloomed in cities throughout the US, so did a widespread effort to provide bail money, protective gear and food to those marching in the streets. How did our communities access these resources? In many cases, the answer was mutual aid groups. 
Mutual aid in this context is not the mutual aid local governments often discuss, which typically refers to cross-jurisdictional agreements for services and support, largely for emergency response. As detailed in the zine by Regan De Loggans, "Let's Talk Mutual Aid," these mutual aid groups are non-hierarchical collectives committed to distributing resources to meet community needs. They work to create a symbiotic relationship where community members take on the responsibility of caring for one another.
Mutual aid operates under the assumption that everyone has something to contribute, and everyone has something they need. Unlike charities, this sustained network of resource provision blurs the line between volunteers and recipients, assuming that everyone involved fulfills both roles at some point in time.
Some examples of mutual aid: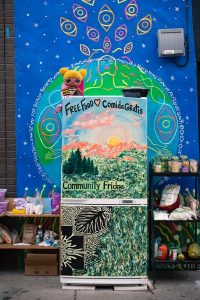 Honestly, mutual aid can look like anything because it is wholly dictated by the demonstrated need in a community! The more I heard about the work mutual aid groups were doing, the more I wondered why local governments weren't working more closely with these neighborhood connectors to amplify their great work. 
I realized that in many cases, these groups were filling a demonstrated void that was unaddressed by other jurisdictions, including local governments. While it could be argued that it is not always appropriate for the government to provide these resources, many of these groups can be at their hearts, anti-establishment, creating an obstacle to collaboration before it is even a possibility.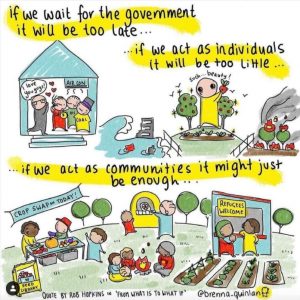 Alexandria Ocasio-Cortez and Mariame Kaba created a mutual aid how-to kit for people interested in creating their own networks, defining the effort as "cooperation for the sake of the common good." As a currently elected official working within the machine of government, AOC's hearty endorsement of the benefits of mutual aid speaks volumes for its efficacy in achieving goals that government may not be able to access.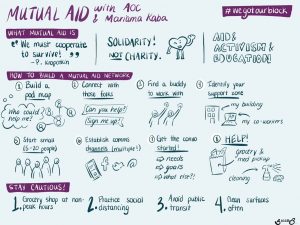 The toolkit describes how communities can build capacity and connection within themselves to both empower and engage neighbors and friends in mutual aid efforts. What it does not do is describe the role of government in supporting or amplifying these efforts. Since there are so many different guises for mutual aid to appear, it's impossible to apply a one-size fits all answer for how local gov can best support these efforts. However, a recent conversation with local gov wizard, Rebecca Woodbury, shed some light on this idea for me.
During COVID-19, a community member approached the city of San Rafael with a concern about digital equity and internet access for specific parts of town that were more likely to be without internet in their homes. With virtual school and work-from-home continuing into the foreseeable future, this was a significant and time-sensitive concern. After navigating jurisdictional issues, convening stakeholders, gathering donations and basically bulldozing red tape, San Rafael was able to provide free WiFi to their Canal neighborhood to address a real, demonstrated need. Without the support of the City, this effort would have stalled as it required leveraging of existing resources, knowledge of jurisdictional boundaries and other insider tidbits. In reality, there were groups who had been championing this issue for years but had been unable to make any progress. The City was able to convene all the necessary partners to achieve this goal, as well as lend the initiative legitimacy and longevity. However, without the instincts of the community, the City would never have known this was a concern in the first place.
I'm personally still sitting with mutual aid groups and the role local government can play in supporting them, especially since my analyst brain is constantly consumed with measuring success. We often repeat the idea that, "what gets measured, gets improved," which fits in well with local government spreadsheets and performance measures, can be completely at odds with the core values of mutual aid. In true mutual aid efforts, nothing is measured because it doesn't need to be – we're not asking for proof of improvement because we don't need it. All we need is to understand our community and its needs and have a desire to respond accordingly. But the beautiful thing about mutual aid, whatever form it takes, is that it doesn't need local government to step in with support. These groups will continue to connect their communities with what they need regardless of external assistance because that's how they survive. We as public servants need to be aware of their incredible impact and humble enough to support their leadership however we can.