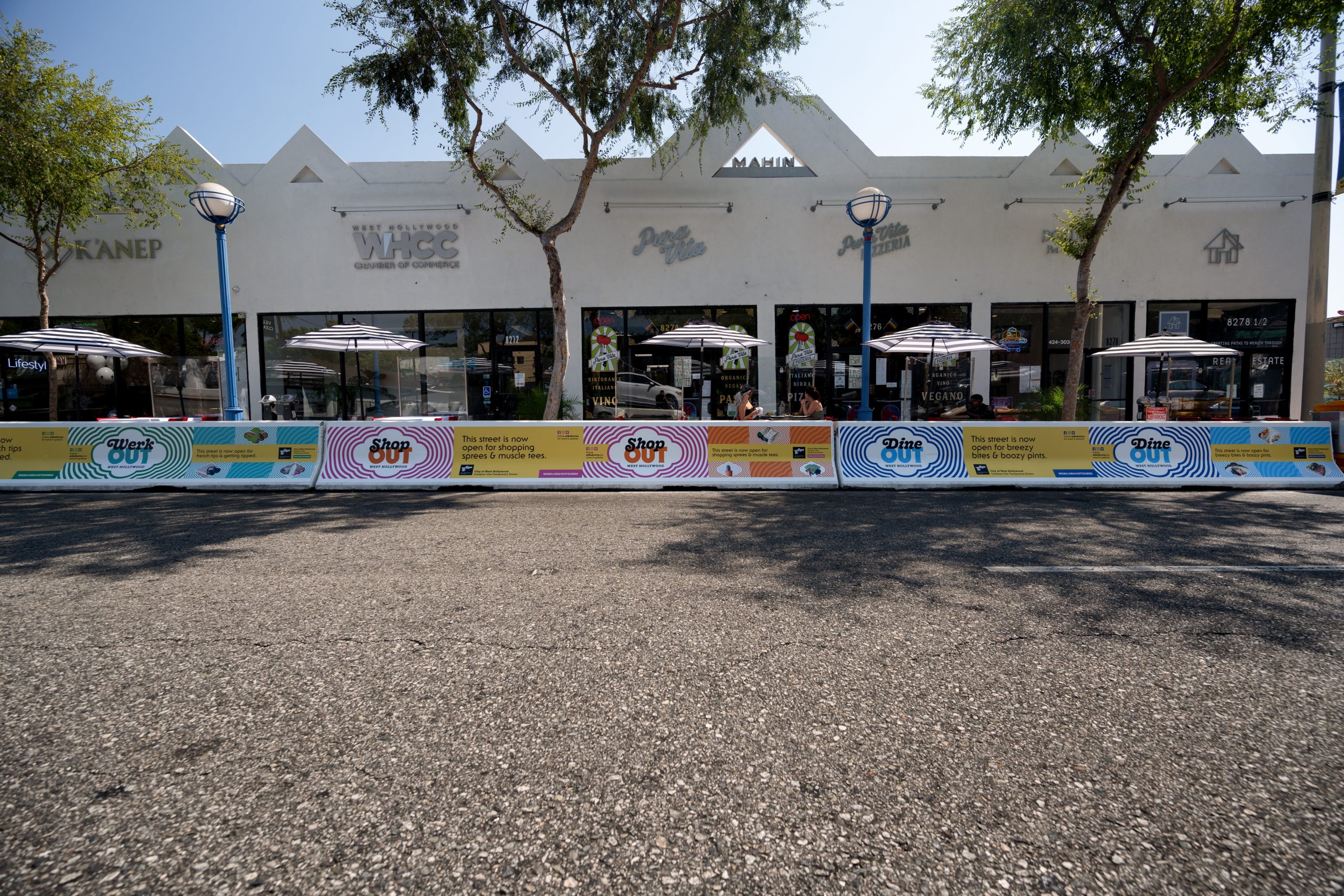 This guest article is by ELGL members Paolo Kespradit and Tara Worden with the City of West Hollwood, CA. And, if you like today's post, please join us on Wednesday, September 2, 2020 at 10PT/1ET for a free webinar titled Getting Back to Business. CityGrows' Catherine Geanuracos is one of the guest speakers!
---
The City of West Hollywood is committed to supporting our local restaurants and small businesses in their efforts to continue operating during the ever-changing and unprecedented coronavirus (COVID-19) pandemic.
The City worked with the West Hollywood Chamber of Commerce and local businesses to hear concerns and suggested solutions to arising issues.  City staff and the West Hollywood City Council worked diligently to  implement policy, ordinances, future planning, and innovative technology to provide new options for local businesses.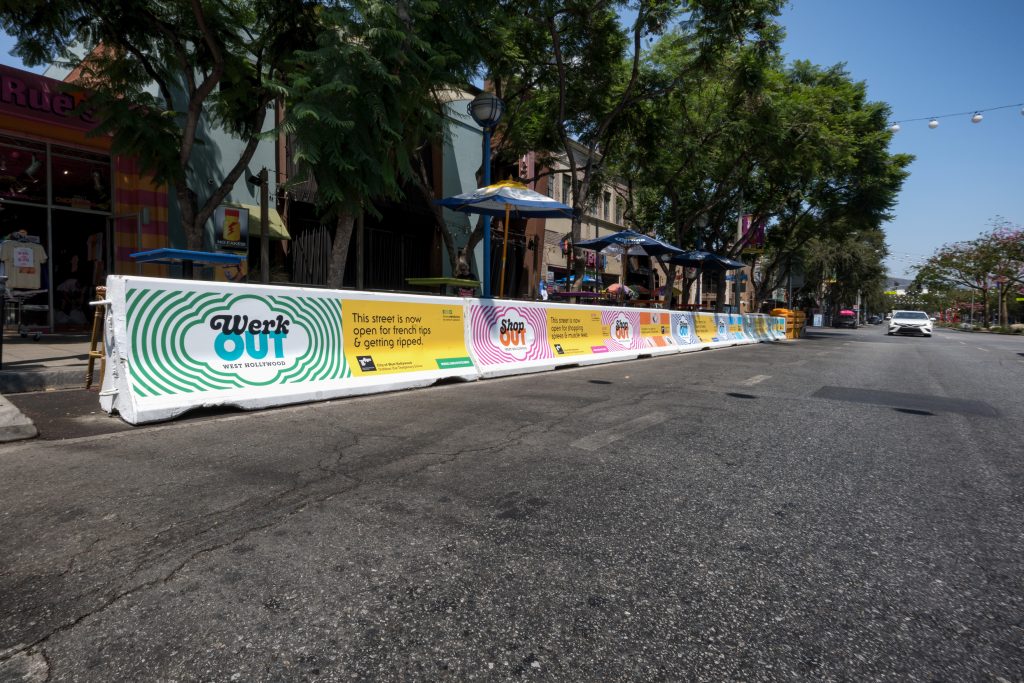 Here is the City of West Hollywood's step-by-step case study on supporting local businesses during the coronavirus pandemic:
Community Input
In April and May of 2020, City staff from the Planning, Engineering, and Innovation teams held a series of conversations internally and with local restaurant owners and community leaders to explore what the City could do to help its restaurants continue operations as safely as possible during COVID.
We began discussing options with City of West Hollywood Council Members, and developed the components of an outdoor dining proposal.
Research & Evaluation
The City's existing ordinances were reviewed to determine what might need to be amended or revised to support the new plan. As part of this research, we met with the City Attorney's office in order to help staff understand all the legalities involved and plan for changes in ordinances.
The City evaluated the most efficient ways to implement this new program, and decided to create a fillable PDF form that businesses could access from the City's website and submit via email. Staff planned to use a previously existing internal permitting system to track the progress of applications..
The City also  explored whether there would be a need to budget extra funds for anything related to this project other than staff time, and concluded that no other funds would be required.
Official Approval
After reviewing existing ordinances with the City's legal team, staff presented the plan to the City Council for approval in order to implement the program.  To help its local restaurants respond to COVID-19, the City of West Hollywood approved changes to multiple ordinances in early June of 2020, allowing restaurants to apply for a no-cost permit to use sidewalks, parking spaces, and private property (such as parking lots) for outdoor dining. This first ordinance included changes in parking space allocations, right of way usage, and more.
Implementation & Evaluation
Using a simple PDF form for applications meant that staff could immediately notify businesses and get the program off the ground as soon as the  Council approved the changes. In the first weeks of the program, staff noted that relatively few businesses applied for the permits.A program evaluation process was implemented.
Staff found that businesses who had applied were then having trouble determining the status of their permits, and only a small percentage of applicants had been approved. Despite outreach, many businesses were unaware the program existed.
Revise & Improve
Businesses needed a more streamlined way to apply and since City Hall staff had transitioned to a work-from-home environment, the program implementation staff found that there were also challenges in managing applications efficiently to move them through the process.
 Staff found that a fully digital permitting process, with applicants and staff being able to work together on the same platform, would help move things forward more efficiently and effectively. The team also realized that businesses other than restaurants needed help too. City staff was working to expand the program to outdoor retail stores and gyms/ fitness facilities, so rethinking the application process and technology at this time made sense
Although there wasn't unanimous buy-in on which software to use, program staff decided to use CityGrows to bring the Temporary Outdoor Expansion program online. Once reluctant team members saw the new system in action, they realized it would reduce their administrative work by automatically updating applicants and other team members about each application's status. 
The City of West Hollywood was already using the CityGrows platform, but even if the City hadn't been, all COVID-specific workflows on the platform are free for government entities. Staff was able to get the application and back-end review steps set up on CityGrows in just a few days, so as soon as the council approved the second version of the program on July 6th, the City launched its new online applications the very next day.
This proved to be a really important improvement when, just a week later, the Governor of California closed all indoor dining. The surge of restaurants needing quick outdoor dining permits was handled seamlessly within the new system.
The City of West Hollywood continues to evaluate and improve the program, and we're able to easily make changes to the CityGrows workflow should the need arise. Applications are getting approved quickly and staff loves the transparency and automated communication features of the new system.
While presented as a "Step-by-Step" process, this kind of rapid-response innovation is more like a feedback loop: a team will propose and implement an innovation, then evaluate and adapt it based on what's learned. This process has happened several times for sidewalk/ outdoor dining in the City of West Hollywood, and will continue throughout this fall as we get more feedback and data and develop more ideas on how to improve and expand the program further.
The City of West Hollywood hopes this case study helps you think about ways to make big changes, one step at a time!
---
Thanks for reading! CityGrows is giving away half-off ELGL memberships this month! Use this link to sign up for a year of ELGL membership for only $20! That means you can read great articles like this one all year long, for only a nickel a day!