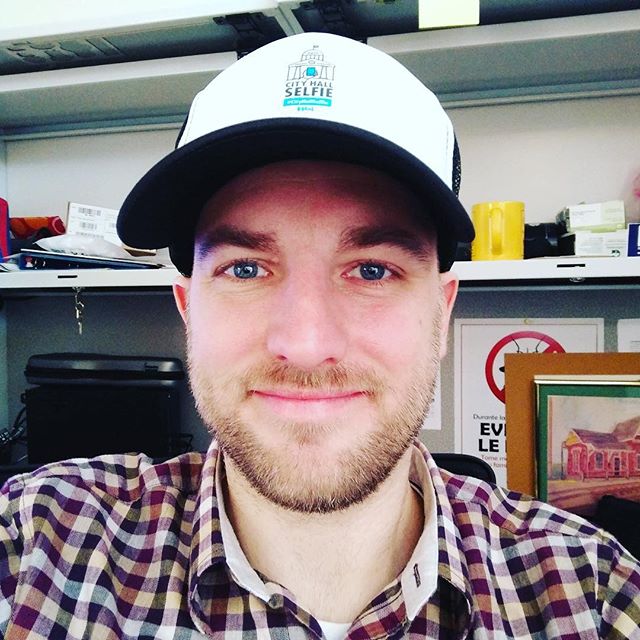 Videos, proclamations, graphic, and giveaways — the hype for the 2nd annual International #CityHallSelfie Day has been incredible. Luckily, much of the creative preparation for #CityHallSelfie Day is transferable to future projects that you or your staff may work on. Sign up to share your experience on how your organization prepared for #CityHallSelfie Day.
---
By Nick Smith, LinkedIn and Twitter
Okay, so, if you didn't know, let me preface this by saying that I am the social media person for my City. Every day, my job is to publicly crash like a #localgov wave against a cliffside of antipathy & indifference, and try to erode just a micron of it away – and I LOVE it.
What makes my job enjoyable is that, unlike most small-to-midsize City government employees whose job is relatively "newfangled," I do not have to fight this fight internally every day. While my Council, my City Manager, my Division Director, and my Supervisor all have varying understandings of and opinions on social media in general, they are all united in having created my position because they understood that communication is changing.
What makes my job incredible is all the buy-in that I've started to get out of people who don't fall in my chain of command, and this year's City Hall Selfie day is a superb example. Now, granted, I also went out of my way for this event this year. I bought a custom shirt. I contacted a flying club at an airport just outside the City. Hell, I drove five hours in a 100-mile circle – IN SUBURBAN DC TRAFFIC – to take pictures of myself.
But nobody knew that when they were clamoring outside my office asking to use the selfie stick. Nobody who emailed me pictures from different facilities around the City knew that. All any of them knew is that we were both excited – and we were excited because we got to really use social media for its best purpose: humanizing local government.
I can't take total credit for that, though. Something else that went right this year was timing & support from above. Last year, I was an ELGL newbie; I think I'd heard about the organization & signed up about 3 weeks beforehand? So, when I was pitching this "let's go outside and take a picture of ourselves BS" to our Senior Leadership Team, not only was I unable to foment any sort of "sales pitch," but it was literally coming out of nowhere.
This year, we had the Maryland Municipal League (in which our City is very heavily involved) basically decreeing our duties to take up selfie arms against our wretched foes in the other states – no offense if you're one of those horrible people reading this – but between my insistence and theirs, the effort was massively legitimized, including a high quantity of high-quality Council & SLT involvement — I even had the City Manager take a selfie at the end of the weekly SLT meeting!
Of course, not everything went right. Our Mayor (who is usually our point guard in situations like this) is on a two-week vacation to Europe. He participated from afar, but it wasn't the same as last year's selfie from the dais. And the weather! Don't let my beautiful "Tour of Montgomery County" (Sunday) or "Airplane Selfie" (Wednesday) pictures fool you, it was POURING outside, all day, until it stopped pouring and just got muggy and horrible. There was little-to-no convincing anyone to go outside. Oh, and did you notice our selfies mostly came from the street? Yeah, we're getting a new roof, so the entirety of City Hall is wrapped in the most tell-tale of temporary fences.
All in all, though, it was a fantastic day, and we got to use our social media for an incredible Randy Pausch "head fake:" we used nonsense and humor to relate, so that in the future we can garner attention and action when it's urgent and important. Why else would government use social media?