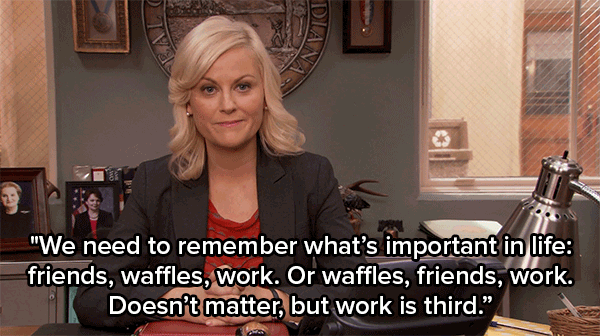 Today's Buzz is by Samantha Roberts– connect with her on LinkedIn and Twitter!
What I'm Watching: Awake (A Netflix OG)
What I'm Loving: Daylight savings – I'm all for never "falling back" again
What I'm listening to: Pistol Annies, "Interstate Gospel" on repeat
---
Does this day sound similar to yours?
I wake up around 6:30 AM to the sound of my four-year-old asking for cartoons, what's for breakfast, for me to wake up – whatever it is it's usually a list of demands that requires decision making before I want to be conscious. I get up and gather my thoughts, put some (hopefully not processed) food in us, feed the dogs, practice some basic hygiene and if I'm lucky we're out the door only 10 minutes behind schedule.
Once at his school, we scramble out of the car with his ½ eaten piece of toast (and face crumbs I always forget to wipe off until it's publicly too late to hide). We say our cute preschool goodbyes around 8:15 and I'm off to try to beat traffic and by some miracle make it into the office by 8:30. Then my day starts.
The work day starts with "passionate" phone calls from community members and email requests for all kind of records. This leads to my "creative workflow" – read: slightly haphazard given regular interruptions. My brain juggles a constantly updating to-do list of contract, archive, and public records administration, sprinkled with city council support work and reception support.  This is all mixed in with ad hoc "other duties as assigned". Most days this all ends at 5 PM, but on council nights I'm home between 8:30 or 10:30.
On my early nights, coming home means another 3 or 4 hours of parenting and wifey-ing. There's playing to do, dishes to clean, baths to make, songs to sing, days to rehash and by 8:30 PM I'm finally settling in to turn my brain off.
I. Am. Tired.
At this point I'm lucky if I can turn on at least an educational show to tune out to (Dateline counts, right?). I look over longingly at all the books yet to be opened.  I stare despondently at my computer willing myself to write all the energetic thoughts I had throughout the day. I think about how good a face mask would feel or even a lady's night with my gal pals.
These thoughts inevitably lead me to think about all the things at work for which I just can't muster the energy. The for-fun ad hoc assignments. The after-hours mixers. The professional development clubs. The thing is, I work in an organization of amazing people who are incredible at creating relationships and connection.  People who despite their tired, go out of their way to create places and spaces to grow, flourish, and connect.  I think about all this with a heavy heart, willing myself to set aside my introvertedness and participate in life.
Even in my exhaustion, my heart aches to do and be more.  I care. I do.
But. I. Am. Tired.
So on those weeks when I feel so especially ground down I just want to wallow in shame and self-pity (sorry, Brené), I do these three things:
Remind myself that I wasn't born to work, even if I love my job. At the end of the week if I have more memories of being strung out and tired rather than quality time with family or eating delicious food with friends – I know I need to recalibrate.
Recalibrate = Self-care time. For me that looks like an at-home spa night (pro-tip, Ulta has THE BEST face mask and bath bomb selections), planting some new seeds in my garden, enjoying some hot coffee first thing in the morning in one of my new Adirondack chairs, gifting to friends Leslie-Knope-style, or spending quality time with my family.
Next day, I get my work in order – because no one is too busy to organize their desk. I clear my physical space of clutter and debris (finally washing my dishes from Monday…), clear my mental space of clutter and debris by brain dumping my to-do's and priorities, and identify one non-duty related stretch goal to achieve in the next couple of weeks. For me this looks like throwing my hat in the ring for a policy analysis project, attending a networking group, or engaging more folks in ELGL.
Do these steps always lead to a new me?  Usually not actually, because I'm a parent, spouse, and American worker-bee.  I'll be tired for a while (as Grandpa says, I can sleep when I'm dead). It does, however, remind me that despite my need for rest, I really do care.  And honestly sometimes knowing that about myself is enough to keep trying.
So what do you do when you're just too tired, but your chalk-full of care for yourself, your family, your team?