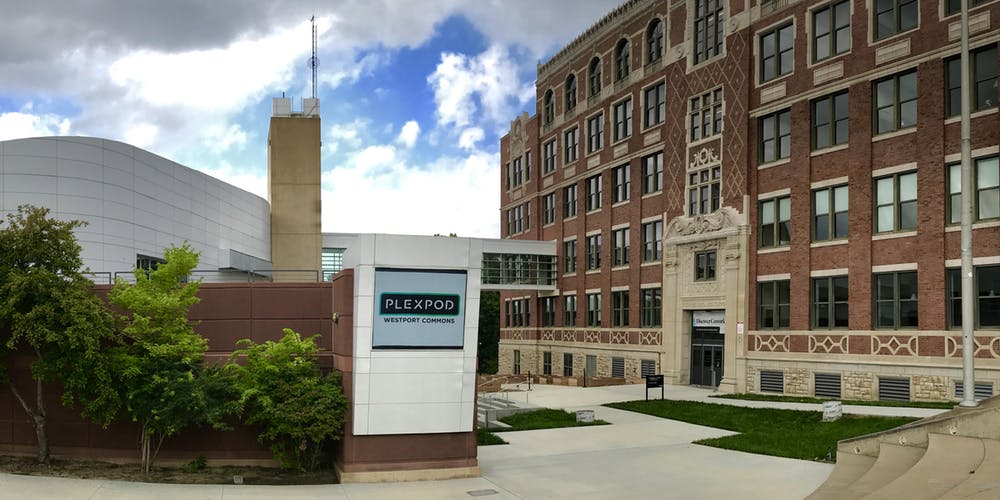 In this series, guest columnists respond to one of three topics selected by ELGL co-founder Kent Wyatt. This week Rick Usher writes about the growth of coworking space in Kansas City, Missouri.
---
I write this from Kansas City's newest and likely the world's largest coworking space, Plexpod Westport Commons.  Kansas City loves coworking and the benefits to local government engagement with the coworking community are immeasurable.  In my work as an entrepreneur ecosystem builder, I have been mapping the geography of the KC entrepreneur community and tracking the growing number of coworking spaces.  This is the second article I have written regarding the emerging innovation district project, the first was "How Coffee Shops Fuel the KC Startup Ecosystem".  These articles are assisting us in understanding the factors that drive entrepreneurship and innovation within the community.
Coffee shops and coworking spaces are the next evolutionary step for startups moving from homebased side hustles to viable enterprises that allow the startup to quit their day job.  The most successful coworking spaces provide a strong sense of community and support the events and activities that Brad Feld's Boulder Thesis states are necessary to build a successful startup community.  
Here in Kansas City, we have the world's best coworking alliance as recently recognized by the Global Coworking Unconference's Coworky Awards.  The Kansas City Coworking Alliance includes over a dozen coworking spaces across the Kansas City metro.  We also set the Coworking World Record at 196 people for the most people coworking in one place at one time on August 9, 2017 here at Plexpod Westport Commons.

My first experience with coworking was career-changing for me and ignited the Kansas City entrepreneur community in ways no one in 2010 could have understood.  I was invited to come to OfficePortKC, a coworking space in the city's Crossroads Arts & Innovation District to meet a group of entrepreneurs who had started the process of responding to Google's Fiber for Communities Request for Information.  This group of entrepreneurs was working within OfficePortKC which was not only an awesome open office space with shared kitchen facilities, free coffee, conference rooms and high-speed Internet but most importantly a community of entrepreneurs sharing business services, ideas and collaborating for shared success.  What struck me about coworking spaces early on was this open willingness of most everyone in the space to ask what you're working on, how it's going and whether there is any way they could help accelerate your idea to success.
Today, coworking space development is advancing at a rapid pace across Kansas City's growing entrepreneurial community.  In my work at the City, I am regularly meeting with startups at the coworking spaces they inhabit, attending events and activities hosted in these spaces and holding my own office hours in an effort to bring City services into the community.  Coworking spaces today are an integral part of the entrepreneurial geography and the opening of Wework Corrigan Station and Plexpod Westport Commons underscored the real estate community's recognition of the growing development of the startup entrepreneur community as an economic development engine.  The real estate needs of the startup entrepreneur do not fit traditional leasing models due to the often abrupt expansion and contraction of employees within the scaling company. Coworking spaces operate on terms that are conducive to the needs of rapidly scaling companies and they cater to the needs of employees at these companies.  The City's LaunchKC startup accelerator houses their cohort of companies at Wework Corrigan Station for a period of one year at no charge to the company as part of the grant award and related mentoring received in the program.
Coworking spaces in Kansas City are highly utilized as community gathering spaces from Startland News' Innovation Exchange to the recent StartupKC Policymaking Series cohosted by the City of Kansas City, Mo., Enterprise Center of Johnson County, The Wire, and the Kansas City Startup Foundation – coworking spaces are providing opportunities for the serendipitous collision density needed for entrepreneurial growth.
Followers of ELGL will also know that I am most accessible via Twitter, in late 2013, Melissa Saubers of Cowork Waldo tagged me in a tweet that said "Let's do this!" along with a link to the Global Coworking Unconference or GCUC (aka juicy).  GCUC was looking to take their Austin-based annual conference on the road and put out an RFP seeking a host city. Mostly through the use of Twitter and with the support of VisitKC, our conventions and visitors bureau, we landed the first GCUC outside of Austin on May 1-3, 2014.
If you are interested in supporting coworking in your community, I highly encourage you to find and amplify the efforts of entrepreneurs who are operating coworking spaces today.  If you don't have a coworking space in your community today, seek out those entrepreneurs who have an interested in launching one and support those efforts. Coworking spaces in Kansas City work together in a spirit of coopertition and are mainly private sector initiatives. So, rather than seek to launch one in your municipality, reach out and partner with your coworking community and share in their success.
---
Supplemental Reading