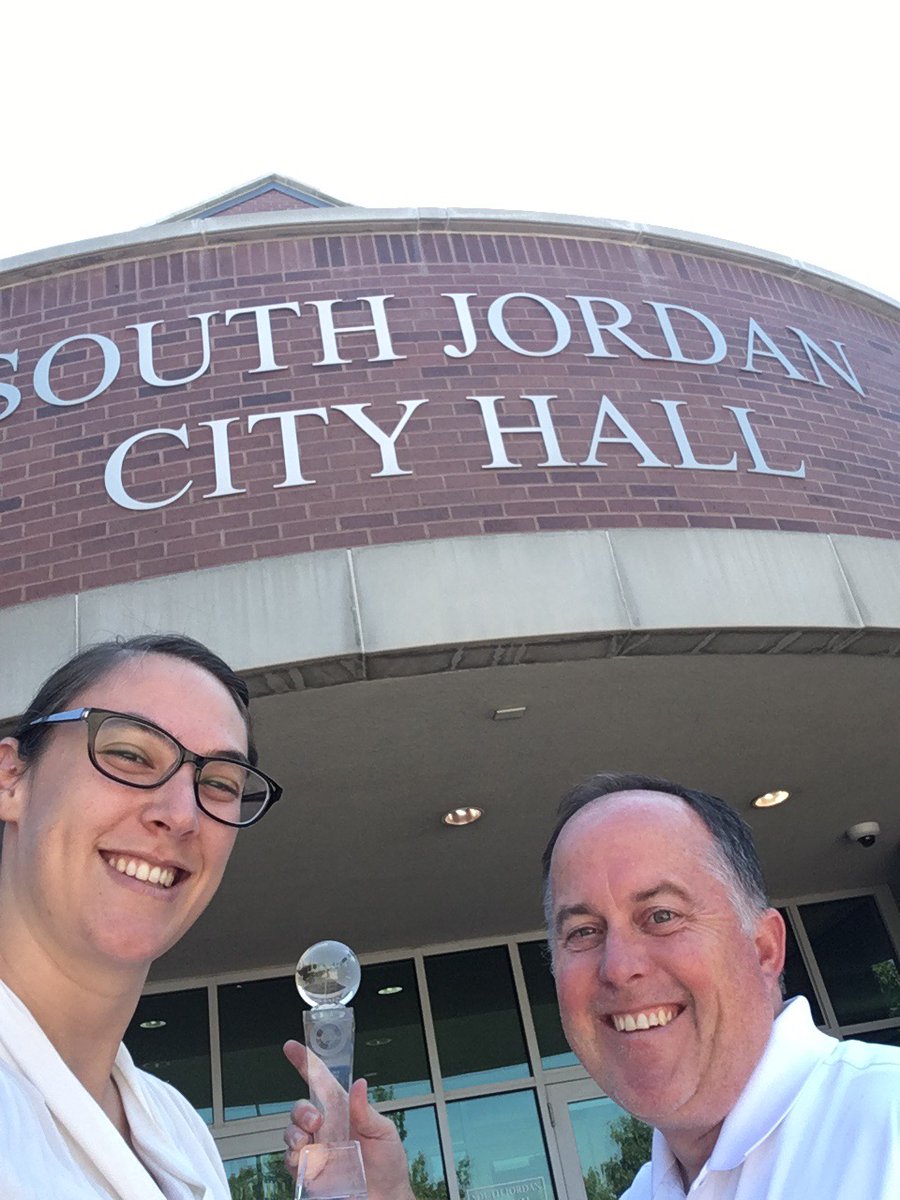 In this series, guest columnists respond to one of three questions from ELGL co-founder Kent Wyatt. This week, Katie Olson, City of South Jordan, Utah, writes about finding hospitality in local government.
---
On the eve of #cityhallselfie day, I am, in fact, writing this at city hall—South Jordan City Hall to be specific. I didn't expect to ever work at a city hall. As a kid, I equated government with politics. Moreover, I thought that governing was something other people did. I assumed there were tricky questions, but there were experts who had the answers waiting to be implemented. My family, and most others around me, usually spoke of government with an air of disgust. I wondered a lot about what the right type of career for me would be, but "politics" *shudder* was never part of those musings. 
At 17, a key experience started to focus my future plans. In a quiet, sacred moment, I felt something divine tell me that I would find the most happiness and fulfilment helping those around me through the industry of hospitality. The inspiration and peace were clear; the word "hospitality" was not.
For the first of what would be many, many times, I wondered, "Hospitality? What does that mean? And more importantly, what does that mean for me?" A friend casually mentioned that the hotel and travel industry is also referred to as hospitality. I jumped at the mention of the word, but I knew that wasn't it. That wasn't the fulfillment I was craving.
I headed to college with an undecided major. I soon declared a social work major, thinking, I've found it! A few months later, the university let me know via formal letter that the bachelor's in social work had been discontinued, though the grad program still existed. I remember crying as I read that letter, and asking, "What is hospitality and how do I find it?" 
After that, I decided to wait for it to find me. I majored in humanities, minored in editing, worked at the science college, and tried to squeeze the many things I liked into one, hoping someday I could be of service to someone. I graduated, married, worked, had children, stayed at home for a while, and then returned to work as an editor.
During one period of work as an editor, the bio of a city manager in North Carolina crossed my desk. I can still remember how the room felt as I thought, "Wow, he must love his job. He gets to do everything and help people." I did not feel like that in my employment.
Two years later I was rocking a baby in the dark, during an even darker time in my life, when I finally put the word "hospitality" with the industry of "local government" and the next step for me: getting an MPA.
As soon as I let in local government, the hospitable feeling was everywhere, bustling in and out of the many departments and divisions. Whether I was working on a project for fire or the senior center or economic development, the sense of public service was tangible. My work goals moved from deadlines to culture, and my thoughts focused on what it means to create a community where people's needs are met. Finally, the peace I'd felt promised sunk in.
It's hard to put words to, but every day in city hall feels like making a home for our residents and visitors. Last month, we broke ground on an all-abilities playground. It was hospitality made of steel and foam and the magic that comes from community. Here, we see hospitality as neighborliness play out. On the playground, kids—and parents—chat in ways they might not without this place they are freely received: no admission charge or appointment to be made.
There's struggle in local government to be sure. Cities are not always welcoming or pleasant, to put it lightly. But everywhere I go, I see good people serving, making a city with clean water and safe streets, so that those around us can experience a hospitable sense of home. It's an honor to watch.
---
Katie Olson serves as the Assistant to the City Manager in South Jordan, Utah, where she and her family also make their home.