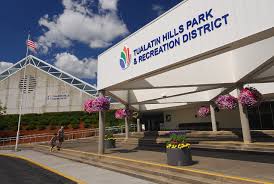 In this series, guest columnists respond to questions from ELGL co-founder Kent Wyatt. This week, Katherine Stokke, Tualatin Hills Park and Recreation District, writes about her proudest career accomplishment.
---
What does it say about me when the accomplishment I've chosen to pinpoint from the past year came at a high personal cost?  Don't worry, things have turned out fine, but when I first embarked on getting my master's degree while working full-time, I never dreamt that by the time I completed the program last fall, I'd have taken on a year-long interim promotion, dealt with family health issues, and reached a point where a leak from the upstairs bath into the garage wall was down at number seven on the priority list (under things like my car's busted transmission and edits due on a team paper).  
In short, I'm proudest of getting my graduate degree.  Even though it ran my family ragged. I believe the struggle makes the result all the sweeter.  
Those two rollercoaster years brought their share of casualties, such as inconsistent sleep, hobbies put on hold, and most of all, time away from my two young kids.  But they were temporary sacrifices, and I learned so much in the process—about applying business principles to local government. About myself. About how supportive my family and workplace are of my career goals.  My husband took the brunt of the impact, and I'm still in awe of how he encouraged me to stick it out when things got rough. His name deserves to be next to mine on that piece of paper I worked so hard to earn.  
Now that I've graduated, I get to head home after work instead of to class, so I can eat dinner with my family and read to my boys at bedtime.  I can veg with my husband and go to sleep at a reasonable time (well, usually), instead of coming home after 10pm from class and struggling to quiet my mind after the double-whammy stimulation from work and school.  In short, I get to feel like a whole person again.  
And I believe I bring a higher level of quality to my work than before I got my graduate degree.  I'm now more adept at convening, leading, and participating on teams. I'm more confident in my skills and interactions.  I believe I've become a better manager and coworker.  
Obviously, I've still got stress in my life.  The good kind and the not-so-much kind. That interim promotion became permanent, I'm happy to report—although, sadly, family health issues persist.  But grad school taught me how to compartmentalize my stress and keep things in perspective.  
I've still got that little itch to keep deepening my knowledge, to step outside my comfort zone, which is why I'm looking into getting a professional certification next.  You can always stand to learn more, right? This time I won't have to miss my kids' bedtime, and I'm pretty sure my car transmission won't die again. Hopefully.  
So, what does all this say about me?  About anyone who chooses to invest in themselves and stick with it?  That challenges beget growth. That opportunities favor and often reward perseverance and an open mind.  But most importantly, that investing in yourself requires a solid support network. It's about others investing in you too, so you can all reap the dividends together.