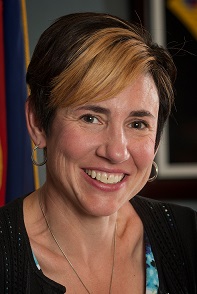 In this series, guest columnists respond to one of three topics selected by ELGL co-founder Kent Wyatt. This week, Shannon Haynes, Assistant Town Manager, Town of Breckenridge Colorado, writes about the legalization of marijuana. 
---
I served in law enforcement for over twenty two years.  During that time, I worked undercover narcotics and arrested a fair amount of folks for possessing, selling, or using marijuana. You can imagine my surprise when I moved to Colorado and, within a few years, my new town decriminalized possession of less than one ounce of marijuana. The act wasn't very impactful from a law enforcement perspective, but it sent a clear message about the Council's intent and laid the ground work for what was to come.
What came was a slow (and successful) transition from decriminalizing possession, to legalizing medical marijuana, and finally to legalizing retail sale. That's not to say, however, that the transition has been without challenges. 
Legal marijuana activities are well regulated, both state-wide and locally. The retailers in Breckenridge have generally been keen on demonstrating their willingness and ability to be responsible business owners and good members of the community. In addition to effectively regulate this budding industry, the Town did a solid job of planning for the implementation of retail sale. Town staff created FAQs and worked with local organizations – tourism, restaurant association, and lodging association – to get the word out on the "do's and don'ts" of marijuana possession and use. 
Still, there were unanticipated challenges. First, there are our ever resourceful college students. Having a fake ID in college seems to be a rite of passage. But it comes as a surprise to many that using a fake ID to get into a bar with a big, brutish bouncer is far different from using that ID at a pot shop with mild mannered, friendly budtender. The bouncer fellow will take your ID and tell you to get lost. It's a shame to lose it, but you can always get another! On the other hand, the budtender will take your ID and the security tape and provide them to police. A compliance officer, funded with marijuana tax dollars, will then check the ID and security picture against an easy to find social media profile. Every one of these kids has a social media presence. With a solid match the officer then sends a summons to the offending student's home residence. This is often a shock to mom and dad who a) didn't realize their child was in Breckenridge, b) is sure said star student would never have a fake ID, and c) is positive their kid would never buy marijuana! Breckenridge Police have issued around 100 tickets per year since 2014 when retail marijuana became legal. 
Now, let's talk edibles: a great idea for consumption without inhaling. Edibles have been a work in progress. In 2014, serving sizes left something to be desired. A brownie might technically be ten servings. Seriously? Who eats one-tenth of a brownie!? Purchasers were consuming far more than they needed or wanted. They didn't understand how much to consume or that they needed to give the product time to begin working. So when they ate one bite and didn't feel anything, they continued to eat until it kicked in – all at once. And since Colorado marijuana is strong, these folks were in for a wild ride. Ultimately, state regulators and retailers developed plans for improved packaging and serving sizes. As a result incidents of over consumption have drastically reduced.
Edibles also impacted housekeeping staff in hotels and lodging properties. It is a long standing practice for housekeeping staff to eat or take home unopened food items. On several occasions, staff members found unopened candy bars and decided to snack while they cleaned. Unfortunately, a language barrier resulted in these individuals being unaware that the chocolate bar contained more than cocoa. The Breckenridge Police Department launched a comprehensive education campaign and provided a cheat sheet of symbols for non-English speakers. Housekeeping staff were educated on the symbols and letters appearing on food products containing THC.  
I've saved the best for last, the burning question on everyone's mind: Won't taxing legal marijuana bring in big money? The answer is … (Drum roll please)… no, probably not. It will depend on the size of your community and the number of retail shops, but either way it is unlikely marijuana will solve any community's financial woes. That said, marijuana tax dollars can provide opportunities to fund services or projects that might otherwise remain unfunded. 
The Town of Breckenridge brings in approximately $500,000 per year in marijuana tax. First, the money is used to fund a compliance position within the police department, to contribute funds towards a county-wide detox facility, to fund an education program intended to increase the perception of harm associated with youth marijuana use, and to fund a local mental health non-profit. The remaining dollars are then used to support a child care scholarship program, which is essential to keeping a local workforce. 
The use of drugs and alcohol is pervasive in American culture and, given previous consumption patterns, the introduction of legal marijuana has had far less of an impact on our community than expected. It continues to lag behind alcohol and tobacco use in its impact on youth. And, in our community, citizen encounters with law enforcement are still fueled more by alcohol than by marijuana. Frankly, there is no good, bad, and ugly when it comes to marijuana. 
The process of legalization has been more about anticipation, preparation, expectations, and realizations. Our realization has been that marijuana isn't particularly bad or overly good for our community. And, though that may seem a middle of the road assessment, it is also important to note (strongly) that planning for legalization requires knowing your community. Knowing what feels right, what will not work, and what citizens expect, is all imperative to a successful implementation.