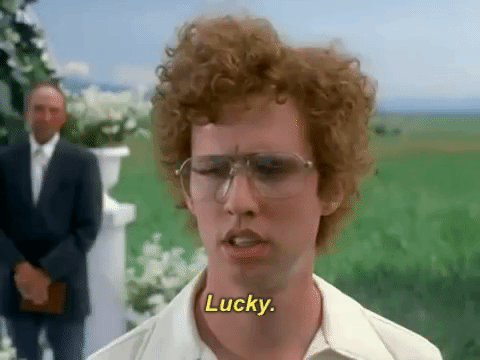 In this series, guest columnists respond to one of three topics selected by ELGL co-founder Kent Wyatt. This week Eve Sweeting, Charlotte County Board of County Commissioners, Human Resources Analyst, writes about the role of luck in her career.
---
Luck is a matter of preparation meeting opportunity. – Seneca
We all get lucky breaks in our life and our career. I've found that most of my luck comes from being in the right place at the right time, or knowing the right people. The decisions I've made along the way have helped me get to those situations.  I've gotten most of my jobs through people I know and had opportunities to impact my community and my profession through my willingness to say yes and show up. I have a career that I enjoy and that allows me to spend enough time with family and in pursuit of my extracurricular activities. In short, I think I've been pretty lucky. Here are a few of my tips:
The More You Know…
The more people that is. One of my lucky breaks came a few years at a local professional association holiday luncheon. I was approached by an acquaintance to step outside for a chat. Turns out, she was retiring soon and wanted me to apply. At the time, I was six months pregnant and not really looking for another opportunity. But, I applied anyway (see tip #2), showed up for the interview wearing my most professional looking maternity suit (no way to hide the belly at that stage), and started my new job about four months later, after delivering my baby. If I hadn't been approached, I would have never known about the prospect. I wasn't actively looking for a new opportunity, but one found me. And the hours and benefits turned out to be just what I needed. Being involved in professional associations has given me the opportunity to interact with many leaders in my community and my profession, opening doors for informational conversations, mentorships, and job opportunities. When you network, you are able to build professional relationships which can open doors and provide a wealth of informal knowledge.
2. Say YES!
So many articles I read talk about saying no to commitments to help manage your time and focus your energies. While I agree with saying no sometimes, I almost always support saying YES! Say yes to take on that big project, say yes to go to that networking event, say yes to volunteering a few hours of your time to a worthy cause. Some of my best experiences have come because I said yes, when I really wanted to say no. I have met incredible people, learned amazing things, and helped out my community in ways that I could not have imagined. I said yes, when they asked me to join the local HR professional association board (four years later, I said yes to being President). By saying YES to be the volunteer Diversity Director for HR Florida, I have been able to work on a wonderful project aimed at reducing the stigma of mental illness in the workplace (#StigmaFreeFlorida). I said yes to take on a project revising our organization's performance management system; now that we have a strong foundation, we can make further progress by implementing succession planning and growth opportunities in development plans.  (I also recently said yes to being a Girl Scout Troop Co-Leader with my daughter's troop even though I have no idea what I'm doing!) Our willingness to act determines what we can accomplish. By all means, protect your family time, protect your "me" time, but say YES every chance you get.
3. Be Present
If we are always looking at past accomplishes or mistakes, or focusing on future plans, we miss the opportunities in front of us now. Focusing on the present, we can see good luck in our daily lives and act on it. A chance encounter with a senior executive in the elevator? Engage them in conversation or ask for a quick piece of advice. Free at lunch? Invite out a colleague or someone you work with in a different department. Focus on people whom you interact with frequently. Take the opportunity to learn more about them and their role in the organization. Listen to them, really listen, and build relationships. Don't focus on what went wrong with last week's presentation – work today to make your next presentation better. Put your good intentions into practice. Yesterday is gone and tomorrow is not yet here. But starting today, you can build your own luck. When we free our mind from regrets and worries, we open ourselves up to what is right in front of us.  
For lucky opportunities to come into our lives, we must be ready and willing to accept them. Preparing ourselves, by saying yes to learning opportunities and actively building our networks, is part of being ready. Paying attention to events in our daily lives can help us recognize good fortune when it arrives. Sometimes, it takes work (like turning coal into a diamond); other times, all we have to do is get up and answer the door.