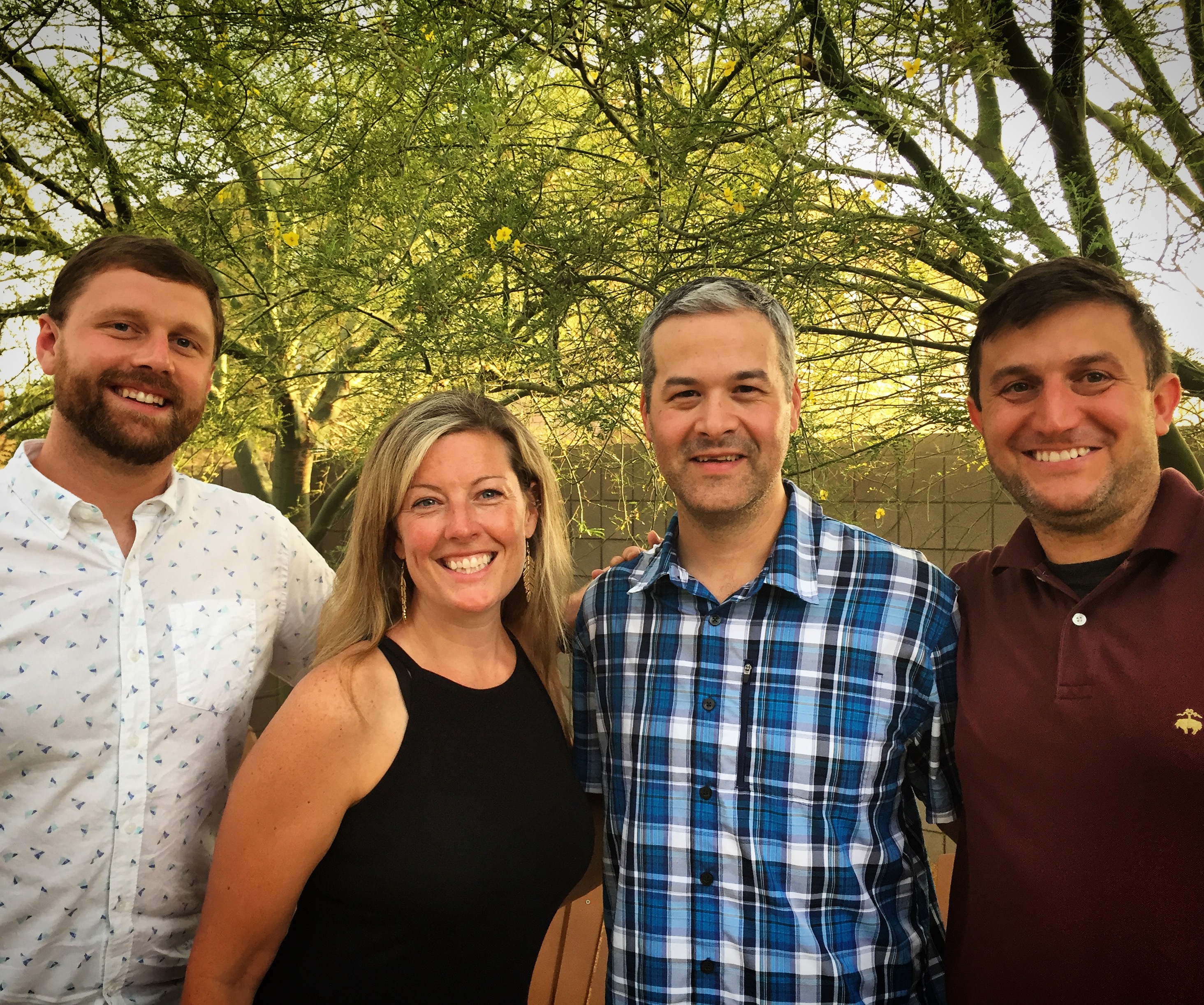 [vc_row][vc_column][vc_column_text]Not really an update – just need to show some pics of the board from tonight (in the stifling heat)!
[/vc_column_text][vc_text_separator title="Thursday, July 6, 2017″ color="custom" border_width="2″ accent_color="#dd3333″][vc_column_text]Thursday Night Recap
We made it through half of our agenda, spent about 32 minutes by the pool (the record setting heat made it almost impossible to stay any longer), and then headed to the Phoenix supper club!
Here are some pics from the evening. Side note: if you're in Phoenix, try the Angel's Trumpet Ale House. Awesome food, great beer selection, and a lovely backyard with comfy chairs, misters, and corn hole.
They also offer poutine (which would make @ELGLSconnie happy) and homemade pop tarts. Captured a classic picture of Stacy and Ben enjoying the tarts together.
A key concept we talked about at the retreat today was how ELGL's unique niche was the ability to bring together people who have a passion for public service, and to make these connections whether people live in the same community, or if they travel to that community (or, seek a job in that community). We talked a lot about how ELGL's network can make all of those connections even more powerful and meaningful and possible.
And so to end the day at a Supper Club (and then a kareoke after party… and then an after-after party, which I'm clearly not at because I'm blogging for y'all…) in a city that's not our own, but with people who are purposeful friends in this local government profession… it's like living the experience that we talked about today.
Tomorrow's meeting will continue to flesh out *how* we accomplish all of the exciting things that ELGL seeks to accomplish.
---
Scenes From Thursday
Went for an early morning walk and saw a great city park and community center:
We've also been busy going through big-picture vision for ELGL and now we're moving into operational processes:
And, we tried some Skyline Chili that Stacy packed in her suitcase from Ohio:
[/vc_column_text][vc_text_separator title="Wednesday, July 5, 2017″ color="custom" border_width="2″ accent_color="#dd3333″][vc_column_text]
Team #ELGLSleeveless or #ELGLTank
Stacy Schweikhart and I share a brain: we both brought gifts for the board that are sleeveless shirts. Mine is a blue sleeveless t-shirt; Stacy's is a yellow tank top. Both are perfect for hot weather and very, very cheesy. We have an online Twitter poll going; use the hashtag and tell us which one you like most!
---
Phoenix Supper Club – Friday, July 7
It's not too late to RSVP for the Supper Club in Phoenix tomorrow night! Sign up to meet, chat, and escape the stifling heat with your ELGL friends.
List of Grievances
I'm cranky on this flight. Airing the grievances so I get them off my chest before meeting up with the rest of the board:
A lady brought fish and chips on the flight and now the whole plane smells like fried cod.
Kent woke me up from my customary take-off nap.
I didn't download any new music and am listening to the Despicable Me 3 soundtrack.
The cookie biscuits they try to force on you on Alaska flights remind me of the zwieback cookies I used to give my kids.
Agenda Excitement
We have a packed agenda for this retreat. I'm most excited to hear what the board's one-, three-, and five-year goals are for ELGL. What are yours? Anything you definitely want to see ELGL tackle in the short and midterm? Shoot me an email and we'll talk about it tomorrow.[/vc_column_text][vc_text_separator title="Wednesday, July 5, 2017″ color="custom" border_width="2″ accent_color="#dd3333″][vc_column_text]I'll keep a running blog this weekend on the goings-on at our ELGL Board of Directors retreat in Arizona. You can check back to this post to learn what we're doing, talking about, and learning about each other. I've titled my series "I'm Melting" because here's the weather forecast for the weekend:
[/vc_column_text][/vc_column][/vc_row]