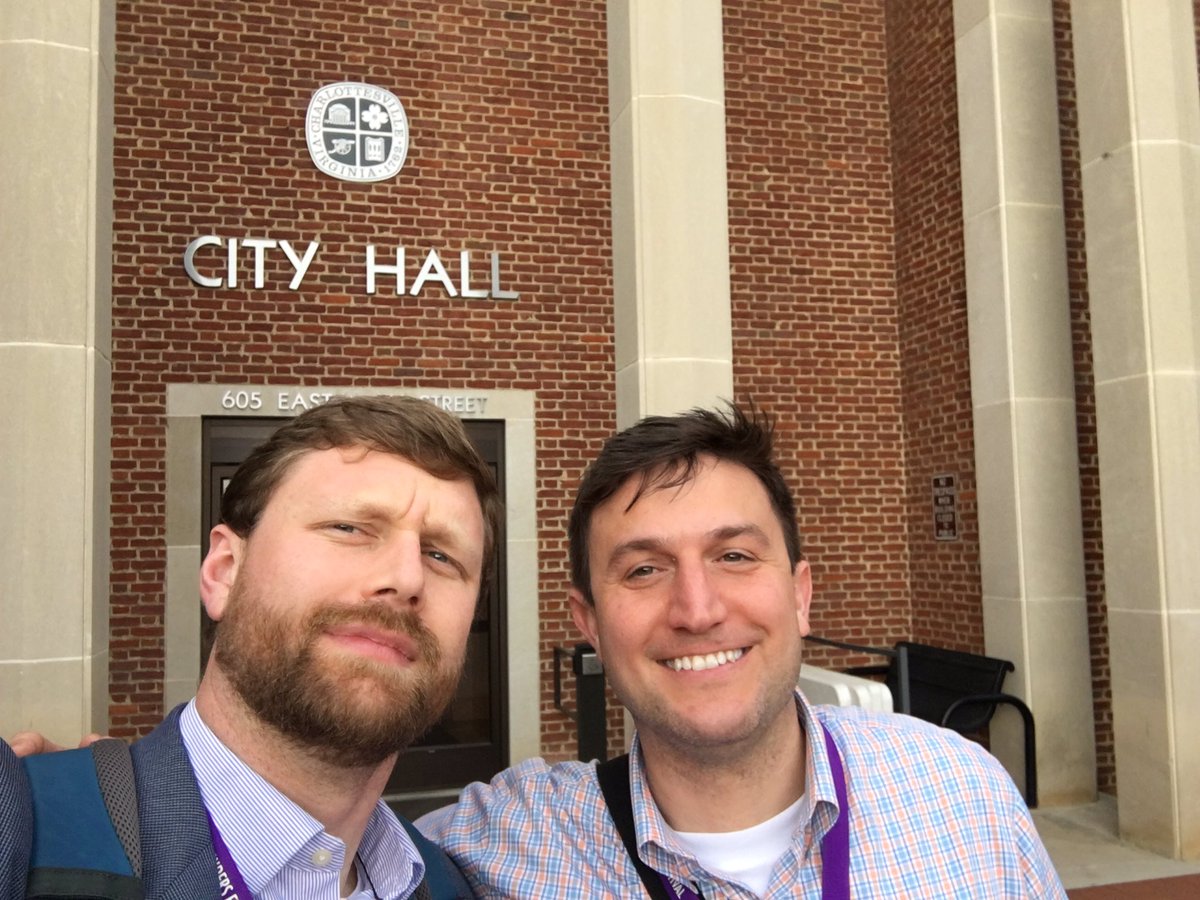 Ben Kittelson and Kent Wyatt are headed to the land of Thomas Jefferson, Dave Matthews, and Rob Lowe (born in Charlottesville) for the Hometown Summit. They will chronicle their travels in this blog post. Feel the excitement!
For more exclusive content from ELGL, join today – $0/students, $25/individuals, $250/organizations.
---
4/17/17 8:54 am ET – Posted by Ben
I'm back! I realized it's almost impossible to keep up with Kent's blogging pace, so I focused in on the tweeting and actually listening to the panels. But I did notice that Kent turned a lot of my #HTS17 tweets into a "live-blog" so stay woke on that. Now that it's Monday morning and I spent the weekend basking in the memory of the Hometown Summit I wanted to share my thoughts, and I'll do a mini-Kittelson's Corner to start the week.
Hometown Summit's Diversity
After reflecting on the weekend I think my favorite thing about the Hometown Summit was the diversity at the event. And I don't just mean gender and racial diversity, what impressed me was the diversity of backgrounds and fields at the Summit. At most traditional local government conferences everyone in attendance either works in local government or wants to. But at the Hometown Summit there were leaders from non-profits, housing authorities, downtown districts, media, universities and more.
I think the two panels I went to on Friday afternoon capture this. In the first one, I heard from a Law Professor at University of Virginia and an urbanist blogger. While the second panel featured a communications officer from Grand Forks, ND, the leader of the Jefferson School in Charlottesville, and the executive director of the Jefferson Educational Society in Erie, PA. Also in that second panel some guy that founded ELGL spoke too (more on that later).
We strive to create a more diverse conference experience at ELGL but what Hometown Summit did was our vision on steroids. I think I heard more perspectives and ideas at that conference because of the diversity, plus the attendees were approaching problems from ways we don't often think about in local government.
Kent the Utility Panelist
So when I signed up for the Hometown Summit Kent said he'd have a panel on the afternoon of the first day after Josh Edwards' session. Come Wednesday of last week it turns out Kent was added to two more panels… They must have watched some film on Kent and realized he's the ultimate utility panelist, just plug him in on anything and he'll find something to say. I know he gave me a hard time on Saturday for not making it to his session, but I did go to his other two and will claim ignorance to knowing he'd be talking on Saturday when I made my plans.
I'll definitely be sending my resume to the Hometown Summit planners so that I can get my name added to the substitute panelist list next year, seems like an easy gig.
---
Mini-Kittelson's Corner
What I Read: One of the more interesting sessions I went to at the Hometown Summit was on economic mobility. Couple of interesting tidbits: Americans are less likely to move that they have been in past decades & class mobility is linked to where you are geographically. One of the panelists also brought up occupational licensing and how our regulations can actually inhibit mobility. She had a nice little hand out and you should definitely take a look at the online version: 7 Simple Steps Cities Can Take to Foster Economic Liberty.
What I Listened To: I haven't spent as much time with Kendrick Lamar's album as I will this week so instead I'll plug the latest GovLove podcast. The next Executive Director of GFOA, Chris Morrill came on the podcast to discuss his career path, the choice to make the leap to GFOA and his plans for the organization. Just listen to it already: Listen.
Tweet of the Week: Despite the average selfie from Kent Wyatt below is my Tweet of the Week because Mayor Levar Stoney from Richmond, VA is awesome. He did a great job at the Hometown Summit and talked passionately about how local government needs to do better. He's also hiring so Kent and I are planning to become Mayor Stoney's Human Resources Director and CIO (don't tell our wives). Here's a link to a video on his first 100 days: Mayor's Minute First 100 Days.
#HTS17: Selfie with @LevarStoney and @benkittelson56 at @hometownsummit @TomTomFest pic.twitter.com/LIpvuNaw13

— Kent Wyatt (@kwyatt23) April 13, 2017

One More thing: 
Coming to a sticker pack near you, Jane Jacobs telling the world about ELGL. Thanks to the inspiration from Jane's Walk and the quick photoshopping of Patrick Rollens this should be on my laptop in no time.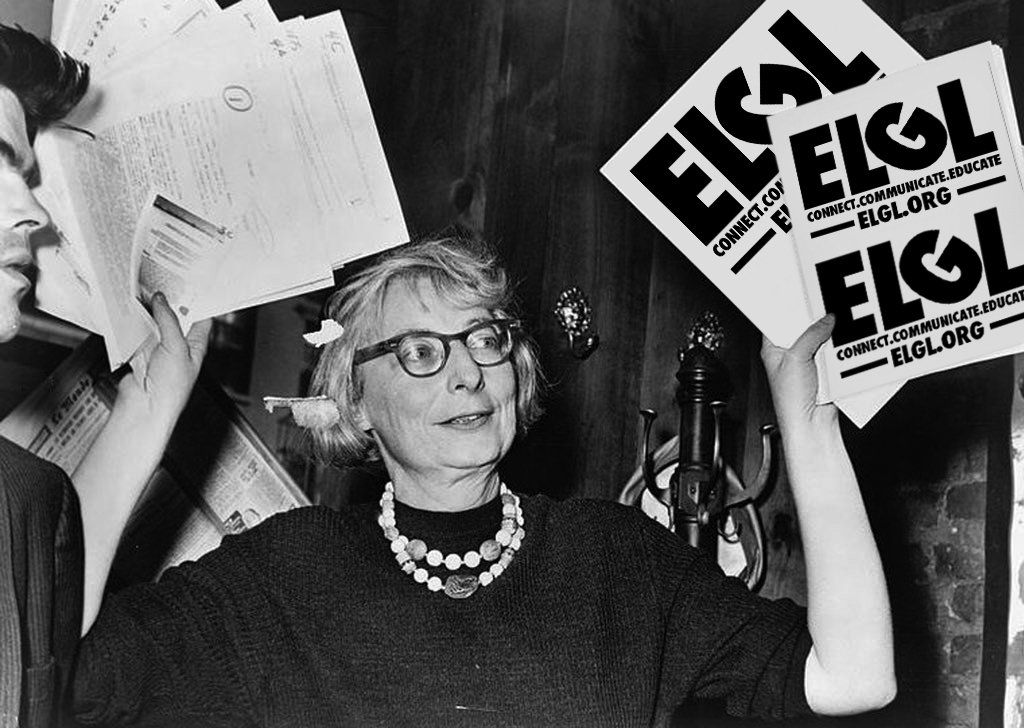 ---
4/16/17 5:10 pm – Posted by Kent
Picture Show from the Hometown Summit
Tweet! Tweet! Relive the action via #HTS17.
---
4/16/17 10:37 am – Posted by Kent
I know what you're thinking, why are you posting again? Where is Ben Kittelson? Both great questions, until Ben reappears you are left with my hot takes.
Carolyn Zelikow is amazing. She organized the inaugural Hometown Summit while working full-time for the Aspen Institute. We feel safe in saying Thomas Jefferson would approve of Carolyn's dedication to advancing cities.
Local government professional associations need to study the Hometown Summit agenda and learn from it. The panels were diverse. The conversations were in an intimate setting. One or two people didn't filibuster sessions with war stories. The attendees realized the importance of connecting government, non-profits, technology, and private companies. No one claimed to have the perfect answer, but there were numerous solutions that were portable to our communities. Lastly, the event was fun and educational. I've been to events which have the fun or educational component. I rarely attend events with both components.
Ben and I attended a Jeffersonian dinner. I can't tell you about it because of Chatham House rules. Let's just say Ben ate a lot.
Charlottesville Tip: Grit is the perfect breakfast spot. H/T to our Uber driver for the recommendation.
You asked, "why isn't Thomas Jefferson on the Tom Tom t-shirt?" We talked to Tom Tom Fest organizers and found that he was included in the early days but we was removed. Why the buffalo instead? The Buffalo nickel is a copper-nickel five-cent piece that was struck by the United States Mint from 1913 to 1938.
We enjoyed connecting with staff from the Jefferson Educational Society, a think tank for community progress in Erie, PA. They have a proposed a GovLove special feature – a week in Erie. Stay tuned.
Speaking of Erie, this is a killer video produced by Erie to respond to a negative national news story.
---
Final, final thought…I love pictures of two guys wearing the same sport coat. Is this required in the City of Durham?
---
#13Percent Panel
So much has transpired since we last chatted. I moderated a panel discussion on the #13Percent. Special thanks to Josh Edward's wife for attending the session. Ben received an unexcused absence.
A few follow up items from the session.
---
4/15/17 8:23 am – Posted by Kent
Today is the most important session of the Hometown Summit.
Here are ELGL resources on the #13Percent issue.
Articles
Glacial Pace: State of Women Managers in Local Government
Our Missing Leaders by Mark Funkhouser, Publisher of GOVERNING
On Momentum & Progress: #13Percent to #GenderBalance
Breaking the Gender Cycle in Local Government Leadership
Looking Local for Inspiration to Overcome the Blanket of Darkness
"You're Cute When You're Angry…"
#ELGLWorkLife: Returning to Work After Childbirth by Marissa Grass
#ELGLWorkLife: "To and Fro the Pendulum Throws…" by Rebecca Olson
#13Percent: Fight Like Hell Dammit, and Win! by Ashley Jacobs
#ELGLWorkLife: In It Together by Julie Underwood and Todd Fiala
Life as a City Manager's Child with Will Norris, Long Beach (CA)
#13Percent Club: Keep Advisors Close
#13Percent: Seek Challenges and Shape Your Network by Amy Jauron
#13Percent Club: You Know More Than You Think You Know
#13Percent: I'm a 36-Year Old White Male
#13Percent – Reflections on the Hashtag
13 Percent: Creating Dynamic Leaders Through Mentorship
#13Percent Club: Male Mentors Make a Difference
From My Perspective: #13Percent by Bonnie Svrcek
#13Percent: The Role of the Elected Official with Rafael Baptista
13 Percent and Organizational Management Theory: You won't be bored by this (probably, maybe)
#13 Percent: Engage, Rather Than Assume, Minority Groups Feel Supported
#13Percent: Passing the Buck Article Lands On Route Fifty
#13Percent: Women in the Holler: Fixing the 13% Problem in Rural Areas
Continue reading #13Percent articles.
---
4/14/17 10:01 pm EST
Our award-winning members were out in full force last night
---
Data
Data Download: Measures to Meaning
Data Download: Measures to Meaning – Part 2
Data Download: Measures to Meaning – Part 3
Break it Down: Increasing Women in Local Gov Leadership
#13Percent: Using Data to Improve Diversity and Inclusion
Push/Pull: Opening the Door to Survey Responses
Pushed or Pulled? Responses to the Push/Pull Survey
Push/Pull: Closing Out the Push/Pull Analysis
---
Podcast
Exclusive: ELGL Executive Director Discusses Discrimination Suit
GovLove: Glass Shattering Police Chiefs
GovLove: The Stories Behind The Start-Up City with Leah Treat and Gabe Klein
Podcast: You (Yes You!) Can Run for Local Office
Podcast: Bonus! The League of Women in Government
Podcast: #13Percent Measures to Meaning
---
Webinars (Must be an ELGL member to view the webinar recordings.)
Follow Up Reading From CCCMA Women Leading Government Conference Call
ICMA Recap: Expanding Diversity and Inclusion in Local Government
Webinar: Women in Local Government
California's Glass Ceiling, Watch the Webinar
Watch the #13Percent Webinar with Heidi Voorhees and Rachel Lange-Skaggs
4/14/17 1:09 pm – Posted by Kent
This is good one. Check out our panelists.
Anne-Marie Slaughter, CEO and President, New America
Mayor Andy Berke, Mayor, City of Chattanooga
Mike Lenox, UVA Darden School of Business
Mike Signer, Mayor, City of Charlottesville
Here's what we're learning.
Networks need to cross different sectors. The Boy Scout trope leader needs to know the union leader, say Anne-Marie Slaughter (AMS)
What is the balance between different incoming levels. Silicon Valley is only looking at the top income earners. (AMS)
"If you want to drive innovation need a balance between internal creativity & outside influence." (AMS)
We are having a shift where income wants to come downtown. How do you build a city that is inclusive for everyone? The city that gets it right will fund their own talent and keep them there. Andy Burke (AB)
If you want to talk about equity, you need to have a city with raising wages. If you want to have raising wages, you need to develop your talent. (AB)
Charlottesville's population has increased 12% in the last few years. Mike Signer (MS)
How do you use the bounty (revenue) to help the most people. (MS)
Equity and authenticity are vital to building your city. (MS)
The budget is a moral document. (MS)
We want to be the place for innoavation but the #1 thing that drives that is talent. (AB)
"I grew up in @ArlingtonVA. I don't want @CvilleCityHall to become Arlington." (MS)
"If you throw a rock in @CvilleCityHall, you're going to hit a former mayor," jokes @MikeSigner
Best economic development strategy? Have a great place to live. (AB)
Apparently no one cooks in Charlottesville. There are great restaurants everywhere. (AB)
Chattanooga has invested in music because they think that will bring talent to the city. (AB)
"You want to build a city that talent wants to be in. For @CvilleCityHall that's been 30 years of investment." (MS)
"Attracting talent to your city is also a balance between investing in local talent & attracting it from outside." (AMS)
"Any project that wants my support, I ask how will it impact identity of @CvilleCityHall? Want to keep authenticity." (MS)
"Equity is all about using the bounty of our growth to help those than need it most." (MS)
"If you want to drive innovation need a balance between internal creativity & outside influence." (AMS)
"Your best econ dev strategy is to create a place that people want to live. Figure out what makes your city cool" (MS)
Charlottesville has 700 non-profits. (MS)
"We still have issues of race in the South that have not been addressed," remarks @AndyBerke
Mayor @AndyBerke says we have to deal w/ issues of race because ppl don't want to live where they had to jump over hurdles to succeed
"Your best econ dev strategy is to create a place that people want to live. Figure out what makes your city cool" – Mayor @AndyBerke
"If you throw a rock in @CvilleCityHall, you're going to hit a former mayor," jokes @MikeSigner
"You want to build a city that talent wants to be in. For @CvilleCityHall that's been 30 years of investment."
"Attracting talent to your city is also a balance between investing in local talent & attracting it from outside."
---
Relationship between entrepreneurs and college towns.
---
4/14/17 11:51 am – Posted by Kent
Breaking News! Not really, but we should stop what you're doing to watch this performance at a recent council meeting.
---

H/T to Maggie Darr for sharing this in the ELGL50 Facebook group.
---
4/14/17 11:17 am – Posted by Kent
Rollin' to the next session…
Jane Jacobs wrote that, "under the seeming disorder of the old city… is a complex order. The ballet of the good city sidewalk never repeats itself from place to place, and in any once place is always replete with new improvisations." Placemaking capitalizes on a local community's assets, inspiration, and potential, with the intention of creating public spaces that promote people's health, happiness, and well being. While these strategies are sometimes writ large over entire cities or districts, this session takes placemaking down to its most tangible, grassroots level – the neighborhood – to talk about how citizen engagement and the thoughtful alignment of stakeholders can be a powerful force in revitalizing and reclaiming nodes of economic opportunity.
After a day and a half of Thomas Jefferson references, Jane Jacobs finally gets her first mention.

---
This is a killer panel of tactical urbanism experts. Here's an example of another group represented on the panel.
---
---
4/14/17 10:54 am – Posted by Kent
Last night, talkin' about last night…
---
---
Sen. Warner rocked the Paramount Theater at the closing session on Thursday. He was in full presidential campaign mode. Before his talk, I wasn't worried about being someone hacking into my email or documents. I am very worried now. Sen. Warner pointed out, that even if you have nothing to hide, you should be worried because a common hacking approach is a hacker leaving inappropriate material in your email or documents and then threatened to call the police unless you pay a ransom. Wow.
Look who was a proud sponsor of the Senator's speech.
---
4/14/17 10:27 am ET – Posted by Kent
Technology has upended traditional notions of the "workplace," and the difference between home and office has all but disappeared. A new class of workers roam the streets looking for places to get their jobs done, gathering in a new kind of office, known as a "coworking space." The numbers of such spaces have multiplied during the last few years, filling a niche for those who need more than a cafe, but less than an office. What have we learned about the social nature of collaboration and teams from these new "third places"?
Check out the work being done at New Work Cities.
---
4/14/17 9:25 am ET – Posted by Kent
Book recommendation time…
For the Love of Cities by Peter Kageyama
How to Kill a City by Peter Moskowitz
---
---
4/14/17 8:25 am ET – Posted by Kent
Lighter, Quicker, Cheaper….Teal Thibaud, Founder, Glass House Collective highlighting how Chattanooga, TN is using these projects to transform Glass Street.
Murals, public art, and…..we're learning about creative placemaking at the opening session. The moderator (wisely) challenges the panelists to discuss the topic without mentioning murals or public art. Chattanooga used a 'boom box bike car' to spread the word about their activities.
We're now talking about the 'G' word…gentrification.
---
Rewind…..

Our GovLove friend Amy Garmer, Aspen Institute, took the stage yesterday. If you missed the presentation, you can hear her thoughts on this GovLove episode.
---
Back in the saddle again, it's day two of the Hometown Summit. Brace yourself for this session this afternoon.

---
4/13/17 2:00 pm ET – Posted by Kent
I am panelist for a session at 3:00 p.m. The session is head-to-head with the Governor of Virginia. To entice you to the session, I'll be giving away Knope stickers and t-shirts to the lucky attendees. Unfortunately, Ben and Josh will not be attending. Thumbs down to them.
---
NBD…no big deal…Ben and I took this selfie with the Mayor of Richmond, VA…

---
4/13/17 12:37 pm ET – Posted by Kent
Before you meet Eric Reese at the Hometown Summit, you are required to read his article on open data and the sharing economy.
The first thing that comes to my mind when talking about the sharing economy is a principle of management called Joy's law. Named after Bill Joy (co-founder of Sun Microsystems) the law states, "No matter who you are, most of the smartest people work for someone else." The underlying sentiment of Joy's law, that there is cumulatively more knowledge and talent outside an organization than in it, can readily be applied to governments when thinking about the sharing economy.
---
Love hearing about the work being done by Code2040.
Through CODE2040 I have built much more confidence in myself. I've connected with people at the center of innovation and technology who are working on important causes and executing their great ideas. This has started a fire in me to expand my choices and create a path to success.
— Xiomara Figueroa, 2014 CODE2040 Fellow
---
4/13/17 12:15 pm ET – Posted by Ben
ELGL member and my co-worker, Josh Edwards, killed his seminar -style session today despite not being allowed to use a PowerPoint, forgetting his tie and getting heckled by Kent. The session was on using data and practical examples for cities and one of the questions that came up was where public data can be housed especially if the "government" isn't scene as a trusted, impartial party by the community. Well, what immediately popped into my head was a GovLove interview we did with the City of Pittsburgh, PA's Office of Innovation & Performance. The guests talked about how their public data is housed in a University department that keeps it in a impartial third part, plus it allows more governments in their area to join in the partnership and be included. Definitely a great model for other metropolitan areas.
Pittsburgh also does a great job of using their own data to create platforms that residents can use, specifically their "Burgh's Eye View" map (hence the name of the episode).
---

4/13/17 – 11:42 a.m EST – Posted by Kent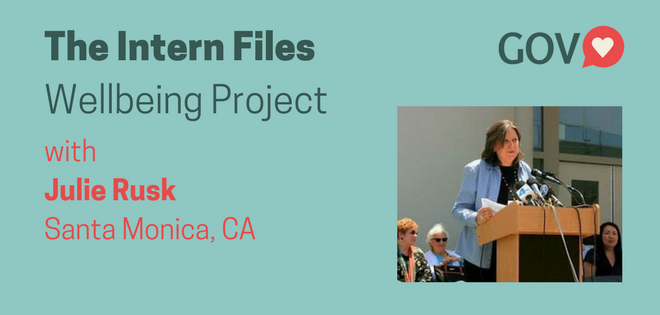 The Wellbeing Project…heard of it? Josh Edwards mentions it during his presentation. ELGL Fellow Madison Thesing has the full story about the Wellbeing Project on this GovLove episode.
---
4/13/17 – 11:13 a.m EST – Posted by Kent
We. Are. Live! Josh Edwards takes the stage at the Hometown Summit. He quickly downplays the term "open data" since that implies "hidden data" exists. You can hear more from Josh in this GovLove interview.
Fun Fact: Josh's GovLove episode has the most downloads in GovLove history.
---
4/13/17 – 10:12 a.m EST – Posted by Kent
Aaron Renn! Aaron Renn! Aaron Renn! We're live with our good friend Aaron Renn. He may not remember us but we featured Aaron in this interview. Aaron is moderating one of the best panels at Hometown Summit. Check out this lineup:
Alyssa Doom, Open Cities Project Manager, The Sunlight Foundation
Elizabeth Linos, VP, Head of Research and Evaluation, Behavioral Insights Team, North America
Jennifer Park, Associate Director, What Works Cities, Results for America
Matt Raifman, Senior Implementation Advisor, GovEx, Johns Hopkins University
Learn more about What Works Cities in this GovLove interview.
This panel doesn't impress you? Ben is live bloggin' a different one.
First thing @AvlEconDev considers on whether to do an incentive: does the company or deal improve our brand? #HTS17

— Ben Kittelson (@benkittelson56) April 13, 2017
---
4/13/17 – 9:33 am EST – Posted by Kent
Bennie and I are back in the classroom. We're learning about the creation of the 1%, economic mobility and minimum wage, a tax on robots, and automation. Your homework is to watch the power of automation.
---
Takeaways from the first session
Info on our presenter:
University of Virginia economics professor James Harrigan has used more than 35 years of data to study economic inequality in the United States, seeking explanations and solutions for the rapidly widening chasm between the very rich and nearly everyone else. He has found that while globalization is part of the story, it is automation that is the primary reason that middle-wage and manufacturing jobs have decreased so drastically. This "table setting" special seminar is a small group dialogue that is designed to allow leaders to reflect and exchange ideas about how these megatrends are affecting their communities, and what can be done to respond.
In 1979, a college grad earned 50% more than a high school grad. Now, college grads earn 100% more than high school grads.
Check out the Heckman Equation website.
Toxic inequality between policy and wealth.
---
4/13/17 8:32 am ET – Posted by Ben (From the Future)
I meant to post this before the Hometown Summit started today but the internet at the Duck Donuts was a little spotty. As anyone who follows my Kittelson's Corner probably knows, I'm a big fan of fatbergs. If you don't know what a fatberg is just google it (maybe after you eat). Well the DC Water people introduced me to fatbergs and they did a fun series of videos on their instagram account on how wipes don't dissolve in the sewer system. The videos are definitely worth your time:
Today we are testing what happens when you flush wipes down the toilet. Check it out on #snap -dcwater and #instagram –@mydcwater stories! pic.twitter.com/cMWrF5re6H

— DC Water (@dcwater) April 12, 2017
---
4/13/17 – 8:08 am EST – Posted by Kent
What I learned this morning…. Ben Kittelson does not use hair conditioner.
The joy of sharing a room is learning such incredible facts about your friends.  I also learned the Duck Donuts serves a mean cinnamon bun donut. Breakfast sandwiches…not so much.
---
4/13/17 – 7:08 am PST – Posted by Kent It's time to Summit! More specifically, it's time for Josh Edward's award-winning seminar on…..
Data is everywhere – whether it's generated by automated systems operating in real time or locked away in a row of filing cabinets – that can potentially tell us how our cities are performing and changing. But particularly in small cities, the staff capacity, strategy, and political will to harness this information for better decision making often falls short of futuristic predictions. Over the last year Josh Edwards has led Durham to become a What Works City and a Bloomberg Innovation team grant award winner. This session is an opportunity to share ideas and experiences in improving Performance Management culture and how to shift from internal improvement to also looking beyond organizational walls to tackling broader community challenges.
While his seminar is award-winning, his navigation skills were problematic during our journey from Raleigh to Charlottesville. He definitely took the scenic route, including a detour on Cabbage Patch Road. I can't mention the cabbage patch without… I toss the mic back to Josh for the beginning of his session.
---
4/12/17 – 12:18 p.m CST – Posted by Kent Surveys, Surveys, Surveys Actually, I only need your help taking two surveys. I'll use the results during my remarks at the Hometown Summit. Take the survey: Women in local government Take the survey: Can Civic Innovation Restore Political Civility? For those nice enough to complete the survey, you'll receive access to the results and a chance to win an Amazon gift card.
---
Think People forget that before S-Town rocked the podcast world, Live (for you "m-words" that is the name of a 90's band) recorded a song called S-Towne. Surprisingly, the song never climbed the charts like the podcast.
---
---
The S-Town podcast is fascinating. H/T to Kittelson's Corner for tipping me off about it. I can't get enough S-Town. A few fun facts from S-Town:
Sundials bear mottos that reflect the sentiments of their maker.

A city recorder, mayor, and city councilor make an appearance in the podcast.

I could listen to John B. McLemore read Llama Llama all day.
You can continue your S-Town binge by checking out the Longform podcast interview (Episode 239) with the S-Town creator and Who is John B. McLemore, figure in new 'S-Town' podcast? (spoilers)
---
Laugh I will match Ben's news headline with a football related news headline. In case you didn't know, Ben was a standout offensive lineman at Willamette University. He could be in the NFL, but he's opted for a career in local government. I am not a football player but I do know that football players and coaches are intense. The Texas Longhorns coach shows us just how intense (and weird) coaches can be. Spoiler: I will be measure Ben Kittelson and Josh Edward's hydration levels throughout our time at the Summit. Texas Coach Tom Herman Checks The Color Of Every Player's Urine And Calls Out Anyone Who Is Dehydrated In Front Of The Team
---
4/12/17 – 12:32 p.m. ET – Posted by Ben I'm at work right now, currently up to my eyeballs in a spreadsheet with some imaginary numbers, but I can't wait to start the road trip to Charlottesville, VA for the Hometown Summit. While Kent may think that the music will be a battle between Dave Matthews Band and Kendrick Lamar, I've actually got a curveball for him: Jimmy Buffett. Just hit play on one of my all time favorite songs (this week) and get ready for the weekend on a Wednesday.
---
Welcome Back to North Carolina Kent As Kent flies the friendly skies, the North Carolina State Legislature is welcoming him back with some questionable laws. You may have heard that yesterday some House members introduced legislation to defy the Supreme Court and make gay marriage illegal again, but today they also introduced a law to boycott the ACC if the ACC boycotts them. Essentially if the ACC boycotts the State of North Carolina again (which seems likely given how terrible the legislature is acting) the State will pull UNC and NC State from the conference. Codifying the classic playground move of taking your ball and going home.
North Carolina lawmakers file bill that would pull #UNC + #NCState from @theACC if #ACC boycotts the state again after #HB2 fallout. @myfox8 pic.twitter.com/6xDhUZGFvz

— Alex Rose (@AlexRoseNews) April 12, 2017
---
Chatham House Rules?
It was brought to my attention (thanks Josh) that the Hometown Summit will be operating under "Chatham House Rules." Don't worry I also didn't know what that was. So I did a little research on the ol' Wikipedia and found out:
At a meeting held under the Chatham House Rule, anyone who comes to the meeting is free to use information from the discussion, but is not allowed to reveal who made any comment. It is designed to increase openness of discussion.
This *might* make live-tweeting more difficult, but I think what I'll plan to do is just attribute anything controversial to Josh and Kent. What a great idea.
---
4/12/17 – 7:10 a.m. PST – Posted by Kent I'm in route to the Hometown Summit. I am a card carrying member of the United Airlines Mileage Club (insert your own joke here that you borrowed from Twitter); however, today I am flying Southwest Airlines. The early results are good — I LOVE that there isn't a drink cart to be seen on this plane and there are food crumbs covering the floor. https://twitter.com/NickNicotera/status/851602092468731906 For the next several days, I'll move my musings from Laugh, Think, Cry to this post. Ben Kittelson will be adding his thoughts and observations. If we get crazy, we'll blog using a Thomas Jefferson-like voice. More likely, Ben and I will get in a fist-fight over whether to listen to Dave Matthews or Kendrick Lamar on our drive to Charlottesville. Full disclosure: I was raised by a pack of Hokies. My dad and brother graduated from Virginia Tech. I grew up going to VT football games and learning the meaning of a Hokie. I'll use this trip to test out all the stereotypes that I was taught about Charlottesville and UVA students. Until we step foot on Jefferson's soil, you'll have to settle for an endless Dave Matthews and Thomas Jefferson references. If you are in Charlottesville for the Summit and want to meet up, slide into Ben or mine's DM. ELGL will be headquartered at the downtown Hyatt. I'm make sure that Ben keeps his tab open throughout our stay.
---
Laugh https://twitter.com/emilybell/status/852151660558372864
---
Think Speaking of Ben Kittelson, we had a pedal party for Ben's bachelor party. (Note: I am willing to sell the exclusive pictures from the party. Contact me with the price that you're willing to pay.) We also had a pedal party the night before #ELGL15. This was not a good idea and will not be done again. Spoiler: Some of our speakers were not at peak performance the following day. Behind any good time is a wonky government related story. Route Fifty brings the wonk by highlighting how cities are struggling to regulate pedal parties.
---
Cry I mentioned that I come from a Hokie family. That family was overcome with sadness ten years ago. Kirsten and I had just moved to West Linn, Oregon. I was unemployed. I was spending my time extreme dieting and watching a lot of MSNBC and CNN. I was flipping between those two channels when the horror began to unfold on April 16, 2007.  Thirty-two people (students and faculty) were shot to death by Seung-Hui Cho, a Tech senior. A decade after tragedy, Tech seeks balance in remembering, moving forward
---
Props Congratulations, Rebecca Olson! Why congratulations? She's a Pearl Jam fan which is reason enough. The other reason is Rebecca has been named City of Roseville, MN Assistant City Manager. Perfect hire for Roseville! You should be excited for Rebecca and for the opportunity to become the next Rebecca. You can apply for Rebecca's former position as the Assistant to the City Manager in Shoreview, MN.
---
Previewing the Hometown Summit The Hometown Summit is America's biggest conference for small cities, bringing together hundreds of local leaders alongside national media, foundations, and policy experts from across the United States for workshops, talks, farm-to-table food, public art, block parties, and more in Charlottesville, VA this April 13-15. ELGL is a proud community sponsor of the Hometown Summit.
---
ELGL on the Hometown Summit Podcast:
GovLove  with Carolyn Zelikow, Aspen Institute, and Adam Klein, American Underground
Sessions with ELGL Members:
Leadership: Why Are So Few Women in Office – and What Will Change That?. Take the survey: Women in local government
Can Civic Innovation Restore Political Civility?. Take the survey: Can Civic Innovation Restore Political Civility?
Can Local Media Change the Narrative of a City?