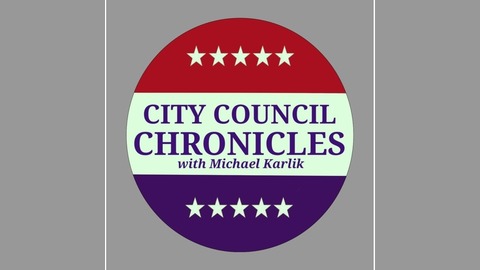 Update: Check out Michael's podcast. Guests include: Rochester, NY Council Vice President Dana Miller, Bangor, ME Councilor Joe Baldacci, and Former San Francisco, CA Board of Supervisors President David Chiu.
Michael will be appearing at #ELGL16 Denver.
City Council Chronicles (Facebook, Twitter, World Wide Web) is sweeping the (local government) nation. We interviewed Michael Karlik, comedian, creator of City Council Chronicles and ELGL member, about his rise to fame and his approach to reviewing a city council meeting.
Watch the interview: ELGL co-founder Kent Wyatt interviews Michael Karlik
(Spoiler alert: Michael used a number of burner phones so the audio and video is not perfect but rest assured it's better than our local public access TV station.)
What we learned: Takeaways from Michael Karlik, City Council Chronicles
Read the latest council meeting reviews
But this city isn't all golf junketing and Eurotripping. They also had a very unpopular parking rate increase. Tell 'em how unpopular it was, mayor:
"One of the things we've done is used revenue from the parking increase to pay for–" GOLDEN TOILETS IN THE COUNCIL CHAMBERS?!?! –"the Downtowner, which are the electric cars that are driving around."
Christ, what kind of utopia is this? You, there–shorts-clad citizen waiting to address the council! Surely you must have a complaint about how this city is going to hell in a ski lift!
"I've used the Downtowner. It's a great service," bragged the bespectacled man. "My dogs really appreciate it."
Mayor Skadron pumped his fist. "Thank you for being such a cool local!"
We are burning through Lebanons like beer cans on a bonfire. Our second stop on the whirlwind Lebanon tour is Indiana, where someone at city hall is a virtuoso with video graphics.
Seattle's city council met at two o'clock in the afternoon–yet some council members in this java addicted burg were clearly in need of caffeination. Others, however, came out of the shoot ready to kick ass and read names.
In the latter category, Councilmember Sally Bagshaw hit a one-two punch on a tongue-twister proclamation: "I want to announce that June 20, 2016 is Facioscapulohumeral Muscular Dystrophy Awareness Day," she said, not even slowing for the monster nine-syllable word.
"The core problem stems from genetic disturbance in the DUX4. DUX4 is a coding protein gene located in the D4/Z4 repeat array in the subtelomeric region of the chromosome 4q." The brainy councilwoman peered smugly over her notes.
"I know all of you know what that means," she winked. The room chuckled in bewilderment.
Supplemental Reading
ELGL Live! with Michael Karlik, City Council Chronicles
Pregame Show: ELGL Live! with Michael Karlik