Sedgwick County Government is looking for a dynamic professional to serve in a key leadership position in the County Manager's Office. Sedgwick County is accepting applications for an Assistant to the County Manager position. The ideal applicant will have local government experience and a demonstrated passion for providing for the present and future well-being of the citizens of Sedgwick County. The successful candidate will support the mission and values of Sedgwick County Government through administrative and/or managerial support of the County Manager's Office, and other County departments as assigned. This position will be responsible for supporting the County Manager's Office in working with decision-makers to ensure quality public services for the residents of Sedgwick County.
https://www.hrepartners.com/KS_HRePartners/JobDetailsGuest.aspx?Job=18116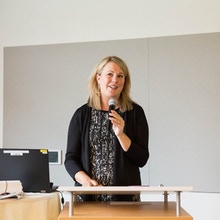 I'm the co-founder and executive director of ELGL. I love my job. Other things I love: local government, my family, my dog Michael Jordan, sandwiches, naps, books, and skee-ball.