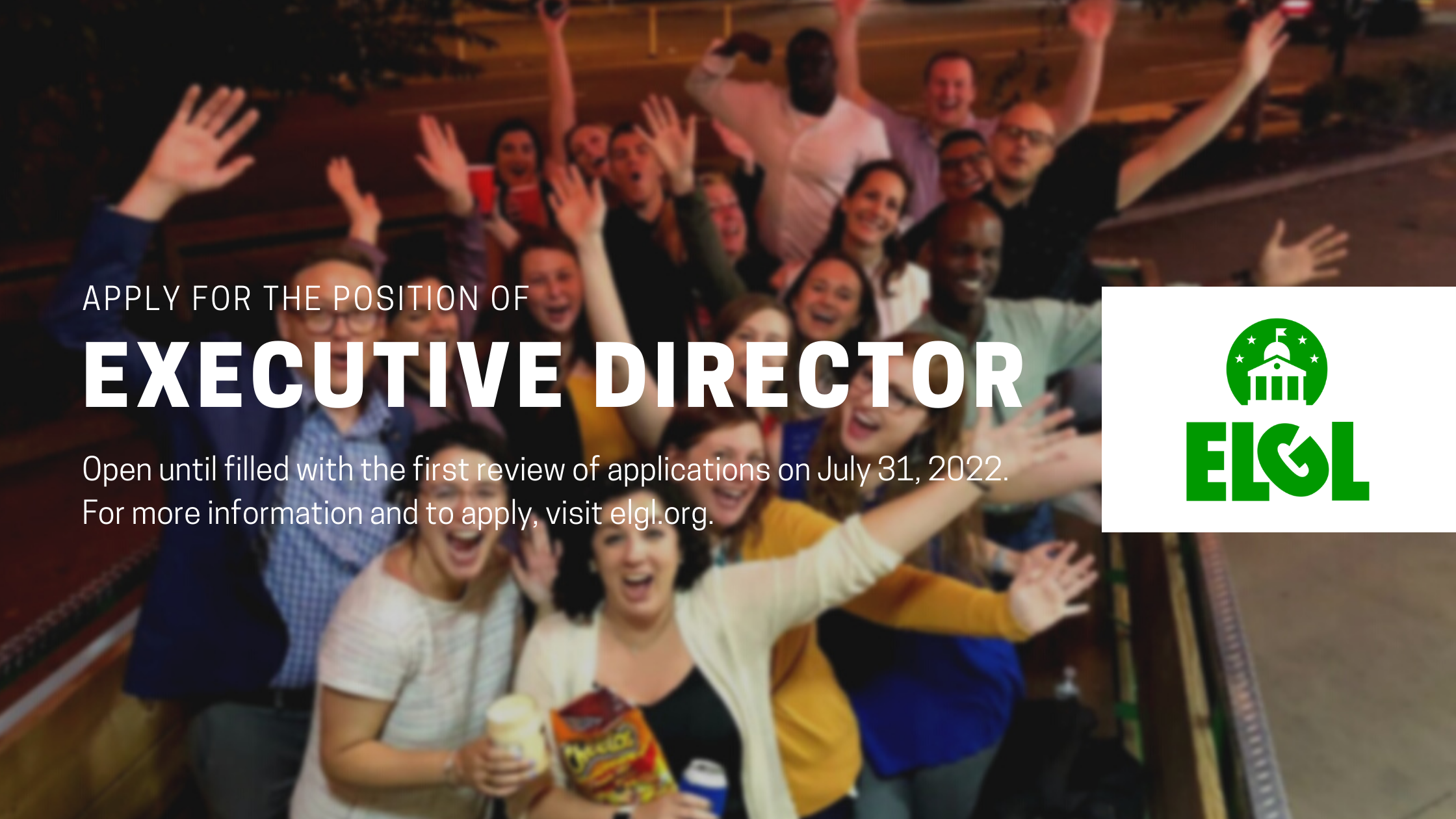 Executive Director
Job Description
The Opportunity
This is an exciting time for ELGL! We are embarking on the first recruitment process for an exceptional leader to serve as the organization's Executive Director. The Executive Director will demonstrate ELGL's values and commitment to its members to carry forward ELGL's strategy and goals, to amplify the good in local government by engaging the brightest minds in public service. This is a remote opportunity managing a remote team.
Key Responsibilities
Manages the day-to-day operations of the organization under the general direction of the Board of Directors.
Administers and supervises personnel matters that include hiring, termination, employee review and evaluation, motivation, recommending pay increases or actions, approving leave, new hire training, and recommending continuing education opportunities for staff and volunteers.
Develops policies and procedures to ensure organizational efficiency and effectiveness.
Performs or delegates tasks to staff, committees, volunteers, or the Board of Directors as necessary.
Develops and fosters strong relationships with local, state, and federal governments as well as nonprofit and private partner organizations to advance ELGL's mission and vision.
Identifies, executes, and communicates measurable, strategic goals and objectives to ensure organizational success.
Manages membership outreach, databases, and campaigns.
Initiates and directs ELGL events and initiatives, such as #CityHallSelfieDay, Birthdays and Books, #ELGLMugs, #ELGLInspire, and #ELGL22.
Leads fundraising efforts to ensure fiscal sustainability of the organization, including the identification of sponsorship opportunities and support.
Negotiates contracts for venues, speakers, and service providers.
Prepares, maintains, and distributes meeting notices, agendas, quarterly financial reports, annual budgets, supporting documentation, letters, memos, and other relevant materials as necessary.
Makes staff recommendations for Board of Directors consideration.
Ensures constant communication flow with the Board of Directors, staff, volunteers, members, key stakeholders, and partners.
Promotes ELGL's visibility and recognition through internal and external communications as well as strategic marketing.
Represent ELGL at select meetings and events, including conferences, workshops, educational institutions, and other related venues.
Stays up to date on emerging trends and best practices in local government.
Other duties as assigned or deemed necessary by the Board of Directors in support of the organization and its core values.
The Successful Candidate
ELGL seeks a creative, thoughtful leader with a clear vision for ELGL's future. The successful candidate will work efficiently and effectively and have a strong ability to navigate challenges and solve problems as they arise, including those that are time sensitive. An excellent communicator and comfortable in a variety of settings, including in-person and virtual, this position will be a confident leader with strong public speaking skills. The Executive Director will manage a small, nimble remote team of talented professionals and develop lasting relationships and networks to ensure the longevity and success of the organization.
Qualifications
Minimum qualifications include any combination of education and experience equivalent to bachelor's degree in Business, Public Administration, Nonprofit Management, or a related field with five (5) years of supervisory experience. Strong ability to build relationships, manage competing priorities, meet fundraising goals, lead remote teams, navigate conflict, communicate at all levels, manage time effectively, stay organized, and collaborate with public, private, and nonprofit partners required. Working knowledge of local, state, and federal government challenges is a must.
About Engaging Local Government Leaders (ELGL)
Engaging Local Government Leaders (ELGL) is a professional association that began in Portland, Oregon in 2012 with a 16-member supper club. Today, ELGL has grown to more than 4,000 members from the United States and countries all over the globe.
ELGL's mission is to engage the brightest minds in local government by providing timely and relevant content through podcasts, blogs, webinars, social media, events, and connection.
ELGL's work is embedded in its core values:
Joy – Encouraging joy in public service; making authentic connections to strengthen ourselves and our communities.
Equity – Embracing equity by seeking diverse perspectives, developing leaders from marginalized backgrounds, and promoting a representative public sector.
Creativity – Welcoming innovative ideas and technology.
Connection – Sharing timely, relevant, and useful ideas in an inclusive way so all voices are valued and heard.
Dependability – Creating exceptional membership value, so we're here when you need us, and connect you with people who care.
Compensation and Benefits
The expected hiring range for this position is $80,000 to $100,000 depending on the qualifications of the successful candidate. The Board is open to negotiation in terms of total compensation. Benefits offered include:
Flexible scheduling with paid vacation, sick, and holiday leave
Remote work
Technology allowance
Health insurance allowance
How to Apply
Applications will be accepted electronically via ELGL. Applicants should submit a cover letter and a resume to this link (https://forms.gle/jcZPHzUNexvwQTkg9). Open until filled with first application review on July 31, 2022.
Questions
Please direct questions to Ben Kittelson at [email protected].
Work Hard, Be Kind.