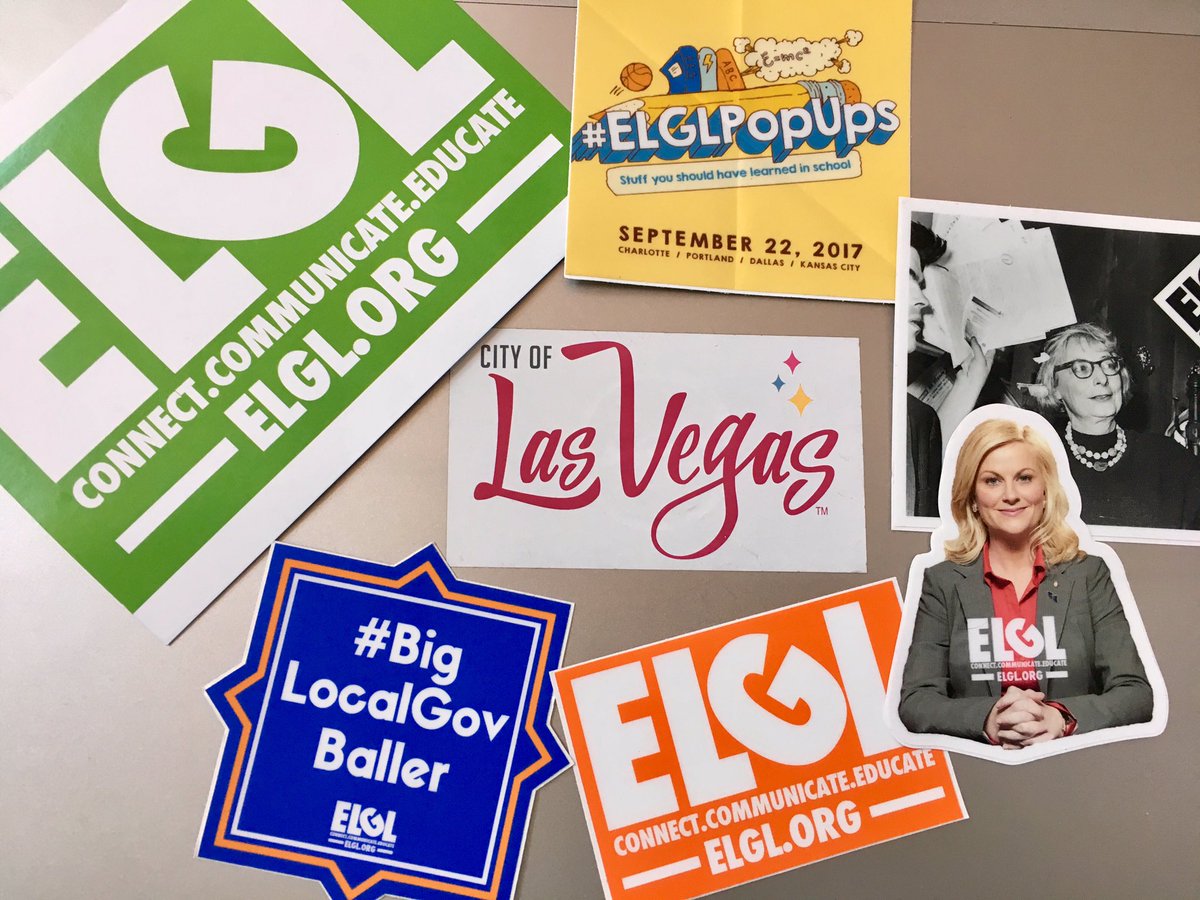 ELGL co-founder Kent Wyatt is bloggin' about those things that make you Laugh, Cry, and Think. He is also dishing out the #BigLocalGovBaller designation. Here's what you missed in June. 
---
July 30
It's Traeger List week! Here's how we'll reveal this list.
Monday: #81 to 100
Tuesday: #61 to 80
Wednesday: #41 to 60
Thursday: #21 to 40
Friday: #11 to 20
Monday, August 7: #1 to 10
---
Laugh
This one comes from Michael Myers (not THE Michael Myers, local government Michael Myers) via the ELGL 50 Facebook group.
Here's the accompanying news article: Dundee residents protest city's plan to remove 2 crosswalk signals used by pedestrians, bicyclists and kids.
---
Cry
This is a tough one to read. Nashville Mayor loses her son to an apparent overdose.
"No parent should ever live to see the passing of a child," Davidson County Sheriff Daron Hall tweeted. "The sheriff's office family and I send our thoughts and prayers to Mayor Megan Barry."
---
Think
Nelly, that's right, Nelly, cue the Nelly video…
---
We can't talk about St. Louis without mentioning of the best 90's rappers. This article is technically about a suburb of St. Louis but we say close enough.
The St. Louis Suburbs Bear the Cost of America's Nuclear Past
At the request of a high school friend, Lacy M. Johnson began investigating an area north of St. Louis where toxic waste from the Manhattan Project was illegally dumped in 1974. The resulting piece for Guernica finds Johnson diving into the human costs of America's decision to end the war on Japan with expedient nuclear force.
---
#BigLocalGovBaller
Hat tip to Zach Navin for assisting the ELGL Selection Committee on the Traeger List. Despite his Packer's allegiance, Zach is also quick to volunteer to help with ELGL projects.
---
July 28
This weekend I am a lonely bachelor blogger. The wife and kids are at mother-daughter camp while Michael Jordan and I hold it down in West Linn. But, as we know, there is no vacation in bloggin'.
I recorded a GovLove podcast interview with Tom and Mike Bonfield. That's right, they are brothers and both city manager in North Carolina. I think you'll enjoy the interview especially when Mike and Tom recall their gutsiest decisions. For Tom, it involved the Confederate flag.
Humble brag: When the interview with Mike and Tom is posted, it'll be the first time a New York Yankee appeared on GovLove. You'll need to listen to learn which of the brothers wore the pinstripes.
---
#BigLocalGovBaller Alert
Chad Doran graduates! Chad Doran graduates! Chad Doran graduates!
---
---
Thanks to Chad for graduating so I had an excuse to play that clip. We really are proud of ELGL Sconnie Chad for completing TCU's Certified Public Communicator Program. He documented th experience here. Props to TCU for creating the program. Local government is in dire need of effective communicators.
---
And as we learned yesterday, Tim (I know it's Timothy) proved to be a #BigLocalGovBaller in announcing that he has accepted a position with GFOA.
Chris and Timothy, reunited and it feels so good…
I couldn't be more excited to join @GFOA next month and work on #socialmedia at the national level! Also excited to reunite with @ChrisGFOA! pic.twitter.com/XrJFq7cbmu

— Timothy Martin (@TRMGFOA) July 27, 2017
---
Think
Next week is…….Traeger Week! We'll begin rolling out the Traeger List by revealing #80 to #100 on Monday. As you wait the results, pass the time by memorizing last year's winners.
---
J-O-B
Eric Roche, City of Kansas City, MO, tipped us off on this cool job opening – City to Open Application Process for Violent Crime Programs Coordinator.
---
Laugh
People are fired up about City Hall Selfie Day. I repeat people are fired up about City Hall Selfie Day. Based on the lead up, we'll have a shot at shattering the number of entries received last year.
Part of the buzz can be attributed to the support of state associations including the Illinois Municipal League, Georgia Municipal Association, Connecticut Conference of Municipalities, and Florida League of Cities. Each has spotlighted the greatest day of the year on their website and social media. We're excited this year to offer the Member's Choice Award – nominated and selected by ELGL members.
To prepare for the big day, make sure to order your City Hall Selfie swag, including the calendar which would be a wonderful holiday gift.
---
Academy Award Winner?
The Grand Chute Police Department rolls in strong with their new recruitment video.
Have you heard?! The Grand Chute Citizen Academy is back! Interested? Of course you are. Check out our recruitment video for more info pic.twitter.com/C0B8M09xOY

— Grand Chute Police (@GrandChutePD) July 27, 2017
---
Cry
I acquired a love of local news while growing up in Fairfax, VA. We had it all including George Michael's Sports Machine…..
---
---
We also had Jim Vance, who anchored the local news. With Jim's recent passing, a number of articles have attempted to articulate his impact on the Washington, DC area.
Television anchor Jim Vance was a hero in black Washington
A fixture on the local news for four decades, he died of cancer
Winner of 19 Emmy Awards, Vance went to Vietnam. To South Africa. And to Southeast D.C. He fished with President George H.W. Bush. Former D.C. Mayor Marion Barry sought out Vance first after being arrested in 1990 for smoking crack cocaine.
Vance knew where the mayor had been, because he once put himself through the same hell. He entered the Betty Ford Center in 1984 after many years of free-basing cocaine. But he relapsed upon returning to town.
I stumbled across this another interesting anecdote about Jim.
---
July 21
Transaction Wire
Changes are happening throughout local government. Here are a few familiar names that are movin' on up.
City of Seattle Hires Kate Garman as First Smart City Coordinator
"Kate brings a wealth of experience and a collaborative approach to developing innovative smart city projects. Kansas City is a model for how cities can use technology to operate more efficiently, provide better service, and improve people's quality of life. I'm very excited that Kate is joining us in Seattle to help accelerate our smart city work," said Seattle's Digital Engagement Director Jim Loter.
Topeka city government sought diverse applicant pool for city manager
Applicants included 23 white people, two black people, two Hispanics and one applicant who fell into a demographic category that includes American Indians and natives of Alaska, McCarter said.
---
Scenes from Supper Club
Durham
---
Chicago
---
Colorado
---
July 16
Speaking of Big Ballers, I am bloggin' from a Starbucks in Tigard as my daughters attend a birthday party at a gymnastics studio (are gymnastic places called studios?). The crowd at Starbucks this time of day is an interesting one. One customer came in and demanded the most caffeinated drink. A long discussion ensued which didn't result in a final answer. It's a trick question, according to the barista, they will load up your drink with as many shots as you want.
Kirsten has been taking over the world at the World Domination Summit in Portland this weekend. I have been learning how to shop for Descendants underwear. You did know that Descendants 2 drops on Friday.
Last week was a top ten week for ELGL. Incredible growth in membership, Jennifer Davies' article on social media went local government viral, and the Traeger nominees were announced.
It could be the cold brew taking hold but your support and involvement of ELGL is much appreciated. We truly are kick-starting the profession. This is demonstrated by the buzz around the upcoming #CityHallSelfie Day, our developing relationship with GFOA, and expanding original content – I Have to Ask You and All You Need to Know About Graduate School.
Collaboration is key. Looking forward to @GFOA working with @ELGL50 https://t.co/JYj6vVbeUc

— Chris Morrill (@ChrisGFOA) July 13, 2017
---
Laugh
It's quite possible that John Lisle posted the best-ever ELGL related tweet.
Fake News! pic.twitter.com/LmpMKgEGpL

— jlisle (@jlisle) July 12, 2017
---
Embrace Debate….
---
Cry
Local government is one of the few professions where a 39-year old, like myself, feels young. While this makes me feel good, it is not good for the profession. Local government has perfected the art of talking down to younger professionals and placing them at the Little Kid's Table.
This approach is reinforced at local government conferences throughout the country. At a local government conference (which shall remain unnamed) last week, attendees stomached a session where the speaker dropped the m-word at least 40 times. In a different session, young panelists were lectured by the elder statesmen that they should "make sure they can multi-task."
I have worked in the same cubicle as two ELGL/ICMA fellows (Holla! Madison & Nic) in the last year in Tigard. Each has taught me skills that I did not have beforehand. We'll continue to struggle as a profession unless we embrace the talents of the new generations. I realize this is a sacrifice (i.e: giving away power) but we must incorporate these new ways of thinking and skill sets.  We do not need more lectures at conferences. We need action that looks past age and looks towards skills.
Wow Kent, that was interesting…Why so fired up?
For a lot of reasons but it started when I came across this article – Say what? 9-year-old muzzled at Lansing council meeting.
"I have strong feelings about the role of children and what their role should be. I don't believe that 9-year-old children should be giving public comment. I just don't," Spitzley said in a phone interview Wednesday.
The ELGL50 Facebook group was lit after reading this article. A ray of sunshine came from Mike Ekey sharing Lee's Summit's approach to a young environmentalist.
---
Think
Women CEOs are rare, SoundCloud is dying a slow death, Phil Ivey has become a ghost, and Barstool is the new ESPN?
---
#BigLocalGovBaller
Start spreading the news… East-West Gateway and Connecticut Conference of Municipalities (CCM) both proved that they deserve this designation.
East-West Gateway shared Jennifer Davies' article in the "Local Government Briefings" weekly update. H/T to Travis Newberry for tipping us off about the mention.
CCM is ready for #CityHallSelfie Day on August 15. Connecticut figures to be an active state on the big day due to the prep work being done by CCM. Here's the #CityHallSelfie info that they sent to their membership.
---
July 4
Warning: If you get jealous easily, do not read this entry. If you read the entry and then wish harm upon me, your wish will be granted. I'll be in hanging out in 117 degree temperatures in Phoenix.
---
Laugh
Kirsten and I spent the evening rehashing the history of Dolan vs. Tigard. We were joined by the ELGL/ICMA Fellow Nic Westendorf, Dan Bolin, Marissa Grass (Tigard), and others.
That's right, it was dinner and drinks with Dan Bolin and others. Dan was in the Portland area for vacation but couldn't bare the thought of leaving without seeing the famous Dolan vs. Tigard landmark.
Why is our legal analyst sprawled on the sidewalk next to the Dolan plaque? Should we be worried? Do we need new legal counsel? The answer is no. We should praise his commitment to land use and zoning. We also should convince him to move to Portland.
Before we move on, I'll address your question, "What the hell is Dolan vs. Tigard?" For the answer, we turn to our friends at Wikipedia.
Dolan v. City of Tigard, (1994), was a United States Supreme Court case. It was a landmark case regarding the practice of zoning and property rights, and served to establish limits on the ability of cities and other government agencies, to use zoning and land-use regulations to compel property owners to make unrelated public improvements.
The Supreme Court overturned the state Land Use Board of Appeals and the Oregon appellate courts. The Court held that under the doctrine of unconstitutional conditions, a government agency may not require a person to surrender constitutional rights in exchange for discretionary benefits, where the property sought has little or no relationship to the benefit conferred. A two-prong test was applied: Whether or not there is an "essential nexus" between the permit conditions and legitimate state interest, and whether or not the degree of the exactions required by the permit condition bears the required relationship to the projected impact of the proposed development.
---
Think
Give a listen to the new episode of the John Grisham podcast. It's an excellent look into the mind of a writer. You will learn how they pick publication dates, topics, and research assistants.
This week on Book Tour with John Grisham: Grisham visits Music City and talks with bestselling author Ann Patchett about starting a bookstore and discusses writing about history with Pulitzer Prize winner Jon Meacham.
Other takeaways: Jon Meacham is really funny. John Grisham doesn't understand when people are joking.
---
Rank your top five holidays….I'm going with:
Christmas
Christmas Eve
Halloween
Memorial Day
New Year's Eve
July 4th does not make my top five because of the fireworks that keep my kids awake and my dog in the closest shaking.
---
Cry
Breaking news: Not all is well in cities. Politico highlights the greatest risks facing cities.
In response, the disillusioned citizens who currently pay for local government will vote to cut taxes and city budgets still further. They will become increasingly dependent on business improvement districts, conservancies, neighborhood coalitions, block associations and other nongovernmental organizations, which they support financially because those entities are responsive to their demands and accountable to them for their actions. The unfortunate result will be that individuals who now depend on local government for services, but cannot afford to pay for them, will suffer.
The Wall Street Journal reminds us that pensions are not being funded.
Municipalities that try cutting the retirement plans face pushback both from the officers, some of whom quit, and from a generally pro-police public.
Kick around these topics around the picnic table tonight.
---
#BigLocalGovBaller
The #BigLocalGovBaller designation is official. We have stickers. You can sport the hottest stick in local government by tweeting your local government baller to #BigLocalGovBaller.
We recognize Engage 2 Act for their big baller move of promoting #CityHallSelfie Day in Australia. This is true diplomacy. (If anyone has contacts in North Korea, please gauge their interest in participating in City Hall Selfie Day.) Andrew Coulson, Engage 2 Act, highlighted 5 Ways Engage 2 Act Members Can Join In With International #CityHallSelfie Day.
The #cityhallselfie has humble beginnings back in 2014 when ELGL (Engaging Local Government Leaders) members from across the US participated by taking selfies of themselves in front of city, town and even county government facilities and posting them on the socials. Just. For. Fun.
After reading Andrew's article, I nominate him for the role of ELGL Historian. Also, H/T to Becky Hirst for spreading the gospel of City Hall Selfie Day in Australia. I will now spend the rest of the day calculating the time difference between Portland, Oregon and Australia.
---
July 1
……and we're in a new fiscal year. Feel the excitement. I, for one, will be busy today spending all of my 2.0% COLA on a iced cold brew with sweet cream and a morning bun.
July is a red, white, and blue month – ELGL board retreat in Phoenix, AZ, Supper Club in Portland, webinar on LinkedIn, and Traeger List nominations. All the while, we'll be honing our photography skills for International City Hall Selfie Day on August 15.
The @ELGL50 #TraegerList is like the #localgov version of the #Oscars. We all want to be on it. It's THAT BIG OF A DEAL #GoVote #ELGLSconnie pic.twitter.com/2COPKplyWD

— Chad Doran ?? (@doranchad) June 29, 2017
---
Laugh
Many of you have ridiculed the nightlight that can notify you of retweets and emails. I am not one of them.
Aumi Mini is a new project on Kickstarter from the creator of Aumi, a Bluetooth nightlight which was funded on Kickstarter in 2015 and shipped to backers this year. The new Mini model is way more ambitious, however. It's a USB-powered nightlight that connects to your Wi-Fi, and includes IFTTT support for getting into all sorts of automated shenanigans.
This needs to be funded.
---
The Oklahoma City Police brought the burn. (If you're not an NBA fan, you'll be confused by this tweet.)
Thanks for the tweets reporting the "theft" of Paul George by @okcthunder.

Our investigative findings: totally legal & very savvy.

— Oklahoma City Police (@OKCPD) July 1, 2017
---
Cry
I've been saying this since Kirsten and I moved to Portland. The Pacific Northwest has more racial tension than North Carolina or Virginia where I have lived. There is reason for this including,
As the whitest major American city, Portland blossomed in the lone state that constitutionally barred blacks from living there through the 19th century, that acted as one of the primary concentration centers for incarcerating American citizens of Japanese ancestry during World War II, that redlined as severely as any major metropolis elsewhere. That in 1922 saw its chief of police posing alongside hooded Ku Klux Klan members. That brought Jim Crow to the Pacific shoreline.
This Politico article – How Liberal Portland Became America's Most Politically Violent City. And it's about to get worse, say protesters on both sides – sums up the tensions simmering in Portland.
---
Think
Hey Kent, what are you watching on Netflix these days? How funny you ask. I am revisiting my memories of the 80's by watching GLOW (Gorgeous Ladies of Wrestling). Before you pass judgement, you should know that it is not watch you think. It less about this:
And more about the creation of GLOW. The true story behind Netflix's superb "GLOW" is just as wild as the show. The show is women approved as Kirsten is also watching.
---
This thing that we love so much, the World Wide Web, is a busy creature.
---
For those of you still in denial about social media and its potential positive impact on your career, you should start reconsidering. I've seen the impact of LinkedIn and Twitter on a job search. You should have an active account on both. Instagram is making a case to become part of your social media channels. Instagram isn't just pretty pictures. It's becoming a valuable tool for jobs.
Instagram is now a potent job hiring tool
At the same time, employers are using social media to examine a candidate's, to determine whether they'll fit in. "Instagram is the new LinkedIn," Rachel Bitte, who heads human resources at Jobvite, a provider of hiring technology that works with 2,000 companies including Schneider, tells Quartz.
Once you take the plunge and join Instagram, make sure to follow ELGL.
---
#BigLocalGovBaller
Wow, there is so much excitement (and confusion) around the #BigLocalGovBaller designation. You can learn its distinguished history by scrolling through previous "Laugh, Cry, and Think" entries. Just know that it has a sticker so it's official.
Today's winners will have to cut the sticker into little pieces because we're honoring Colorado Supper Club attendees. Supper Club has become a regular occurrence in Colorado with the latest one held last night. I shouldn't do this because I know I'll leave someone out, but here are a few of the #BigLocalGovBallers responsible for the booming Supper Club industry in Colorado – Angelica Wedell, Carly Lorentz, Heather Gantz, Darrin Tangeman, Laura Savage, Noor Shaikh, and Abby Fitch.
Feel free to scream and yell at me in the comment section below if I left out your name. My apologies.