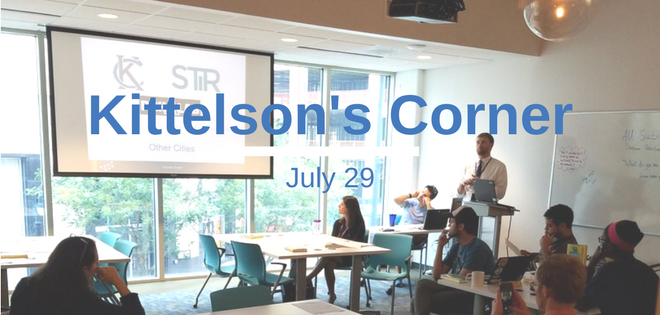 This is Kittelson's Corner my weekly musings on things I think are interesting or important, especially in local government nerd-dom. This week I listened to Amine, read about small towns in Montana and learned about Mayor Stoney from Richmond, VA.
Alright, let's go…
---
What I Read
Durham program aims to make city more efficient while helping entrepreneurs
We got a little media coverage this week for Innovate Durham, a program to bring entrepreneurs into City Hall and let them test out ideas or products. It's been really exciting to see how many people are interested and we've learned about organizations that we wouldn't have otherwise.
---
Oregon's beginner-friendly mountain a grueling adventure
This was a great description of one of my all time favorite hikes. Last year after our wedding my wife and I did the South Sister hike outside of Bend, OR. It was amazing, difficult and beautiful all in one. This article really captures how great it is and I'd definitely recommend the hike, you can't beat the views, but "beginner-friendly" is a little misleading. It's a difficult hike but well worth it.
---
Meet Amine a Joyful Rapper with an Eye on Politics
This week Amine, a rapper from Portland, OR, released his debut album. I'm writing this while listening to it and it's really good. I also loved this profile of him, it really captures how lonely it is to be a hip-hop artist in Portland and it's cool to see someone make it out of that scene. Hit play on his video "Caroline" below and give this a read.
---
Shout out to Matt Yager for sharing this article/blog post on Twitter. It's a look at the small towns across Montana and why they exist. People may not know this, but I was born in Billings, MT so the Big Sky state has a special place in my heart. I thought this was a really interesting article, even though Montana is only home to about one million people it has 56 counties. And, as the author looks back at their history, many of them were formed just to create a County seat. It's a question that many rural areas deal with but as people move to cities and leave these small, rural places, does it make sense to have the same number of local governments?
---
What I Listened To
Amine – Good For You
The debut album from Portland, OR rapper Amine is surprising, fun and worth your time. Start with this video of Caroline. Other early favorites from the album are Yellow, Wedding Crashers, Turf and Dakota. Can't wait to turn this up loud in my car on a sunny day.
.

.
GovLove with Mayor Levar Stoney
This was an awesome interview big thanks to Mayor Stoney for taking the time to talk with me for GovLove. We talked about why he wanted to run for local office, what he's dealt with in his first 7 months in office and his vision for education in Richmond. Plus we talked about his plan for the confederate statues in Richmond's Monument Avenue. It's also possible we became best friends and will be doing a Richmond brewery tour together someday.
.

.
---
Tweet of the Week
It has been so humid here in NC. So the news of any break in it is definitely welcomed. The City of Greensboro really captured my feelings here.
When it's Friday afternoon and the weather folks are saying we'll have something called "Low Humidity," whatever that is. pic.twitter.com/n1e84U0Smo

— City of Greensboro (@greensborocity) July 28, 2017
---
Wait! One More Thing…
Another music video to get your Saturday going. Amine in white face performing one of his songs at a car dealership, laughed a couple of times at this one.