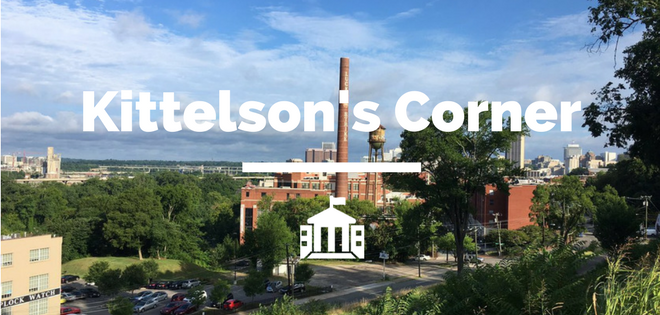 This is Kittelson's Corner my weekly musings on things I think are interesting or important, especially in local government nerd-dom.
I'm on the road again this week. Writing this column from an historic row house in the Church Hill neighborhood of Richmond, VA. Definitely a fan of this city so far. We went to Metzger Bar and Butchery last night, a cool hipster spot with German food and beer. Today I've walked the dog all over the neighborhood and we got coffee from a wood fired bakery. Here's a pic from walking the dog:
Alright, let's go…
---
What I Read
This chart shows the stunning trade-off at the heart of the GOP health plan
The most surprising thing I saw about the attempt at healthcare legislation this week was the very stark trade off at the core of the bill. The money that would go to 400 households would pay for the Medicaid expansion in four states. The bill chooses tax breaks for those households over insurance coverage for 725,800 people. Yikes.
---
African Americans Have Lost Untold Acres of Land Over the Last Century
This article details how much land has been lost by African Americans since the end of the Civil War. Often it's due to a strange form of land classification known as "heirs" property. Because African Americans did not have access or means to draw up formal wills land was split evenly among the next generation. This has led to plots being split among dozens of owners any one of which under this type of ownership can force the sale of the whole land. The surprising statistic was that black-owned farms went from 14 percent of all farms in 1920 to 2 percent today.
The article also looks at the Gullah people in Hilton Head and the battle to keep their land despite developers wanting to buy the land.
---
Mystery Man: The Legend of PFT Commenter
People may or may not know that the Wyatts and I are rabid fans of a podcast called Pardon My Take. It hasn't come up in Kittelson's Corner before because it's not the most educational podcast out there. One of the hosts goes by "PFT Commenter" and he as built a whole persona around being an internet troll and having some hot takes. This article looks at how he went from having an office job in Houston to being an internet sensation.
---
What I Listened To
Keb' Mo'
Really I listened to Big Fish Theory again all week, but in the spirit of trying not to repeat my music recommendations I'll recommend Keb' Mo'. He's a blues musician and his music is a perfect soundtrack for writing or really any work on a computer.
---
Miss Buchanan's Period of Adjustment
This episode of Malcolm Gladwell's podcast had me tearing up and angry while walking the dog at 6:00 am on Thursday morning. He examines the impact of the Brown vs. Board of Education case on African-American teachers. Often as the ruling was implemented school boards would lay off teachers from previously all black schools. But the research shows that it's really important for students to have diverse teachers. It's definitely worth reading.
.

.
---
Richmond, VA
Here's some more pics from Richmond. Excited to see some more of the city today and I as readers should know I think the political memory of the Civil War in the South is fascinating and Richmond should have lots of examples like this enormous monument to the confederacy in our neighborhood erected in the 1890s.
---
Tweet of the Week
Rebecca Woodbury from San Rafael, CA came with the most #100 tweet of the week. I agree that all these m-word takes are just people asking to be managed well and have a good work environment, not unique to any generation.
I'm gonna go out on a limb here and say other people want these things too. #Mword pic.twitter.com/wUWeuwdj5U

— Rebecca Woodbury (@WhatUpSanRafael) June 28, 2017
---
Wait! One More Thing…
So we're still in the early planning stages of the ELGL Pop-Ups and I've been helping with the Charlotte location. I'm sure our early agenda will come out soon, but I wanted to give a hint as to one of the keynote speakers. He's an awesome Twitter follow and great writer. Check out his latest article:
The Fight for Health Care Has Always Been About Civil Rights