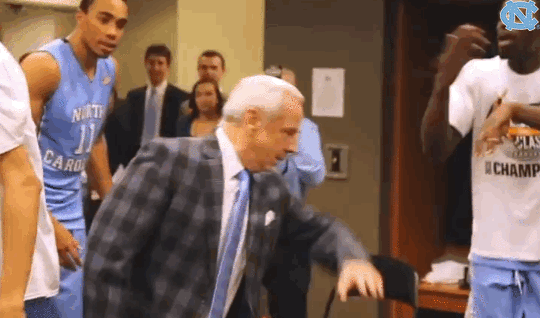 Welcome back to Kittelson's Corner my weekly musings on things I think are interesting or important, especially in local government nerd-dom.
This week was the start of the NCAA Tournament, which is one of the best sports long weekends of the year. But it's also when so much budget nonsense needs to be dealt with, so I felt like the subject of an Onion article as I not so sneakily streamed games while looking up water revenues.
Alright, let's go.
---
What I Read
Little light this week in the reading department, I blame basketball. Oh and work I guess. I did start a new book though! Currently digging into James Baldwin's Go Tell It On The Mountain. After seeing "I Am Not Your Negro" (which I would recommend very highly) I decided to do a little reading.
Displaced from Greensboro, Roy, K weigh in on HB2
So usually North Carolina has a tournament site in one of its big cities but thanks to HB2 the NCAA has moved everything out of the state, needless to say Coach K and Coach Williams are not big fans of the law.
UNC coach Roy Williams defends timeout philosophy in rambling, good-natured rant
If you're like me and you watch North Carolina Tar Heel basketball games and occasionally yell loudly at the TV about how Roy Williams needs to take a timeout, well it turns out we aren't alone. Apparently he's gotten that feedback before and gave a great response.
---
What I Listened To
Music: Michael Kiwanuka
I love this guy. His debut album was actually the first record I purchased on vinyl, and it's so so good. He has an amazing voice and is a great songwriter. I hadn't really sat down with his new album "Love and Hate," which came out last year, but I finally did and was not disappointed. One More Night (below) is probably my favorite song but the whole album is good to just put on and get some work done.
 Podcasts
I have too many podcasts this week to narrow it down to a couple, I loved this week's episodes of Missing Richard Simmons, This American Life, Reply All and Code Switch. I've recommended some of them before but check them out if you haven't.
GovLove: The City Hall Challenge
This week GovLove released two episodes! And though you should listen to them both, tell your mom to subscribe and then share them with your co-workers, I really enjoyed the conversation between the two ELGL City Hall Challenge finalists. Kent chatted with the communications pros at the City of Vancouver, WA and the City of Peoria, IL about how the contest went and communications in general.

---
Tournament Time!
So excited. Later today, after a budget engagement meeting, I'm headed to Greenville, SC to meet Kent and watch the NCAA tournament. I had to miss the games yesterday, but I'm super pumped to see Greenville and catch the games tomorrow. Let me know if you have any recommendations for breweries or restaurants in the other Greenville.
Also, be sure to vote in the ELGL bracket name challenge! We can't all get a perfect bracket, but a lot of people have amazing local gov't themed names for their brackets. I see you Free Throw Line Item, Mixed Use 2-3 Zoning and LikeGraysonThisWillBeAFlop. Vote!
---
Tweet of the Week
WOW. ELGL member and friend of the pod, Sam Anselm, is really on the cutting edge with his latest hire. I want to quit my job and move to Joplin, MO if I can work for this guy.
Wow very proud to be working for this city. @JoplinCityMgr is a true trailblazer. pic.twitter.com/w6O4UMuBTU

— Taylor Cunningham (@taylorcunning9) March 16, 2017
---
Wait! One more thing…
The Chapel Hill Supper Club is coming! RSVP so it's not just me and Kirsten walking all over Chapel Hill to find their nifty crosswalks.