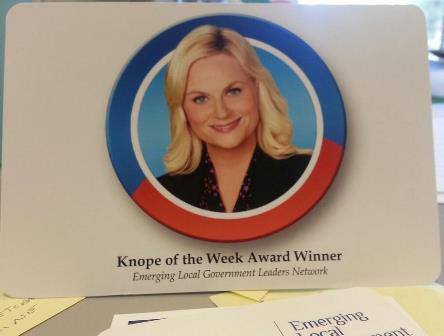 What is the Knope of the Week? It's ELGL's way of recognizing an individual or group of individuals who have excelled in promoting the public sector. Recipients may come from the public or private sector and are nominated by ELGL members. Recipients receive an incredible amount of recognition and prizes that we are not at liberty to disclose. The storied history of the award dates back to 2012.
Vitals
Name: Chris Fabian
Current Position: Co-Founder, Center for Priority Based-Budgeting
Email: [email protected]

Education: B.S. in engineering from the Colorado School of Mines
Previous Employment: Senior Management Advisor, ICMA; Internal Business Consultant, Jefferson County; and Management Consultant, Local Government Solutions Group
Stay Connected: LinkedIn
Name: Erik Fabian
Current Position: Chief Creative Officer, Center for Priority Based Budgeting
Email: [email protected]
Previous Employment: President, Edgewerk and Portfolio Manager, Guardian Management
Stay Connected: LinkedIn
Name: Don Hudson
Current Position: Finance Director, City of Tualatin
Email: [email protected]
Education: St. Mary's College of California, BS, Business Administration
Previous Employment: Ambassador, Men Against Breast Cancer; Finance Director, City of Stayton; and Accountant, City of Chandler
Stay Connected: LinkedIn
Name: Jon Johnson
Current Position: Co-Founder, Center for Priority Based Budgeting
Email: [email protected]
Education: Jon holds a B.A. in political science and a B.S. in accounting from Missouri Southern State University, as well as a master's degree in College Administration from Pittsburg (KS) State University.
Previous Employment: Director of Budget & Management Analysis, Jefferson County; Asst. Director of Finance, Douglas County; Director of Finance, City of Blue Springs; and Director of Finance, City of Joplin
Stay Connected: LinkedIn
Chris Fabian has provided consulting and advisory services to numerous local governments across the country. His consulting experience has focused on public entities at all levels, advising top municipal managers, department heads and program directors from over 60 organizations concerning the fundamental business issues of local government. Of most significance, his work has centered on the budget process as a lever to produce results, accountability and change; performance and outcome-based management; purpose, productivity, and efficiency in operations; and rigorous financial analysis and strategy. Pursuing the objectives of Budgeting for Outcomes (BFO), Chris was a partner of the consulting team that implemented BFO in Ft. Collins, Colorado, one of the leading organizations using this approach. Most recently Chris has served as a budget practitioner with Jefferson County, Colorado, where he incorporated the lessons learned from BFO into the development of the Budgeting for Priorities process.
Jon Johnson served as the Director of Budget and Management Analysis for Jefferson County, Colorado. Previous to that position, he was Assistant Director of Finance for Douglas County, Colorado. Prior to moving to Colorado in 2002, Jon served as the Director of Finance for several municipalities in Missouri, including the City of Blue Springs, the City of Joplin, and the City of Kansas City (MO) Aviation Department. With Chris Fabian, he coauthored the article "Getting Your Priorities Straight" published by ICMA in the June 2008 issue of PM magazine and additionally co-authored another article, "Leading the Way to Fiscal Health," published by Government Finance Officers Association (GFOA) in their December 2008 issue of the "Government Finance Review".
Erik Fabian has over 15 years of senior level finance and operations experience in both the public and private real estate sectors. This includes over 10 years with the Housing Authority of Portland, Oregon, and most recently as a Portfolio Manager with a leading West Coast real estate service corporation.
Don Hudson has served as finance director for the City of Tualatin since 2008. His local government career began as an accountant for the City of Walnut Cove, California in 1990. Outside the office, he volunteers as an ambassador for Men Against Breast Cancer. 

Connect with the Center for Priority Based Budgeting: Facebook, LinkedIn, Twitter, and Web
 Knope-Worthy Contributions
What a forum with the Center for Priority Based Budgeting, it had a little something for everyone — pizza for the students, a summer reading list for our proficient readers, Netflix references for our movie junkies, and of courses, ton of budgeting lessons for everyone. The forum was another great opportunity for ELGL to partner with like-minded organizations such as CPBB, Alliance for Innovation, and Oregon Municipal Finance Officers Association (OMFOA).
ELGL commends the Center for Priority Based Budgeting (CPBB) and their work in bringing a new budgeting perspective into government. We are big supporters of any organization or individuals that instead of complaining about something seek a solution, and that is what we have with CPBB.
If you missed it, we had an all-star cast on-hand with CPBB founders Chris Fabian and Jon Johnson, Erik Fabian, chief creative officer, and Don Hudson, Tualatin finance director and preacher of CPBB. These individuals are runaway winners of Knope of the Week.
From the ELGL Twitter feed, let's find out what we learned:
First of all, Microsoft Office retweet ELGL's praise of the CPBB's Excel skills, Office "@OregonELGL We'll jump in and second that! High-quality #Excel work rocks. Great job, @theCPBB!
Presentation was an abridged version of a longer CPBB presentation on matching community values with budgeting.
Jon Johnson has a long history of financial planning but nothing satisfied his need until formation of CPBB.
"How do we accomplish the goals we set out in a budget?" Key question answered by CPBB.
Check out the "Evolution of Budgeting" which shows financial planning as a constantly changing project.
Chris Fabian has experience with Ft Collins and was the first CPBB community. Evolved to make their budget more priority based.
"Achieving Fiscal health and wellness" includes both financial data and overall values alignment.
CPBB talks about bringing vision into focus with a new lens. "A new way to see things…"
"We are presenting new tools with which to see the world and the budgeting process."
CPBB does work in 16 states across the US. Also in Canada and public schools.
"A new way of approaching budgeting for the long term." Jon Johnson, CPBB
ICMA and Alliance for Innovation are backers of CPBB and believe it is a local gov leading practice.
Fiscal health = econ analysis, austerity, reserves, variance, transparency.
"It's a way to explain fiscal health using a picture." Jon Johnson, CPBB
Start the budgeting conversation with "how much is available to spend?"
Jon Johnson is from the "show me state" and this is a fundamental value in the CPBB approach to budgeting.
Educate public that reserves are not a savings account which may not be widely understood. Explain why reserves are fundamental.
Important to understand budget to actual variances to show trends over time.
Another key question to ask: are you being truly transparent about the true cost of doing business?"
"We need to focus our long range decision making on what's happening today and over the long term." Jon Johnson
CPBB provides a framework and model for long range financial health. The "show me" example that Jon Johnson loves.
CPBB focuses on the interplay between the one time and the ongoing expenses and how this affects long range financial outlook.
"Reason CPBB is so enlightening is because it ties one time expenses to the ongoing operating expense."
The CPBB way allows for long range understanding and impacts associated with projects.
Use of graphs helps everyone understand finances. Useful for citizens, electeds who may not be financial pros like GFOA members.
Need to differentiate between community results and governance results. External facing and internal service jobs in a city.
Next process building block is inventory of essential programs and understanding costs and priorities.
Strategic question: what do we do? What programs and services do we provide?
"What are the mortgage like services of local gov and what are the Netflix like services?" Interesting comparison from Chris Fabian
The CPBB suggests a self assessment and then a peer review of local gov programs to determine priorities.
"The CPBB approach is so easy, even an elected official could do it!" Chris Fabian recollection of the response from a CPBB city.
"Not just looking at two dimension view of budget but also asking the policy questions about where city priorities are." Jon Johnson
City of Tualatin finance director Don Hudson spoke to the use of CPBB in Tualatin. It does long range financial planning and quarterly financial reports.
Don Hudson does a good job differentiating btw one time and ongoing revenue sources for City of Tualatin as per CPBB.
Tualatin has used the CPBB Excel worksheets to show in real time the budget impacts of decisions.
"The CPBB model has allowed us to keep our financial discussions at a very high level."  Don Hudson 

The long term CPBB fiscal health model helped the Tualatin elected officials make smarter, better decisions during budget times.
Work of Ben Bryant and Alice Rouyer helped @CityofTualatin make realistic financial forecasts with CPBB model.
The CPBB model helped @CityofTualatin and Don Hudson explain financial realities and one time capital expenses to council and community.
"Treat contingencies as a one time issue and instead focus on your ongoing expenses." Jon Johnson
Supplemental Reading
Last Week's Knope of the Week
Knope of the Week: Jessica Williams, Mac's List Editor and Mac Prichard, Mac's List Founder
[youtube http://www.youtube.com/watch?v=PMF9S68O780&w=560&h=315]