Knope of the Week Lands on Ted Talks
The Knope of the Week recognizes sustained excellence in local government. It's the Heisman Trophy, Noble Peace Prize, James Beard Award all rolled into one. Many have vied for the honor over the years, but only a few winners have emerged. President Obama, Bono, and Cam Newton — none of them can list Knope of the Week recipient on their resume. (Fast forward to 12 minute mark for the Knope mention.)
The New Knope
Straight from Seoul, South Korea, it's Trevor Minyard!
Leslie Knope was smiling at Trevor's willingness to take ELGL on his recent study abroad trip. Trevor exemplified Knope-like qualities and the ELGL belief that we (as local government professionals) need to share our experiences with each other. You might recognize Trevor from another of his contributions to ELGL – #LocalGovSolutions: Financial Transparency Your Citizens Can Understand.
Trevor chronicled the Seoul experience in eight blog entries. With each entry, the number of readers increased. ELGL members and other readers from throughout the United States and worldwide were visiting the ELGL website for the latest pictures and narrative from Trevor.
Sounds easy? If you have tried blogging during a trip, you know that, while it sounds like a good idea, it becomes difficult in practice – trying to find reliable Wi-Fi, dealing with a different time zone, and forgoing sleep for writing. When Trevor approached us about the series, we were quick to give our approval, but in the back of our head, we thought that he'll submit a few entries, claim he got too busy, and we'd call it a day. This was the opposite of what happened.
Part I: Studying in Seoul with Trevor Minyard
Part III: To Live and Work for the Benefit of All Mankind
Part IV: Seoul's Lump Sum Rental Structure
Part V: Local Government Innovation in Seoul
Part VI: The Divide Between North and South Korea
Part VII: The Internet of Things, Seoul Style
Part VIII: Leaving on a Jet Plane
Word on the Street about Trevor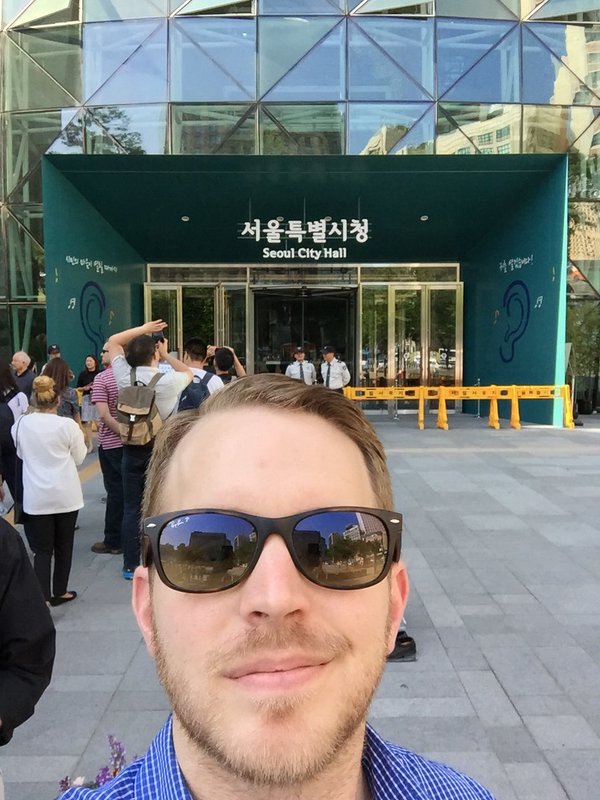 Trevor Minyard – LinkedIn and Twitter
Leana Johnson: I will be doing that same week-long trip to Seoul in October. I look forward to reading about your experience!
Henry Boyd IV: What a fantastic experience! Keep up the great work.
Doug Goodman: Trevor did an excellent job with the blog!
Kent Wyatt: This might be closest I get to Seoul. Huge thanks to Trevor for his willingness to bring us along.
Show your appreciate to Trevor in the comments section below.
Takeaways from Trevor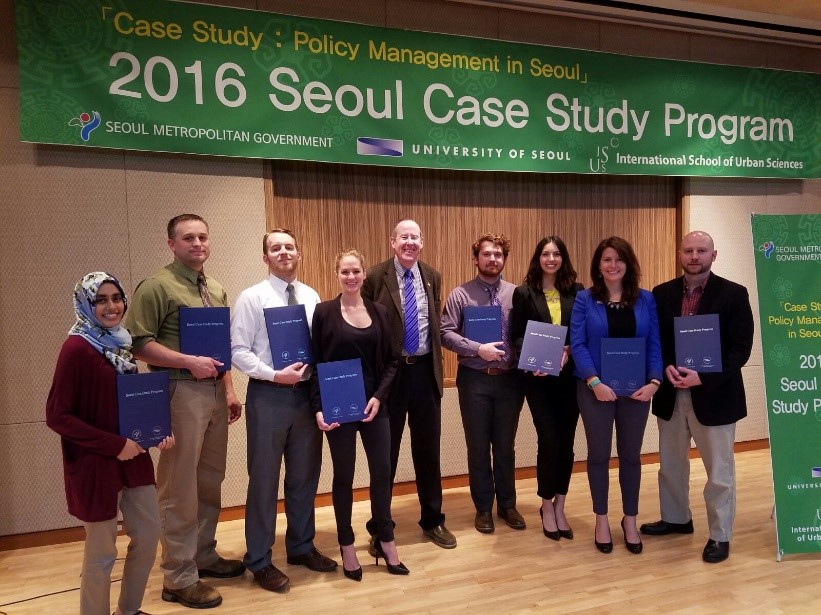 The first and ultimate educational principle of South Korea is called the Hongik Ingan – to live and work for the benefit of all mankind.
Seoul has implemented smart parking meters that connect to a mobile application free to download on various app stores.
Throughout the city, you will find waste receptacles that are outfitted with infrared sensors measure the "fill rate" of the cans. Once a given can is at 80%, the sensors dispatch a garbage collection command to the appropriate staff and the waste is collected as it reaches its capacity.
Throughout the city of Seoul citizens and tourists have access to free, fast, and reliable Wi-Fi.
The GDP per capita of South Korea is $19,152, which is almost twenty times the GDP per capita of their neighbors to the north.
Reasons for the unification of North and South Korea include: it's the moral thing to do; there will be an economic benefit; and population growth.
Seoul takes applications for, and funds small urban parks that are designed by the citizens. The idea is to have regional stakeholders design small green spaces and/or amenities that can be completed within 72-hours.
The parks department implemented a challenge-based program that provided stamps to residents and foreigners that completed certain hikes.
Seoul World Cup Park was developed directly on and around a landfill. Through cutting edge environmental efforts, and clever planning, Seoul created a world class park in possibly the very last place we'd expect.
Seoul serves over 30 million individuals in a 24-hour period through its public transportation. All of this activity is monitored at Seoul's traffic command center (called "TOPIS") which is an over 20,000 sq/ft room outfitted with an entire wall of monitors for analysis.
Seoul's transportation unit uses unmanned cameras to monitor various traffic violations.
Due to its high population density, over 97% of residents in Seoul live in apartment complexes.
Seoul Solution's main two objectives: (1) collects policies of Seoul Metropolitan Government that affects much on urban development and hopes to be a comprehensive archive for convenience of international organizations, corporations, and citizens; (2) stores Seoul Metropolitan Government information and make it approachable for citizens, corporation, government and academics.
Previous Recipients
Knope of the Week: Christian Williams, City of Goodyear, AZ
Knope of the Week: Pat Martel, ICMA President and City of Daly City, CA
Knope of the Week: Heather Geyer, City of Wheat Ridge, CO
The City Planner Behind Parks and Rec
Knope of the Week: Rick Usher, Kansas City (MO) Assistant City Manager