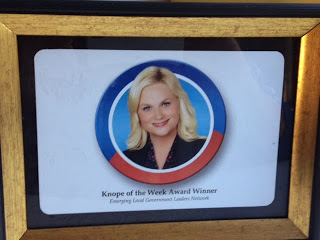 What is the Knope of the Week?
It's our way of recognizing an individual or group of individuals who have excelled in promoting the public sector. Recipients may come from the public or private sector and are nominated by ELGL members. Recipients receive an incredible amount of recognition and prizes that we are not at liberty to disclose. The storied history of the award dates back to 2012.
And the winner is…. 
Ben Kittelson
ELGL Project Assistant 
Portland State University MPA Student
Economic Development / Public Affairs Intern, City of West Linn
Connect: LinkedIn, Twitter, Vizify
 Knope Worthy Accomplishments
Ben is a triple threat – he's a student, city employee, and ELGL leader. When Ben came on board with ELGL we had no idea what to expect. All we knew was he graduated from Willamette University, had an interest in government, and was a football player. Whether through lack of playing time or inability to tackle, Ben's football playing days have not negatively impacted his intellect like we've unfortunately seen recently with former football players.
Willamette University has been good to ELGL (as you'll read in the next Willamette alumni magazine, spoiler alert), and Ben is another example of the public service leaders being produced at the school. With ELGL's fast expansion, Ben has served a myriad of roles from communications liaison to event planner to journalist. Most notable was Ben's interview with the producer of the nationally acclaimed commercial for the Whitehorse City Council meeting.
We could give Ben the Knope of the Week every week, but we chose this week to acknowledge his year round contributions and to make up for the lack of salary that he's provided for his work.
Word on the Street
Chris Kerr, City of West Linn, Economic Development Director/Interim Planning Director
During the last quarter, due to staff turnover, Ben was asked to take on more responsibilities on a complicated project related to assessing the impacts of increasing our street maintenance fees in the City. He prepared a detailed analysis, considered different alternatives, surveyed best practices and finally prepared a report with recommendations to our Economic Development Committee (EDC).  Based on this report and presentation, the EDC made their final recommendation for the City Council's consideration.  Ben was complimented on his work by both Staff and our advisory board.
Ben played an integral part in preparing a grant application for the State to allow our City to complete an Economic Opportunities Analysis.  Despite the fact that this is was a highly competitive grant, the City was recently notified that it was awarded the full $35,000 requested for the project.  Ben's detailed and creative contributions to the grant application helped make this possible.
Kent Wyatt, City of Tigard, Senior Management Analyst
Ben is about results. There are very few people that you assign a project to and know it will be done, and done right. Ben has been vital to expanding the ELGL footprint throughout Oregon, PSU, and now, the Midwest.  Most recently, he's put together a dynamic 2014 speaker series with Jeff Mapes, Dave Austin, Ben Petrick, and Don Krupp.
Erik Fabian, Center for Priority Based Budgeting, Chief Creative Officer
Ben Kittelson is the "Pied Piper" of ELGL. Although instead of luring away children from a medieval German town, he enthusiastically lures those interested in local government into the resource rich ELGL environment by consistently and cheerfully trumpeting the spirit and rewards of public service. Ben truly exhibits Knope level qualities and clearly deserves this recognition.
Dan Englund, Portland State University MPA, Student
It's been a privilege to work with Ben Kittelson at ELGL, study with him in my MPA program, and run leadership activities through the ICMA PSU Student Chapter. He's extremely smart, kind hearted, and a diligent worker — but what I like best about Ben is his understated, infectious sense of humor. Ben is exactly what The Knope stands for.
Zach Pelz, City of West Linn, Associate Planner
Ben has been a great addition to our crew.  Aside from just being a really nice and helpful guy, Ben isn't afraid to jump in and get his hands dirty, which is especially nice in our increasingly busy work environment.  Ben also has a pretty broad array of technical skills that have come in very handy with public outreach on a number of projects.
Michelle Tagmyer, City of Beaverton
Ben has a great attitude—a trait that I've noticed is common in successful government leaders!
Ben McCready, City of Rock Island (IL), Assistant to the City Manager
Ben is a rising star in the world of local government, his membership and growing role in ELGL demonstrates his ability to go above and beyond. I'm impressed by his team mentality, even from 2000 miles away it's pleasure to work with Ben.
Kirsten Wyatt, City of West Linn, Assistant City Manager
The things I appreciate most about Ben are his work ethic; his good-naturedness; and his writing ability.  These are three attributes that make him a pleasure to work with.  He works hard, he is pleasant, and he communicates well.  These traits will get him far in life, and the local government community should be thankful that he has chosen public service as a career.
Marissa Grass, City of Tigard, Assistant Planner
My experience working with Ben on the ELGL Conference Committee is that he just makes work more fun. He's a funny guy and can make the best of any situation.
Supplemental Reading