What is the Knope of the Week?
It's our way of recognizing an individual or group of individuals who have excelled in promoting the public sector. Recipients may come from the public or private sector and are nominated by ELGL members. Recipients receive an incredible amount of recognition and prizes that we are not at liberty to disclose. The storied history of the award dates back to 2012.
And the winner is…..
Co-Author of The Metropolitian Revolution
Vice-President at the Brookings Institute
Connect: Twitter and World Wide Web
Metropolitan Revolution: Book, Buy, iPad App, and Twitter

Bruce Katz is a vice president at the Brookings Institution and founding director of the Brookings Metropolitan Policy Program. He is also co-author of The Metropolitan Revolution (Brookings Press, 2013), a distillation of his work on the emerging metropolitan-led "next economy" and its practitioners around the country working to produce more and better jobs driven by innovation, exports and sustainability.
Knope Worthy Accomplishments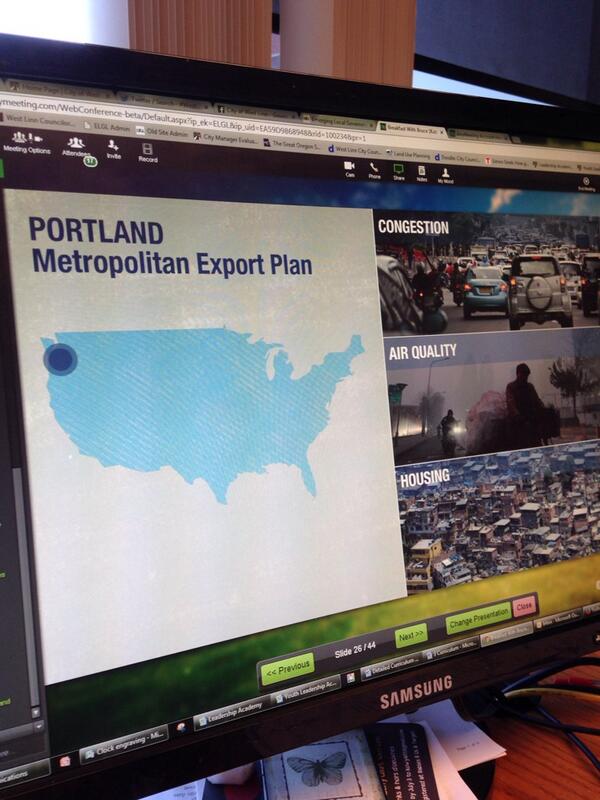 For starters, Bruce Katz is the Lebron James of the local government movement. The Metropolitan Revolution, which he co-authored with Jennifer Bradley, details the successes of regional collaboration and the need for more of it going forward. Bruce took an hour to spread the "gospel" of the Metropolitan Revolution during an ELGL webinar this week and here's what we learned.
There are 107 million people that are poor or near poor, need better jobs.
Our next economy has to be based on making things again, exports over consumption.
The top 100 metro areas make up 75% of the GDP.
The Portland region is a hidden export powerhouse. Great export strategy.
Metros that connect by trade grow together.
Bruce quoted Dolly Parton "Find out who you are and do it on purpose."
Three game changers identified in Metropolitan Revolution: NYC (applied sciences), NE Ohio (manufacturing is innovation), and Detroit (spatial geography innovation)
We are way too dependent on financial markets in New York.
MIT, OHSU, and South Lake Union represent the new spacial geography of innovation.
In this century, metros will lead and states and federal government will follow.
Obama administration has not succeeded in aiding #localgov in game changing projects.
Cities need to use economic power and build regional coalitions. GreaterPDX is an excellent model.
Political coalitions have to be built to make state/fed gov'ts listen and meet the needs of cities/metros.
Suburbs won't die out but they will "urbanize" to remain competitive.
It's not just cities or counties, it's the network that matters.
At this point in time in our country … What needs to be done is fulfill the potential of cities.
Critics of the Metropolitan Revolution believe we shouldn't give up on federal government, don't let tea party win the battle.
An economy that doesn't make things (craft, manufacturing, etc) will fundamentally cease to exist.
Word on the Street
Erik Fabian, Center for Priority Based Budgeting, Chief Innovation Officer
The US is experiencing a rapid power evolution from the federal level to a regional and local level. Cities and counties must quickly acknowledge this radical transformation and take advantage of the enormous social and economic opportunities this evolution presents.
Ben Kittelson, City of West Linn and Portland State MPA
Bruce's presentation was great! The idea that cities and metro areas are where change can happen and expand is important, especially with the ineptitude of the federal government.  I also really love the notion that strong economies need to make things and export goods, and that metros can strengthen their economy by doing exactly that.
Dan Englund, Portland State MPA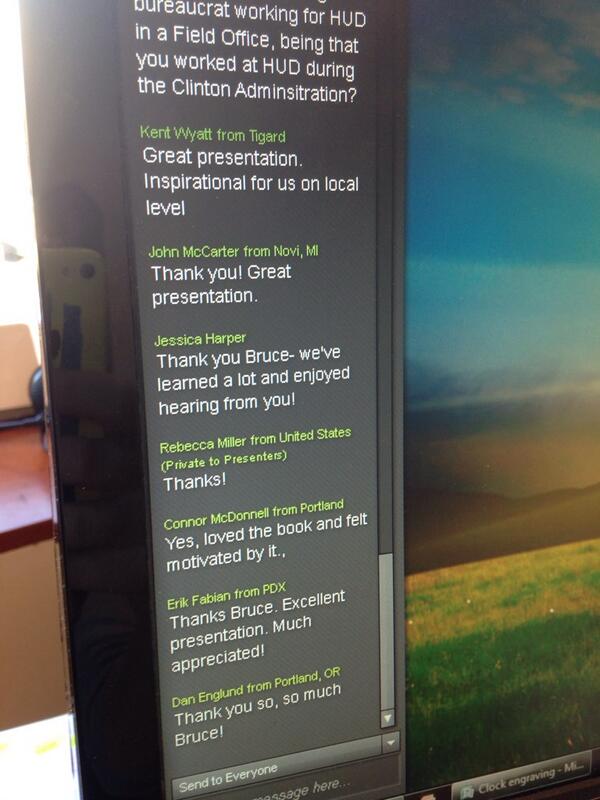 Bruce Katz is an innovative, forward thinking leader on the future of cities and economies. His work is outstanding yet very practical. ELGL was fortunate to spend an intimate morning webinar him. The Metropolitan Revolution is real and Bruce is leading it.
Jessica Harper, City of Gresham, Assistant to the Mayor
Bruce's presentation and Q&A were informative and honest. His remark that suburbs aren't ending but rather urbanizing really hit home for me and the trends I see in the City of Gresham.  As Bruce so eloquently said, it isn't time to panic, it is time to adapt. Props to ELGL for scoring such an impressive presenter & big thanks to Mr. Katz for taking the time!
Kent Wyatt, City of Tigard, Senior Management Analyst
Bruce has shed light on the need for regional cooperation and the ability "to get things done" on the local level. The Metropolitan Revolution book will be a must read for practitioners and students for years to come. His remarks should inspire all of us in the public sector to take on the role of agent of change.
Connor J. McDonnell, Portland State University MPA Graduate
The largest takeaway from Bruce Katz's webinar is importance of that the Cities, Counties, and private sector within a metropolitan being well-connected, networked in, and having opportunities to formally and informally engage with each other to make public policy, build public projects, and innovate. I also highly recommend the book.
Supplemental Reading