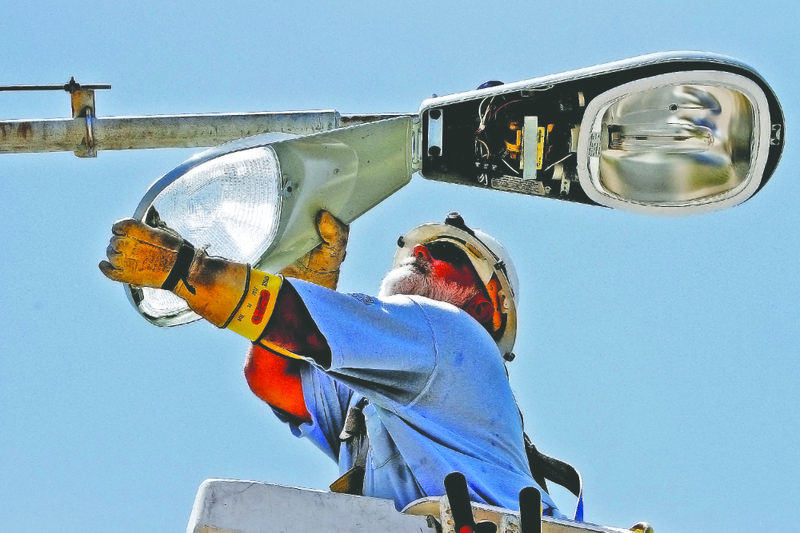 The City of Little Rock is launching a new campaign with our neighborhood associations called Lights On.  Lights On is a streetlight canvassing project aimed at giving our residents easy to use tools for systematically looking for streetlights in their neighborhoods that are out or blocked by vegetation.  This project was the result of a strategic working session with one particular neighborhood, who said one of their top priorities was making sure their streets were not dark.  The residents stated that the streetlights being out or blocked made them feel less safe and wanted a way to do something about it to make a direct, quick impact.  The City knew that there are numerous studies showing a relationship between dark streets and crime rates.  So we knew this was something we could easily work on with our residents to get a process in place and educate them on what to do.
Using simple tools like Google maps and our Citizen Connect site, City staff built route maps for the neighborhood and helped gather volunteers to do the canvass.  Over the course of a couple of hours on a Friday night, fifteen people used the maps and drove or walked the streets of this neighborhood looking for streetlights that were out or where the light was blocked by vegetation.  They used the City's 311 mobile app to tag the location and enter a service request regarding the lights.  The City was then able to follow up with the local utility who owns the streetlights to make sure the requests were completed.
Looking at the data for this particular neighborhood, over a ten month period only fifteen 311 services requests were entered.  During the Lights On canvass, there were thirty seven tickets entered on that one night.  The residents were able to see a direct impact to the lighting in their neighborhood by completing this canvass.  To test the process, we worked with another neighborhood who took on the task over a weekend and their data showed very similar results.  In the second neighborhood, only two 311 service requests were entered over the course of an entire year.  During their Lights On canvass, they entered in thirty eight requests.  In the second neighborhood, they used their Facebook account to post updates and photos of the utility trucks fixing the lights in their neighborhood.   They even stated that, "It felt good to be a part of that process, i.e. making our neighborhood a better place to live."
Now that we have created a how to guide and have tested the process in a couple of neighborhoods, we are taking it citywide to all of our 163 neighborhood associations.  Our City Manager has also worked with the local utility to make sure that our 311 Manager is getting a weekly update report on the requests that are coming in and a completion date, so we have a way to follow up with the neighborhoods.  This was a part of our process that wasn't happening prior to this project, so we are looking for other ways to make this process as streamline as possible for our residents.
We are looking forward to helping our residents have an increased quality of life and sense of security through our Lights On initiative.