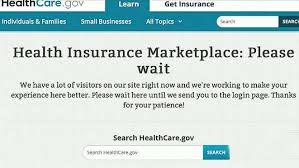 This is another installment of an ELGL original content series titled "Taking Triple Aim on Health Care" by Josh Schultz.  Josh is a Client Services Associate at Medicare Rights Center, New York
[youtube http://youtu.be/3ROlkhMpV-Q]
You Like Your Plan, You Keep Your Plan
November 19, 2013
Americans Receiving Cancellation Notices Couldn't Get Online to Shop for Better Coverage
Millions of Americans enrolled in individual market insurance policies that don't comply with the Affordable Care Act's coverage requirements have learned that their policies will end December 31. People receiving cancellation notices who wanted to stay with their same insurer in 2014 have been told they will pay higher premiums next year for a plan with higher deductibles and, in some cases, "narrower networks" of providers. As cancellation notices were sent out en masse starting October 1, HealthCare.gov and the state-based marketplaces (also known as "exchanges") including Cover Oregon, were riddled with disastrous technical failures.
People receiving cancellation notices were unable to log into HealthCare.gov or their state's exchange and see whether they qualified for better, comprehensive coverage at a lower cost when affordability tax credits had been factored in. If people receiving cancellation notices had been able to get online and see the many new and better health insurance options available to them under Obamacare, there may not have been any political issue over the cancelled policies.
Hot Link: in one week, three recent grads built a better-functioning website than HealthCare.gov: http://www.thehealthsherpa.com
People Called Their Congressmen
Thirty-nine Democrats in the U.S. House bucked the Obama White House on Friday by voting with Republicans to pass the Keep Your Health Plan Act. This Republican-sponsored bill may be dead on arrival in the Democrat-controlled U.S. Senate, and the White House issued a veto threat in the unlikely event the bill reaches the President's desk. The House's somewhat ineptly named legislation would allow insurers offering health plans this year to continue selling them in 2014. The bill would not require insurers to un-cancel policies, but it would allow the Administration and members of Congress up for re-election in 2014 to blame insurers for not un-cancelling policies. Both Reps. Kurt Schrader (OR-3) and Peter DeFazio (OR-4) voted for the Republican fix.
A day before the House voted, the White House sized up the political situation and impending Democratic defections. The Administration issued a directive to state insurance commissioners giving commissioners the ability to allow health plans that existed on October 1, 2013 to be renewed in 2014 – with the possibility that those plans could be renewed again in 2015. If state insurance commissioners go along with the Administration in 2014, and if health insurers are allowed to renew their policies again in 2015, the Administration's "fix" could prevent another stream of cancellation notices from being sent to consumers weeks before the November 2014 midterms.
Oregon says plans can renew, Washington State says "no way!"
The Administration's directive requires that state insurance commissioners go along with the plan in order for it to work. Oregon Insurance Commissioner Laura Cali is allowing previously cancelled policies to be renewed – and Regence BlueCross BlueShield has said it will un-cancel its policies, according to The Oregonian.  While nothing guarantees that every private health insurance company will renew these cancelled policies, the Administration's directive does guarantee that politicians can blame health insurers for taking away people's coverage instead of letting the blame for cancelled policies fall on Democrats in Congress and the White House.

In a contrast to Oregon's Insurance Commissioner, Washington's Insurance Commissioner Mark Kreidler blasted the Administration for changing the rules and said he would not let sub-par health plans renew in his state. (So far, Massachusetts, Rhode Island and Vermont have joined Washington State in saying they will not let pre-Obamacare plans renew.) Unlike HealthCare.gov and Cover Oregon, neither of which worked when enrollment in exchange health plans began on October 1, Washington's HealthPlanfinder exchange has been and continues to operate smoothly. That Oregon said yes to Obama's administrative "fix" and Washington State said no – with an exclamation mark – is noteworthy. Without massive IT failures at state and federal levels, a major change to the implementation of the Affordable Care Act's rules and protections might not have been needed. That policymakers in Washington State didn't embrace changes to Obamacare may have been a testament to that state's functioning exchange and is underscored by last Friday's vote in the U.S. House. While Oregon Democrats Schrader and DeFazio (two fifths of Oregon's Delegation to that branch of Congress) voted for the House bill, only one Democrat in Washington State (one tenth of that State's delegation to the House) sided against the President and voted with Republicans to "fix" Obamacare.
What this means for people buying health insurance next year
Insurance executives are understandably upset by the White House's "fix" that allows cancelled health plans to be renewed in states whose insurance commissioners agree with the White House's plan. Health insurers weren't consulted about this administrative "fix," even though it arguably impacts them more than any other stakeholder. Insurers set their 2014 premiums for policies both in- and outside of the exchanges based on the assumption that many pre-Obamacare health plans would end on December 31 and people who had been insured through those policies would buy new insurance that complies with the Affordable Care Act. America's Health Insurance Plans CEO Karen Ignani said that the Administration's "fix" could destabilize the market and mean that people will pay even higher premiums in 2015. Ignani is correct about the possibility for higher premiums, but wrong about destabilizing the entire health insurance market.
The Affordable Care Act has specific, well thought-out mechanisms in place to balance the insurance risks posed by the many older and sicker people who will be enrolling into health plans in the exchanges. There are three different risk mitigation programs – reinsurance, risk corridors, and risk adjustment – in place to prevent severe market disruptions if more sick people enroll in Obamacare health plans without enough young and healthy people enrolling to balance out the risk. The Administration's "fix" means that some younger and healthier people will stay in their current individual market plans instead of moving into Obamacare health plans on January 1. There will be fewer young and healthy people to counterbalance the older and sicker enrollees in the new "risk pool" of people insured through Obamacare plans that begin on January 1. This makes the successful implementation of the Affordable Care Act's programs to manage insurance risks more important than ever. The Administration acknowledges the importance of these programs in its letter to state insurance commissioners and notes that further guidance is on its way about how these risk-balancing programs may be modified to account for the market effects of some pre-Obamacare health plans continuing into 2014.
Related link: National Journal: How Obamacare's Authors Protected Insurance Companies
What This Means for Consumers
Plans were going to be cancelled across the United States. Depending on whether a state's insurance commissioner approves of this Administrative "fix" and depending on the willingness of health insurers to un-cancel millions of policies, some people in some states who thought they would lose their plan – the plan they had been told again and again that they could keep – may actually get to keep their pre-Obamacare plan for at least one more year. Americans who find that their pre-Obamacare plan is un-canceled are still better off enrolling in more comprehensive coverage by purchasing a health plan in the exchange. Nobody enrolled in a pre-Obamacare health plan (or any other plan purchased outside of the exchange) can receive tax credits to make coverage more affordable.
In Oregon, insurers who sent out cancellation notices have the option of rescinding the notice and continuing the pre-Obamacare coverage into 2014. Regence BlueCross BlueShield says it will allow individual market policyholders to continue their coverage in 2014; any other insurers who wish to un-cancel their policies must notify the Oregon Insurance Commissioner by Friday. Oregonians must remember that health insurance policies that comply with the Affordable Care Act will provide better protections and benefits than pre-Obamacare health plans. People can apply for affordable coverage that provides comprehensive benefits by contacting the Cover Oregon call center at 1-855-COVER-OR, by filling out and submitting this sort-of-online PDF application (Internet Explorer required), or by applying through a Cover Oregon agent or community partner. If you live in Washington State, the Washington HealthPlanfinder is working. Finally, if you live somewhere else, HealthCare.gov is beginning to work better for many users.
##
Supplemental Reading