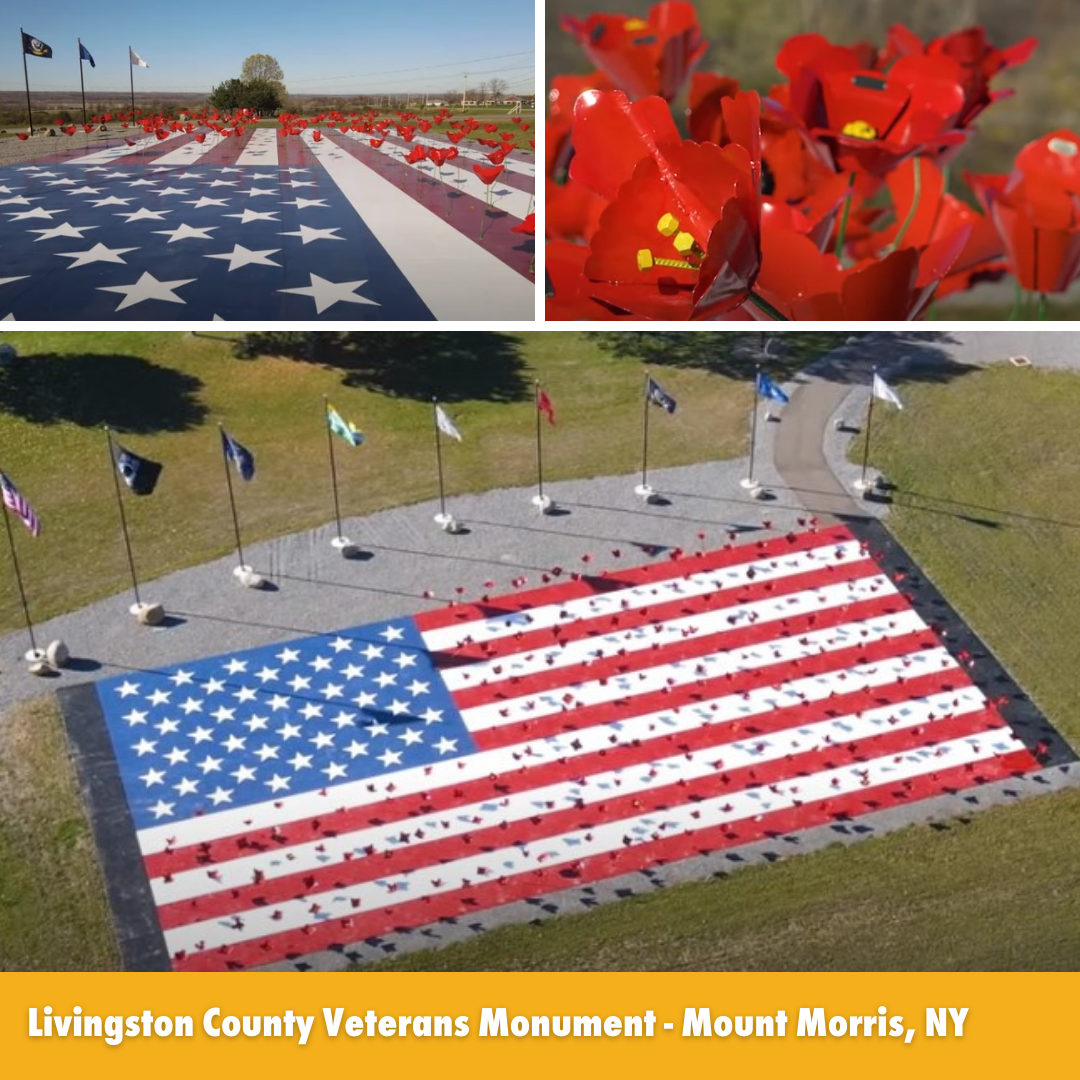 Voting for the 2022 Best Places in Local Government (aka the #ELGLKnope) Round of 32 opens on March 7, 2022 and closes at midnight PT on Friday, March 11, 2022. One vote per person. Learn more about this award online.
---
Livingston County Veterans Monument
Mount Morris, New York 14510 
Year(s)/Era:

Wartime periods 

Type of Place:

Site, Structure  

Nomination:

The Livingston County Veterans Monument is an everlasting symbol of civic pride, inclusion, and community building. The monument, owned and managed by Livingston County, was designed as an engaging, interactive cultural site that allows visitors to immerse themselves in the stories and memories of local veterans. The physical aspects of the monument – including a walkable American flag with swiveling metal poppies – combined with the homegrown efforts among those who built the monument have created a truly unique experience for all who visit. Local government officials, the veteran population, and many community volunteers of all ages and abilities participated in the design and development of the monument. Through this collaborative effort, veterans and their families had an opportunity to learn the vocational trade of metalworking alongside instructors and students as they worked together to handcraft hundreds of colorful, metal poppies for the monument. Not only did they build a monument together, but all those involved built a resilient community bonded by their shared experiences. Because of its uniqueness and many layers of symbolism, the Livingston County Veterans Monument has received a significant amount of attention since its unveiling and is now a popular regional attraction and gathering spot for residents and visitors alike. 

Most notable attribute(s):

Unique features of the open-air Livingston County Veterans Monument include a colorful surface treatment and hundreds of swiveling metal poppies to emulate a waving American flag. The bright red poppies, ranging in height from 1ft. to 3 ft., were individually handcrafted by Livingston County veterans (as well as friends and families of veterans) with help from a local metal trades instructor. In addition to the poppy display, the monument also features multiple flag poles representing military service branches. 

Special designations or recognitions:

On November 11, 2020 (Veterans Day), a small flag raising ceremony was held at the Livingston County Veterans Monument. The ceremony honored the service and sacrifice of military service members, veterans, and their families. The official dedication ceremony for the Livingston County Veterans Monument was held on June 14, 2021 (Flag Day). State, local and community representatives were on hand to honor veterans and give thanks to all those who made the monument possible. A documentary highlighting this project can be found on Livingston County's YouTube channel at https://bit.ly/3whSwMT.

Three words to describe:

Patriotic, Unparalleled, Collaborative 

Anything else to share?

The Livingston County Veterans Monument is free to the public and accessible to all. 
Local Government:
Livingston County 
Geneseo, New York 14454 
---