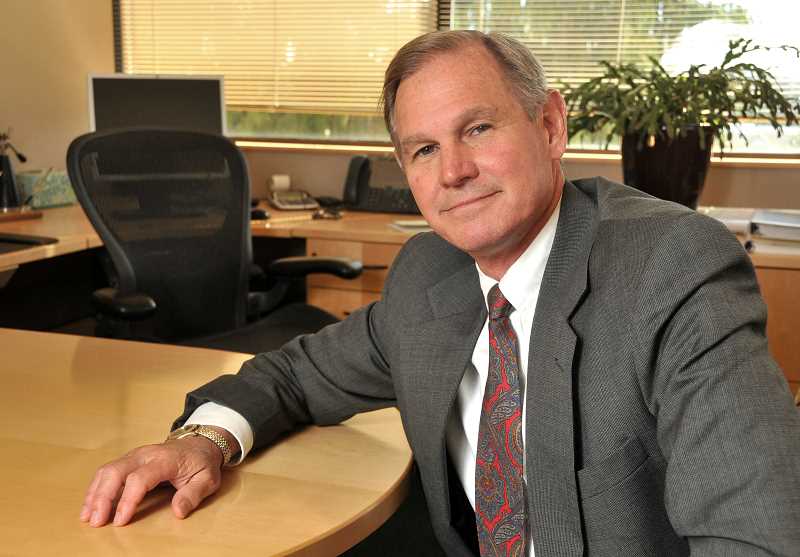 Balancing community aesthetics/environment and individual private property rights; shifting project work during the recession; planning for boom/bust industries; MPA "Lite" University; economic development is maybe not so tangible; and why student loans should be illegal — this is Local Government's New Normal in Lake Oswego per Scott Lazenby, Renaissance Man and LO City Manager.
The Mission: Local Government's New Normal is an original ELGL blog feature by contributor Dan Englund that provides an educational, supportive lens into the "new normal" of local government by examining local issues, solutions, and stories from compelling government professionals and their cities or counties. In this episode, we hear from Scott Lazenby, City Manager of Lake Oswego, Oregon.
LO is on the boundary of Portland's Metropolitan. Historically, it benefits from a geographically convenient, naturally close proximity to the Willamette River with abundant trees and iron in the ground — all things that helped found Lake Oswego as a charcoal iron industry. Operationally, the city has a deep history with regional roots sprouted early in the mid 1800's until officially incorporated in 1910. Today, Lake Oswego is home to some of the most prosperous suburbs in Oregon and its K-12 schools are among the top in the state. The population of nearly 40,000 is composed mostly of families that make up about 70% of the households there.
In 2013, the city won the National Planning Excellence Award for a Communications Initiative with their video, "We Love Lake Oswego." The video was a city marketing tool to share ideas about public planning and its importance on the resident's everyday lives.
Meet Scott Lazenby
The City of Lake Oswego operates under the council-manager form of government.  The mayor and city council are elected to be the legislative and policy-making body for the city and a professional city manager is responsible for day-to-day city operations. So, to help us understand local government's new normal in Lake Oswego, we sat down with Scott Lazenby, who is the current city manager there. Prior to this new post, Scott served as City Manager of Sandy, Oregon for 21 years.
At the outset, it must be understood that Scott Lazenby is dutifully known as a 'renaissance man'. In addition to his day job, he's an adjunct professor at Portland State University (where he also serves on the MPA Faculty Advisory Board) and he's published five books so far, with more on the way. Mr. Lazenby has a Doctorate in Public Administration and Policy from Portland State University; a Masters in Public Management and Policy from Carnegie-Mellon University; and a Bachelor's degree in Physics from Reed College.
Renaissance men are well traveled and Mr. Lazenby meets that bill as well.  He was born in Delhi, India, and has lived in Algiers, Geneva, Hong Kong, and Sydney. And you've probably heard of Caterpillar, right? Well, Scott's dad was a stalwart at the company which helped provide him with big business prospective.
…
Local Government's New Normal with Scott Lazenby, City Manager of Lake Oswego, Oregon 
1. Most Compelling Current Issue: The most compelling current issue Scott said they're working on in the City of Lake Oswego is the balance between community aesthetics/environment and individual private property rights.
"There are several compelling issues, [but] most involve the balance between community aesthetics/environment and individual private property rights. In the last election, the council majority shifted more to the latter, but the council members understand that it's not a black-and-white issue. So we're revisiting city policies and ordinances dealing with everything from habitat protection to the famous (or infamous, depending on your perspective) Lake Oswego tree code. 
2. Coming out of Recession: The Great Recession put fiscal constraints on all businesses. We did some research on Lake Oswego's budget situation and in contrast, asked Scott about his tenure in Sandy during the time, including any remaining challenges he saw for either city now, and/or coming out of the recession.
The economic downturn was tough on local governments, but a review of Lake Oswego's Certified Annual Financial Reports during that time indicate a city less impacted by the Great Recession when compared with other nearby cities. The city seemed to recover fast too (comparatively speaking). In 2011, the City's net assets increased nearly $11 million over the fiscal year and they ended with a fund balance of $25.6 million, a $3.1 million increase from 2010. In 2012, the net assets increased nearly $7 million and last year (2013), the city's net assets increased another $13 million.
None-the-less, Scott reminded us of the reality that resources and money are still finite. Existing residents are constantly concerned with the possibility of rising rates and fear new fees. In the meantime, service expectations remain high. When our analysis was presented, Scott demonstrated how Lake Oswego represents an area much more built out than the City of Sandy (which is the 5th fastest growing city in the last decade in Oregon), meaning property income growth for the city is much smaller in LO.
"In the City of Sandy during the recession, we went from around 150 new home applications a year to less than a handful and zero subdivision applications. Fortunately, the city was very efficient and lean. The planning department was set up in a way that recognized the cyclical boom/bust history of real estate by setting aside funds in boom years to account for shortfalls in bust years. As the account grew during big boom years, the council deserves credit for keeping this account in place and holding off from using the funds which was a very tempting consideration at times. In Sandy, the planning department drew upon these funds during the recession as designed which helped keep it afloat through the economic crisis. However, the recession was so great; we still barely made it through.
Meanwhile, Lake Oswego has a very healthy tax base, but even it is finite. Costs, especially for employee health and pension benefits, have been outpacing growth in revenues. The Council made some reductions in services and programs in the 2013-14 Budget, with some resulting staff reductions, and started the process for selling a 90,000 square foot building that had been acquired for a possible (future) community center. At the same time, many parts of the city are old by Oregon standards, and we're dealing with aging infrastructure: water, sewer, and especially streets. As a side note, one of our active ELGL members, Anthony Hooper, is playing a lead role in finding solutions to these challenges.
With less private projects during the recession, there was a shift in Sandy and Lake Oswego to in-house, public projects. So employees were no less busy, they just adapted their focus and the type of projects we were working on changed. In fact, many employees enjoyed the work even more than usual.
Throughout all the changes, the city worked hard to maintain the essential services necessary to run a city."
3. Local Government Communication: With many local news sources cutting down on their days of delivery and citizens turning increasingly to the internet for news; Scott talked to us about his organization's communication strategy. In general, he provided his viewpoint on how local governments communicate.
"This is definitely a major feature of our new normal. Lake Oswego mails out a very nice monthly newsletter, Hello LO, and a recent survey found that it's still the major source of city information for residents. But the web site and social media are increasingly important. Jordan Wheeler stays on top of our social media communications and Cate Schneider has moved us to streaming video coverage of meetings.
The streaming video of the Wizer Blocks project in Lake Oswego is a great example of how we were able to effectively communicate good information with our residents regarding a very important project that has controversial elements depending on who you talk to." 
4. Economic Development Strategy: Economic development seems to lead headlines as the most important goal(s) for modern economies, including localized, civic economies.  We asked Scott how he defines economic development, its challenges, and about the potential opportunities. His answer was profound:
"To paraphrase John Lennon, economic development is what happens while you're making other plans. In a global economy, there is nothing a local government can do to really affect the local economy. Ted Kulongoski campaigned on economic development, and then the state experienced its worst economy since the depression. Go figure. Economic development programs contain all the elements of a rain dance. And everyone wants you to do it.
Our city council's economic development goal focuses on building the tax base, which benefits from both business and high-end residential investment. For a lot of reasons, Lake Oswego is attractive to both, so our strategy deals more with responsiveness than marketing."
5. Best Projects: Next, Mr. Lazenby told us about a couple of projects we asked him might best define his tenure with Lake Oswego. Although his tenure has been brief in LO, his answer is something that will surely end up leaving an impression.
"We just started Lake Oswego University for which a lot of credit goes to Megan Phelan, David Donaldson, and Jordan Wheeler. As a management tool for the city, it involves elements of succession planning and next generation education. It's been wildly successful so far with more than 1 out of every 5 employees signing up to take part."
The project: Lake Oswego University is a completely unaccredited and unorganized institution of higher education, in order to provide graduate-level education to Lake Oswego staff. The first degree offered by LOU will be a MPAL, or a Master of Public Administration (Lite). It will have all the ingredients of the best MPA programs in the country, except there will be NO tests, papers, or even grades (thus the "lite" label). And there are NO pre-requisites for admission: no prior education or experience requirements, no GRE scores, no admission essays on why you want to get the degree in order to create world peace. Just a commitment to do some reading and participate in class discussions (and even lead some of the discussions, for those who are willing).
How it works: The class will meet for one hour twice a month in a noon brown bag lunch setting (tentatively the second and third Thursdays of the month). The only homework is reading about three chapters of a book before class. Each month will features different topic.
6. Management Style: Local government management involves managing externally, and also the employees within the organization; Scott gave us his personal thoughts on his own management style:
"Many people use words like "delegate" and "empower" which are great words, but they aren't always aligned with the actual systems and processes of the organization. You need to implement systems within the organization that are aligned with the philosophy and practices of good management. Otherwise, they are meaningless words. Talk the talk, but walk the talk too, and make sure your organization is aligned with it. Is your organization still using static job descriptions, annual performance reviews, central budget decision-making, and rule-bound personnel systems? Why?"
7. Best Story: It's been pretty serious until now, but we know that odd or silly things can happen in local government, so we asked Scott for his best story; although he couldn't really say…
"You'll have to wait for my next book, "State of the City" to hear my best stories; I wouldn't want to give them away. But here's a quick one: In Sandy, we had a really active, vocal citizen (an amazing character) who wanted us to create a sovereign state, independent of the U.S. He petitioned his neighbors, harangued the council, and even tried to create his own currency."
…
Now here's a "round robin" style question from your local government peer(s):
Question from Erik Kvarsten, City Manager of Gresham: "In ten years, how will your day be different and how will the services we provide be different?"
Answer from Scott Lazenby, City Manager of Lake Oswego: "I'll come to work in an electric-powered velocipede, there will be no keyboards or voice-only phones, and like now, I'll spend most of the day in meetings, both real and virtual. Maybe I'm an idealist, but I hope the main way the services will be different is we'll be doing more "co-production," where we help residents and businesses serve themselves."
…
TNT: Ten New Takes
1. If there were a freshman level university class on City Management 101, name 3-5 items that should be included in the curriculum?
1) Human psychology; 2) Aesthetics; & 3) Economics
2. Name one or two of the biggest issues confronting local government in the next five years.
Getting out from under the yoke of the state. Over the past half century, increasing state interference in local issues has made a joke of home rule authority.
3. We often learn from our mistakes. Name one or two learning moments that you think we could learn from.
There's that line in Cool Hand Luke: "What we have here is a failure to communicate." It's a great line, because in the context of the scene, it was a huge understatement. I wouldn't call them career mistakes, but most of my learning moments involved ways that situations or facts could have been communicated earlier or better. On the other hand, we always hear from the person sitting in the public meeting, "I never heard about this meeting.
4. Respond to the concept of schools as means of economic development.
Schools are absolutely key. And if I were king, student loans would illegal, [I'd] force colleges to keep their tuition reasonable, and [I'd] get the feds to fund scholarships instead of blowing stuff up overseas.
5. Name the best book(s) local government leaders should read.
"The Righteous Mind" by Jonathan Haidt. *Editors note: You should definitely also read "The Human Side of Budgeting" by Scott Lazenby.
6. What artist, song or album do you listen to when you want to get in the mood about coming to work?
Bobby McFerin's "Don't worry, be happy".
7. Give us one of your strategies for successful #WorkLifeBalance
Regular "date nights" with my wife Sandy.
8. Hypothetically, if we find ourselves interviewing for a job in front of you, talk about a few steps we can take to make a good impression.
Don't ramble. Seem excited about the job and ask some thoughtful questions.
9. Ask me a question I should ask other local government professionals that would fit within this format which you want to know the answer to.
What do you enjoy most about your job?
10. Ask and answer a question I should have personally asked you with regards to this interview?
Q: What are the top two management lessons you've learned in your career?
A: 1) Always label your keys; and, 2) Hire only happy people and try not to do anything to exasperate them.