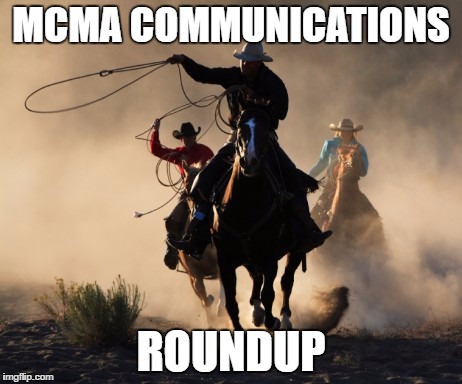 At last week's MCMA "Communications Roundtable," participants brought their most pressing local government communications issues to share and discuss. Here's a summary of those discussions, and some resources and tools that are available.
---
Citywide Action Team (CAT) – New Brighton, Minnesota
New Brighton city manager Dean Lotter shared the success of an internal staff committee called the "CAT" – the Citywide Action Team. Lotter formed this group in 2014, it consists of staff members from multiple departments who tackle various problems and make recommendations to the city council. Lotter explained that the CAT allowed for individuals within the city organization to become effective spokespeople on issues that were outside of their assigned department. ELGL has reached out to Lotter in the hopes of getting more information for ELGL members interested in forming CATs within their own organizations.
Social Media Town Halls
The rise in popularity of online town halls was another point of discussion. Many participants shared success stories about using Facebook and Twitter to engage residents at a specific time for a social media back-and-forth dialogue on community issues. The group also discussed the growing prevalence of online tools that facilitate community engagement.
This image is a screen shot of a Councilor Thomas Frank Facebook Town Hall for the City of West Linn, Oregon. Participants at MCMA also talked about using hashtags to have Twitter based conversations at a set date and time.
Breaking News Alerts
The city of Ramsey, MN shared a unique challenge: police logs that are shared online in real time, resulting the entire community learning about police department issues at the exact same time as city staff.  Tools like Google Alerts are valuable to keep staff in the know about online references to their community, but this online information sharing is even faster than Google. The group talked about ways that staff can divide the responsibility to keep an eye on this information so the city council and other stakeholders can be notified as needed. This prompted a larger conversation about how swiftly information moves and that a targeted approach to communications is required; communications can no longer be an afterthought.
Communications FTEs
All three panels included robust discussion about the need to create public information/public affairs positions in local government. Many participants discussed how these positions previously were subject to budget/personnel cuts. Ideas like the CAT team as well as cross training employees to become "brand ambassadors" for government services were discussed, with the full recognition that creating new positions can be challenging.
 Go To Where The People Are
St. Anthony, MN is currently updating its comprehensive plan, and city staff is committed to "going where the people are" to get input and feedback on the plan. This includes setting up booths at the local wine tasting, beer tasting and liquor store events. This prompted discussions about how the most effective communications and outreach often involve engaging the community outside of normal business hours and at special events or even at non-city events. Flexibility in job descriptions ensures that city employees can use these opportunities for outreach and communications.
Video, Live Streaming & Facebook Live
Becky Ahlvin from Cottage Grove, MN* got us talking about the value of local governments incorporating video into their social media repertoire. Facebook Live, Periscope and YouTube are all free and easy tools to instantly engage the community with the work of local government. The recent GovLove episode about effective local government videos supports this discussion.
*Note: please join ELGL in thanking Becky for her assistance at #MCMA16 with live-tweeting the workforce development session. We now only refer to her as "Becky with the good tweets" because she did such a great job.
Nextdoor
The best ways to use Nextdoor as a municipal agency were hot topics at each roundtable. Essentially, all discussion participants have struggled with the conflicting desires of community members to use Nextdoor as a way to get localized information, and of Nextdoor to remain a neighborhood organizing tool (not a municipal government tool).
The group discussed the value of creating an organization account, but also monitoring Nextdoor conversations from a resident account, with the recognition that Nextdoor remains a neighborhood-level tool.
Engaging Non-Traditional Audiences
The city of Brooklyn Park, MN's Wokie Freeman asked a key question about the best ways that local governments are engaging non-traditional audiences: citizens who have not typically engaged with local government in the past, or are not as adept at navigating traditional feedback models like public hearings, written testimony and contact with elected officials. Developing a statistically valid survey similar to this one is a way to get an accurate snapshot of the ways that a specific community wishes to be engaged and listened to on civic matters.
Customer Service in Multiple Languages
The city of Madison Heights, MN referenced their very diverse population and the multiple languages that are present in the public school system. This prompted a discussion about the myriad ways that local government can develop a multi-lingual workforce, including several practical applications from city of Coon Rapids, MN Assistant to the City Manager Maria Carrillo-Perez. Ideas included:
Giving add-pay for employees that voluntarily signed up to translate as needed,
Developing a "Rosetta Stone" learning program for staff,
Installing translate plug-ins for municipal websites.
Social Media Users as Community Organizers
Sarah Alig from the city of Woodbury, MN asked the question if cities can benefit from learning more about the citizens that select to start up community Facebook pages, Twitter accounts and Nextdoor neighborhoods. Her reasoning was that if these people are engaged enough to develop social media tools for the community, they might be receptive to the idea of sharing information from the government organization with their networks. It's an interesting and proactive way to engage community activists in the work of the city, instead of competing against them with messaging and information.
---
Special thanks to the MCMA for organizing a great conference, and for inviting ELGL to be part of it. The roundtable format worked great for a free-flowing and real time conversation about local government communications. Have any questions about the topics discussed? Drop us an email and let us know if there's anything else you'd want to add to any of the above topics.