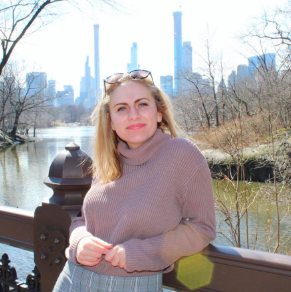 This blog is by ELGL's new employee – Hallee Haygood, the Innovation Projects Coordinator! ELGL hired Hallee to assist with the work of our Innovation Cohorts, teams of local governments that are working together to tackle tricky local government issues and challenges!
---
Hello there, ELGL family! A few years ago I became interested in local government because someone recommended the GovLove podcast to me, and I have been invested since that day. So this feels very full circle. I am forever grateful for this opportunity, and look forward to working with all of you. 
Currently I live in Chapel Hill and am working towards receiving my graduate degree in Public Administration and City & Regional Planning. After I graduate, I hope to stay in the Raleigh-Durham area. This past summer while I was working in the City of Durham's Budget & Management Services Department, I realized how much I enjoy the local government scene in North Carolina. 
While I was in the City of Durham I had the joy of working with our very own Ben Kittelson. Working in the department was an extremely unique learning experience, and furthered my love of local government.
Not only did I have the opportunity to work on the FY20 budget, but I also was able to conduct research about the local sales taxes in Durham. I analyzed how the 2008 recession impacted the collection of local sales taxes, and why some may have taken more of a hit than others. It was the best learning experience I could have asked for. 
At the end of my internship, I had a new perspective on the trajectory of my career. Previously I had been focused on city management, however, now I am more focused on work within a budget or planning department.
For me, I hope to create tangible change through innovative projects, which is why I am so excited to work with the innovation cohorts. Thank you to ELGL for your belief in me and willingness to bring me on to the team!
Leslie Knope is my icon in all things, and I aspire to be as passionate about local government as she is. Hopefully now that I will be surrounded by other folks who love the public sector just as much, if not more, than me, it will push my love even further. 
When I'm not in classes or teaching undergraduates about policy research, I am usually reading articles about municipal planning, watching stand-up comedy, or spending time with my cat, Luna.
Please let me know if you're ever in the Triangle area and want some recommendations for the best #CityHallSelfie locations. I look forward to working with you all!