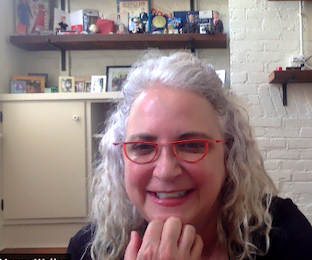 Margy Waller
What's an interesting project or issue you're currently working on?  
City Council School
If you could have coffee or a beer with any famous person, who would it be and why?  
Dr. Marc Lipsitch — is he famous? So many questions about the future and he's a big brain on COVID.
What was the first cassette tape/CD/download that you ever purchased? 
Appalachian Spring — Aaron Copland
What job on your resume or LinkedIn was most formative for you? Why? 
White House Domestic Policy Council — Worked so hard, learned so much, got so much done
(Complete this sentence) The one thing that I think is missing from local government is….
Civic InFra: Research, best practice knowledge, citizen engagement, access — sorry, more than one!
What's one question we should have asked you? What is the answer?  What's the one thing you're hoping to get from joining ELGL? 
Q: What's the role of artists in local government? A: Ask them to join any table, watch what happens.