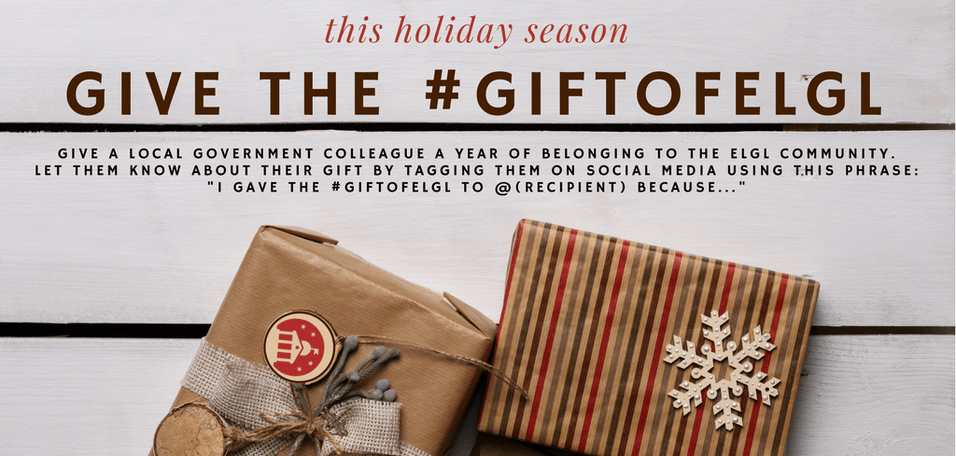 As you make your holiday list, consider giving the #GiftofELGL to your colleagues. ELGL is the fastest-growing, most affordable, high-quality professional development network for public servants. Starting now, you can give the gift of membership – $15/students, $30/students, $300/organization.
---
By Alexandria Kenyon, City of Redwood City, CA, LinkedIn & ELGL Profile

Many things excite me about ELGL but one common thread among many of them is that they all begin to make ELGL feel like a place I can call home. Many of us have more than one home throughout our lives. There are our homes where we live, maybe we consider our workplace another home, or even a group of people who feel like home. For me, ELGL is becoming a place I can add to my list.
So what gives ELGL this homey feeling? Here are a few things.
ELGL allows me to meet and connect with others who care not only about local government but

my work

in local government. I had been working for the City of Redwood City for about four months when I attended my first local government conference ever, with ELGL. Many people already knew each other, which was intimidating, but they included me in their conversations, asked about what I did, and took real interest. People wanted me to share my story. In ELGL you connect with genuine people who are not only interested in their growth but yours as well.

I chose to join and continue my membership with ELGL because of the feel of the organization. Instead of intimidating, the organization is friendly and inviting. The materials produced, events held, etc. by the organization are modern, innovative, and progressive – not stiff, too formal, or forced. This is welcoming for people in all stages of their careers.

I also enjoy that ELGL connects to my work and gives me an opportunity to contribute. As someone who works with multimedia all day, I enjoy coming to the ELGL website and finding blogs, podcasts, receiving eNewsletters, as well as seeing a vibrant social media presence. Something that continues to pull me in, is members of the organization are encouraged to contribute to these blogs, podcasts, community building activities (like

Birthdays and Books

), and more. New members are also encouraged to take part in these!
At the end of the day, ELGL is a place that is welcoming, you feel included, your contributions matter, and people care about you – just like home. If you're an ELGL member who is reading this, I encourage you to "Give the Gift of ELGL" and bring someone in. If you're not yet a member, I encourage you to join the family and make this your home too.
---
The #GiftOfELGL is spreading. Welcome to new members:
Amy McGuire, City of Gaithersburg, Maryland
Amy Walbridge, City of Dayton
Anthony Christian, City of Bloomington, Indiana
Ben Brown, North Carolina League of Municipalities
Breanna Adams, Erie County, Pennsylvania
Jennifer Westerholm, Metropolitan Government of Nashville and Davidson County
Julia Glanz, City of Salisbury, Maryland
Mike Cully, League of Oregon Cities
Sarah Alig, City of Woodbury, Minnesota
Shelby Quinlivan, City of Middletown, Ohio
Singeh Saliki, Metropolitan Government of Nashville and Davidson County
---
Supplemental Reading