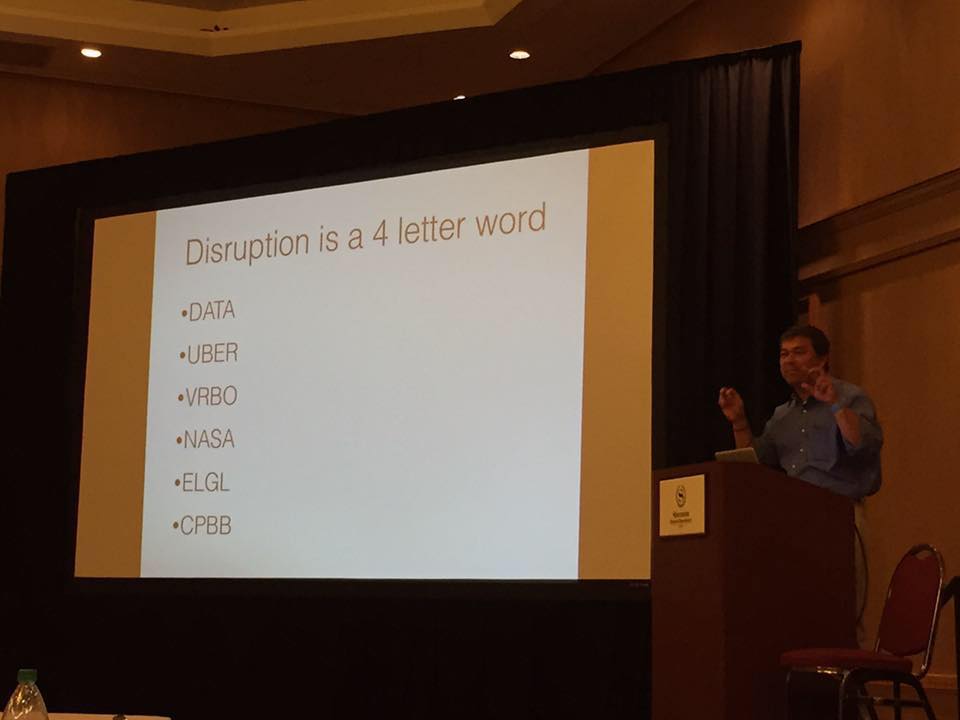 ELGL returns to the Center for Priority Based Budgeting Conference (CPBB) on August 4. (You can relive last year's adventure here.) This year the ELGL team consists of Ben McCready (City of Rock Island, IL), Christian Williams (City of Goodyear, AZ), and Michelle Holder (City of Aspen, CO). Surprisingly, we'll be live-tweeting from the conference in between plates full of pastries and cups of coffee.
Tweet your Denver recommendations to @ELGL50.
---
August 6
Part Deux Done…..Barely
We wrapped up #CPBB15 with a trip to Fort Collins to visit with Darin Atteberry and Dan Weinheimer. If you need to re-charge your local government battery have a conversation with Darin. Darin believes that local government can be great and cool and this is after 17 years in the same city. Fort Collins is a leader in many areas in local government including mentoring the next generation. The city has a fellows program. This year Tyler Marr, a Kansas MPA student, holds the position. Fun Fact: Julia Novak was an intern with the City of Fort Collins.
With the short amount of time we had in Fort Collins, Michele and I captured a couple of City Hall Selfies and pics of the city. You can view my incredible photography here. An extra day was almost tacked onto my trip but thanks to the 75 mph speed limit I was able to catch my flight….barely.

CPBB Takeways
I would dominate at larping because I would make myself invisible.
Salad fingers is a thing and it frightens me.
Aspen is super jealous that Dumb and Dumber was filmed in Vail.
PREMA Corp loves trolls.
Canadians are funny. William Hall had one of the best speeches of #CPBB15. Although we noticed that while gushing about Canada he conveniently forgot to mention Nickelback.
Denver has incredible food – Snooze, Syrup, The Kitchen, and The Corner Office were a few that we tried.
Local government professionals are committed to increasing diversity among its ranks.
Bronies are creepy.
Ugo will probably be evicted from his apartment.
The CPBB Conference has more diversity among attendees than any conference that I have attended.
Ben McCready has an anxiety attack when he loses a cell phone charger.
The "Jargon Jar" which Slate Communications tweeted about will appear at an ELGL function sooner than later.
Jon Walker from SafeBuilt can tell you everyone you need to know about the Atlanta Braves new stadium.
More than 70 people tuned into Periscope for the ELGL session on the #13Percent.
Boulder City Manager Jane S. Brautigam is a lawyer and has a daughter working for the City of Aspen.
Diversity needs to increase for Mattie and other young children who may want a career in local government.
Mark Funkhouser is tall.
Favorite Picture from #CPBB15
Editing Room Floor
This clip got cut from our presentation but it will appear at some point.


August 5
Wake Up, Wake Up
Ugo is more demanding than my kids. He spent most of the morning texting me about my "check out" time. Eventually, he stopped texting and waited for me outside the building. When I "checked out" I didn't have the heart to the tell him about the notice waiting from him in the apartment. Read below for details.
Fun Fact: I found a bottle of Axe Body Spray in the bathroom. This will be noted on my review.

On to Fort Collins
After the morning session, Michelle Holder and I are headed to Fort Collins. We'll be meeting with the city manager and Dan Weinheimer. During my stay in Denver, Fort Collins has been promoted as some sort of incredible utopia. I am almost afraid to visit for fear of being disappointed.
AirBnb Police
Ugo's is in trouble. Yesterday we returned back to Ugo's place and were greeted by a formal notice from the leasing office that Mr. Ugo is in violation of the lease. And, props to the leasing office, for doing their research. They noted on the notice that Ugo has received five reviews on AirBnb in July and that he previously received a warning about using the apartment as an AirBnb. I think Ugo's in trouble, and he is about to review review number six and it won't be positive.
August 4
Ugo's First Words
"If anyone asks you're a visitor" – these were Ugo's first words to us. We didn't ask why but I assume AirBnb is frowned upon by the leasing office. (Of course, this made me want to immediately call the office  and ask for fresh towels and shaving cream.)
A random stray hair on the bed, a bottle of pills behind the couch, and the lack of a coffee maker greeted us in Ugo's pad. But let's stay positive – the place is near Coors Field, it doesn't smell, and it has toilet paper. Unfortunately, there are no free bath products that I can take home as a parting gift.

I Won a T-Shirt Face

Ben McCready was the biggest winner and he's happy.

Telling Our Story
We had lunch with Slate Communications and discussed local government's new obsession with "telling our story." The phrase has seemingly become the new buzzword replacing "sustainability" and "economic development." I am not arguing against telling your story but let's stop using the phrase without any meaning. Confused? This may help – Storytelling: Local Government's WD-40.

To Show This Video or To Not Show This Video
I am looking for input on whether to kick off the #13Percent session with this clip from The Office.


Bizarre-o World
While I was charging my computer in the lobby, I was reading Casey Earp's profile and learning about his mentors. Once I finished the article, I looked over and saw Greg Winkler (one of Casey's mentors) sitting next to me. I bit my tongue in an attempt not to tell him that I just read an article where he was mentioned. I feared coming off as a stalker, but I did it any ways. We had a brief conversation and then he proceeded to check his pockets, head for the door, and look behind to make sure that I wasn't following him. Oh, the world of the rich and famous in local government.
You should check out Greg's organization. Great model for other states.

Funk on Periscope

Knope of the Week winner Mark Funkhouser was the headline speaker at today's opening session. Check out ELGL's Periscope to listen to Mark's talk about the three keys for local government.

August 3
Live from United Airlines

United may be a horrible airline with pathetic customer service but they offer a solid WiFi connection. Using this connection, I am able to bore you with details of my PDX to Denver trip.
ELGL headquarters for #CPBB15 is a random guy's loft near Coors Field. This random guy is named Ugo (according to his AirBnb profile). Ugo and I are off to a bad start. Unlike Jorgen (my AirBnb buddy from #CPBB14) who hid a key for me in a secret location (outside his door), Ugo wants a face-to-face meeting before handing over the keys to his house/loft to Ben McCready and myself. I had hoped to wear down Ugo and have him hide a key for me under the doormat but no luck. I've repeatedly told him about my flight delays. He is undeterred.
If I had the energy, I would have the Uber driver stop at a tattoo parlor where Ben and I would get matching "Gov Buds" tattoos with barb wire circling the outside of the words. Ben and I would also show up wearing matching tank tops and Jams. Surely, Ugo wouldn't discriminate against us.
Recommended Read
So Kent, "how are you spending your time on the plane?" What a great question! I spent a solid 30 minutes reading The New Yorker article on Darren Wilson, the police officer who killed Michael Brown. You should read it too, do it!
I Like Florence and the Machine
Is that okay for me to admit if I want to continue to give off my manly presence. I've spent much of the plane ride digging their concert on YouTube.

August 2
Michael Scott's School of Management
In preparing for our panel discussion, I can't get this clip out of my head. Every racial and gender stereotype in three minutes.

40 Ideas in 40 Minutes
What did we do at the CPBB in 2014? 40 Ideas in 40 Minutes was our topic. Relive the glory here.

4-1-1

If you're headed to the conference, check out the CPBB Twitter feed for information on the conference app, preview of sessions, and a $10,000 giveaway. That last one might not be true.



July 31
Question of the Day
Can Christian Williams, City of Goodyear, AZ, top this gem from #CPBB14?
 
Tweet! Tweet!
The #CPBB15 Twitter list is here. (Note: We didn't include the Seattle Mariners. While they are in-town for a three game series, their appearance at the conference has not been confirmed.) Just think….every time you use #CPBB15 your gems of wisdom with full up the Tweet Beam.

Road Trip

Who needs Coors Light when you can have New Belgium?
Next Thursday, we'll take a road trip to meet with Darin Atteberry, Fort Collins City Manager. Darin is one of the best communicators among city managers. His newspaper column should be replicated by any city manager who has the chance.
Want to learn more about Fort Collins? The Deputy with Jeff Mihelich, City of Fort Collins.
Hat tip to Dan Weinheimer for organizing the visit. We'll pay him back by dressing in our fanciest tank top and sweatpants.


Beam Me Up!
Another reason to get excited about the CPBB Conference is Tweet Beam. The Association of Washington Cities used a similar tool at their recent conference. It's a great way to keep attendees engaged and informed about what others are saying about the event.
Your assignment for next week is to help fill up #CPBB15.

 
July 29
Not Jorgen's Place
Jorgen's place was unavailable but Ben McCready and I are staying at an AirBnb rental. We will be staying a nice, homey condo near Coors Field which will be free of babies, toddlers, and Pirate's Booty.

The Evening Buzz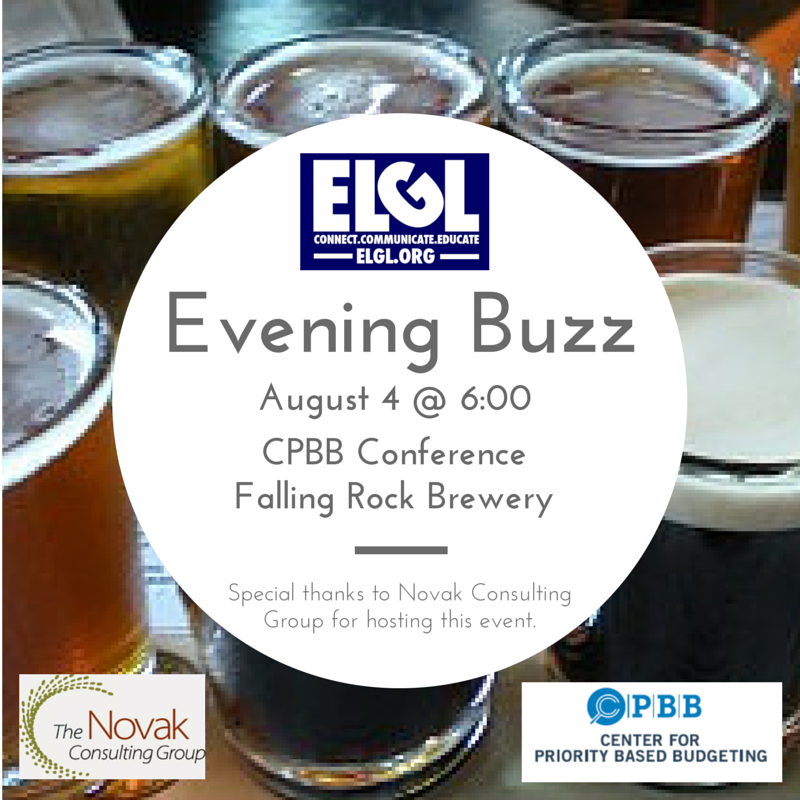 After the first day of the CPBB Conference, we'll celebrate with the Evening Buzz sponsored by The Novak Consulting Group. Selfie sticks encouraged. ELGL members in the Denver area are invited to attend.

#13Percent Under the Periscope

A new addition this year is that we'll be broadcasting our session via Periscope. What the hell is Periscope? Here's your answer. The session is Wednesday, August 5 at 8:30 MST. Tune into Periscope to watch our panel discuss results from our "Current State of the Local Government Workforce" survey.
Panelists
Question for You
Each day we'll post a question for you, that's right, you the read. Today we want to know – what's the best brewery in Denver?

Supplemental Reading
#13Percent Panel Discussion Set For CPBB Conference
Take Two: ELGL Heads to CPBB Conference
We're Back, Jorgen! ELGL Returns to CPBB Conference
Rocky Mountain Ramblings: CPBB, Bob Clark, and Jorgen