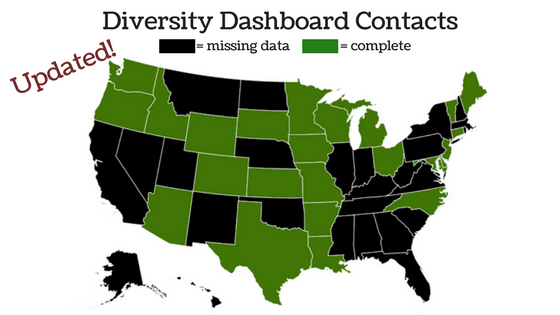 ---
This map is updated as of Tuesday, February 13 at 7:00 a.m. PST. Thanks to the states (and ELGL members) for getting their contact information submitted to ELGL!
This week, the Diversity Dashboard Research Coordinators (RCs) will send out the surveys on gender, race, birth year, and veteran status to the Chief Administrative Officer (CAO) and Assistant Chief Administrative Officer (ACAO) contacts in each state where we have successfully collected/received contact lists.
A huge thanks to the 22 states that have allowed this next phase of research to begin by willingly sharing their directory information with the ELGL Diversity Dashboard RCs :
Arizona
Arkansas
Colorado
Connecticut
Delaware
Idaho
Iowa
Kansas
Louisiana
Maine
Maryland
Michigan
Minnesota
Missouri
New Jersey
North Carolina
Ohio
Oregon
South Dakota
Texas
Vermont
Washington
Wisconsin
Wyoming
---
We're looking for missing contact information.
We're still looking for contact information for some states, and we need the ELGL family to encourage your state associations to share their directory information.
Please note – we are not asking state associations to complete the Diversity Dashboard data collection. We are just trying to make reaching out to each local government entity in the state easier by not having to manually compile a list of every town, city, county and their top officials from scratch.
We recognize that not every state association maintains a database which is an exact match to all of the data fields we hope to use.  Please understand that we will take whatever information they do have and we will fill in the rest!
Here are the columns of basic data we're looking for at this stage:
Name of Government
Type of Government
County Name
Population
Form of Government
CAO Name
CAO Title
Phone Number
Email
ACAO Name
ACAO Title
Phone Number 2
Email 2
Notes
---
Want to help us reach out to the missing states and encourage their participation?
Here's a sample email you can send, and the email addresses for the missing states:
Hi! I'd like to encourage [State Association Name] to partner with ELGL, the Engaging Local Government Leaders network, on an important data collection about local government leadership. At this time, ELGL is looking for directory information only so they can conduct their own research on the race, gender, age, and veteran status of local government Chief Administrative Officers and Assistant Chief Administrative Officers across the country. I want our state to be represented in the Diversity Dashboard research. Your partnership is very important and I encourage you to contact Lauren Stott and Libby Seguin to find out how you can share this information with ELGL and move this project forward! Thank you.
---
If state associations are not willing or able to share their directory information, it won't deter our amazing team of RCs.
We'll collect the information by hand, building out a database for your state that we'll then use to send out the Diversity Dashboard survey. This approach takes longer, but we're not going to give up just because some associations don't want to tackle this topic with ELGL.
Here's the list of contacts for the state associations that have not yet shared their directory information with ELGL RCs. Thanks in advance for your assistance reaching out to these states and asking them to be partners with ELGL on the Diversity Dashboard project.
Alabama
Ken Smith
[email protected]
RC: Yao Geng
Alaska
Kathie Wasserman
[email protected]
RC: Ashley Glass
California
Carolyn Coleman
[email protected]
RC: Ashley Glass
Florida
Michael Sittig
[email protected]
RC: Ashley Brown
Georgia
Lamar Norton
[email protected]
RC: Yao Geng
Illinois
Brad Cole
[email protected]
RC: Chantalle LaFontant
Indiana
Matthew Greller
[email protected]
RC: Chantalle LaFontant
Kentucky
Jonathan Steiner
[email protected]
RC: Chantalle LaFontant
Massachusetts
Geoffrey Beckwith
[email protected]
RC: Nallely Manriques
Mississippi
Shari Veazey
[email protected]
RC: Rachel Holder
Montana
Tim Burton
[email protected]
RC: Jeffrey James
Nebraska
Lynn Rex
[email protected]
RC: Jeffrey James
Nevada
Wes Henderson
[email protected]
RC: Matthias Helfen
New Hampshire
Judy Silva
[email protected]
RC: Ann DeSanctis
New Mexico
William Fulginiti
[email protected]
RC: Ashley Brown
New York
Peter Baynes
[email protected]
RC: Jeffrey James
North Dakota
Blake Crosby
[email protected]
RC: Ashley Glass
Oklahoma
Mike Fina
[email protected]
RC: Nallely Manriques
Pennsylvania
Rick Schuettler
[email protected]
RC: Matthias Helfen
Rhode Island
Brian Daniels
[email protected]
RC: Jeffrey James
South Carolina
Wayne George
[email protected]
RC: Nallely Manriques
Tennessee
Margaret Mahery
[email protected]
RC: Ashley Brown
Utah
Roger Tew
[email protected]
RC: Yao Geng
Virginia
Kim Winn
[email protected]
RC: Ann DeSanctis
West Virginia
Lisa Dooley
[email protected]
RC: Chantalle LaFontant