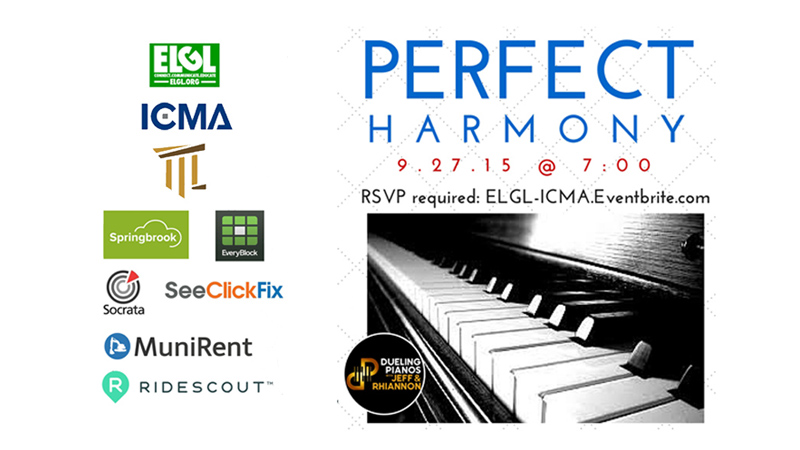 For the second year in a row, ELGL will be co-hosting an event with ICMA at the ICMA Conference. This year we're bringing a couple of pianos and booking a much larger room. More than 500 local government professionals from all areas of local government will attend. Registration will continue until we reach maximum capacity. We recommend registering as soon as possible. Let's get prepared for the ELGL and ICMA "Mixing in Perfect Harmony" event by hearing from our guests.
Michelle Kobayashi
Vice President- National Research Center, Boulder, CO
If you could pick any three bands (dead or alive) as the opening act for the Dueling Pianos event, which would you choose?
Van Morrison
Neil Diamond
Garth Brooks
Because these artists have songs that many folks know by heart so they make for a great sing-a-long!
When I learned the ICMA Conference was being held in Seattle, I thought….

I cannot wait to go to the Pike Place Market and see a Starbucks store on every corner!! 
I knew local government was the career for me when….. When I did a research study on trash haul and it excited more people than all of my work in academia combined.  I learned local government had the ability to change people's lives in a more direct, measurable way. 


Our #13Percent Initiative focuses on increasing diversity in the local government workforce. Give us your perspective — does local government have an issue? what, specifically, can we do to increase diversity in the workforce?
I believe many of the issues we are seeing with community policing and public trust might find less discord if greater diversity existed in local government leadership and on local government police forces.  
Although much work needs to be done to increase the diversity of the local government workforce, one worthy strategy might be to work to increase the prevalence of residents from diverse backgrounds serving on city councils, boards and commissions.  Intentional recruitment of future community leaders from educational institutions, faith based communities and other community-based organizations can set an example of diverse leadership and community voice.  
The Seahawks lost the Super Bowl by passing instead of running from the 1-yard line. Give us your best tip(s) for rebounding from difficult situations.
I think of my grandmother and the many hardships in her life. I remember her always saying, "Life is no picnic".  Then I laugh.