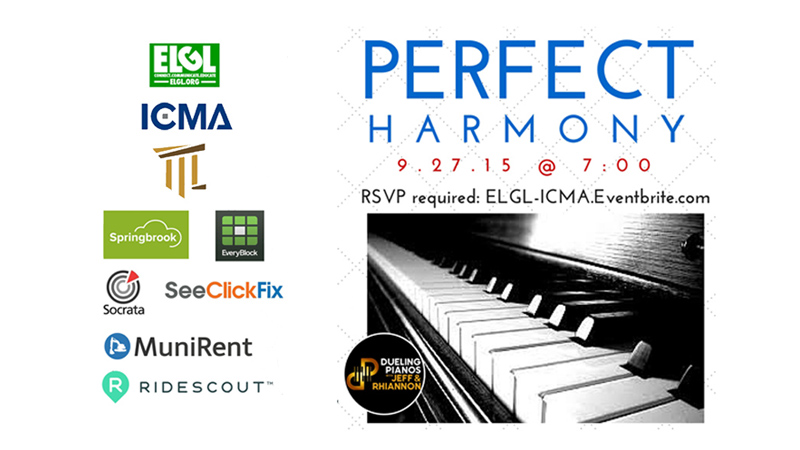 For the second year in a row, ELGL will be co-hosting an event with ICMA at the ICMA Conference. This year we're bringing a couple of pianos and booking a much larger room. More than 500 local government professionals from all areas of local government will attend. Registration will continue until we reach maximum capacity. We recommend registering as soon as possible. Let's get prepared for the ELGL and ICMA "Mixing in Perfect Harmony" event by hearing from our guests.
Ian Howatt

Director of Strategic Leadership, City of Edmonton, Canada
If you could pick any three bands (dead or alive) as the opening act for the Dueling Pianos event, which would you choose?
When I learned the ICMA Conference was being held in Seattle, I thought…


…and I don't even drink coffee . . .
I knew local government was the career for me…
…When I had my son, and I can now point out to him the impact of my work on and for Edmonton
#13Percent Diversity Initiative:  Does local government have an issue? What, specifically, can we do to increase diversity in the workforce?
Yes, we have an issue – as the level of government most close to the people, we should represent the diversity of the demographic we serve.  What can we do? We need to tell and share our collective story more adeptly.  For many, municipal government doesn't seem like a viable career choice simply because they don't have a clear understanding of the breadth and scope of the opportunities here.  If we built and communicated more broadly our shared understandings – beyond the "bad news stories" – I believe we'd garner greater interest and attract/recruit from all walks of life.

The Seahawks lost the Super Bowl by passing instead of running from the 1-yard line. Give us your best tip(s) for rebounding from difficult situations.
A very wise friend once told me: "when you don't win, you learn."  I believe we can take one of two directions in our career:  play it safe, never try anything new, seek low risk, and move quietly through the organization. Alternatively, we can seek an 'intrapreneurial' mindset and attitude, working to be change agents, taking smart risks, and choosing audacity over safety.  One comes with little reward other than comfort.  I advocate we all seek the second alternative, as this is where real change happens, where we can implement plans, policies, programs and services that realize real change for our organizations and the city's they serve.  This means we'll face difficult situations.  The harder task is not surviving them, but learning from them, rebounding accordingly, and setting forward bravely again.