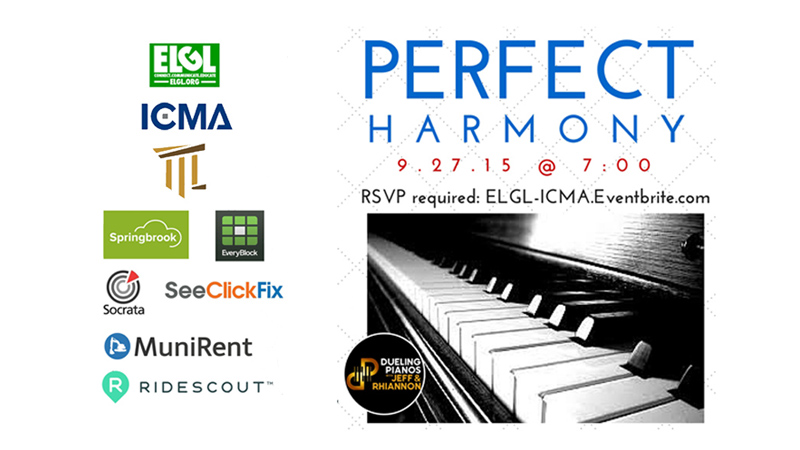 For the second year in a row, ELGL will be co-hosting an event at the ICMA Conference. This year we're bringing a couple of pianos and booking a much larger room. More than 500 local government professionals from all areas of local government will attend. Registration will continue until we reach maximum capacity. We recommend registering as soon as possible.
Let's get prepared for the ELGL and ICMA "Mixing in Perfect Harmony" event by hearing from our guests.
Julie M. Robinson

 – LinkedIn 
City Administrator, Dickinson, Texas
If you could pick any three bands (dead or alive) as the opening act for the Dueling Pianos event, which would you choose?
Bon Jovi
Taylor Swift
Maroon 5
(Complete the sentence) When I learned the ICMA Conference was being held in Seattle, I thought….
…it would be a great opportunity to make it a joint trip for the conference and to see family in the area.
 (Complete the sentence) I knew local government was the career for me when…..

…I figured out that my love of giving back to my community through volunteering could be parlayed into a public service career.
Our #13Percent Initiative focuses on increasing diversity in the local government workforce. Give us your perspective — does local government have an issue? what, specifically, can we do to increase diversity in the workforce?
I believe that there is a deficit of diversity in local government and the way to improve that is to encourage college students to choose local government as a career and to mentor the young professionals to encourage and help them move up in the profession.
The Seahawks lost the Super Bowl by passing instead of running from the 1- YARD line. Give us your best tip(s) for rebounding from difficult situations.

In terms of rebounding from difficult situations, it's a matter of mindset.  I heard a British reality TV host speak several years ago, and he had a great quote:  "If you're bold, you may fail.  If you're not bold, you will fail."  I thought that was a great statement and it's one that I always keep in mind.  This can lead to difficult situations where you do in fact fail, but at least you took the chance.  Without taking the chance, you would never know whether it would have failed.  And if you don't fail, you will never have the opportunity to learn from the failure and grow.  So, when you do fail or you face a difficult situation in your personal life (and just so you know, I am a metastatic breast cancer patient and I live with cancer every day), you must let adversity shape you but not let it define you.  You must figure out how to respond to the situation as opposed to reacting to it.  You must also figure out how to strengthen and empower yourself – and that's different for every person. One of my mantras is one that Lau Tzu used:  "Muddy water, let stand, becomes clear."  And it does.