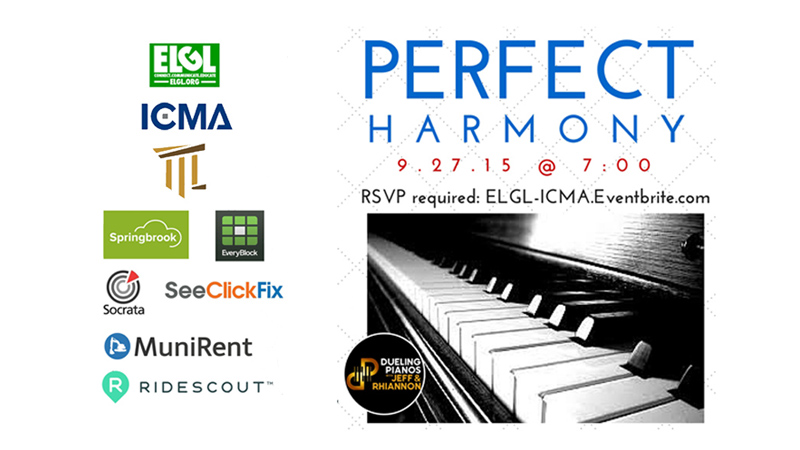 For the second year in a row, ELGL will be co-hosting an event at the ICMA Conference. This year we're bringing a couple of pianos and booking a much larger room. More than 500 local government professionals from all areas of local government will attend. Registration will continue until we reach maximum capacity. We recommend registering as soon as possible.
Let's get prepared for the ELGL and ICMA "Mixing in Perfect Harmony" event by hearing from our guests.
City Manager – Hutton, TX
If you could pick any three bands (dead or alive) as the opening act for the Dueling Pianos event, which would you choose?


(Complete the sentence) When I learned the ICMA Conference was being held in Seattle, I thought….
What if the tectonic gods don't like that many city managers in one place?
(Complete the sentence) I knew local government was the career for me when…..
… 
I learned I could make more money with my social work degree.
Our #13Percent Initiative focuses on increasing diversity in the local government workforce. Give us your perspective — does local government have an issue? what, specifically, can we do to increase diversity in the workforce?
Local government definitely has an issue.  We have to inspire more young people to see themselves with a future in local government.  These days, that means we need a reality TV show (while I think this is a great idea, it makes my colleagues in Texas laugh!)
The Seahawks lost the Super Bowl by passing instead of running from the 1-year line. Give us your best tip(s) for rebounding from difficult situations. 
Find your happy place and be aware of what your energy "drainer" is.  I was just visiting with a colleague and we were discussing that the lack of civility in discourse leaves us both spiritually drained and so we need to find what rejuvenates us very quickly after an ugly meeting.  I find pulling weeds in my garden is a great rebounding exercise since weeds don't talk back.