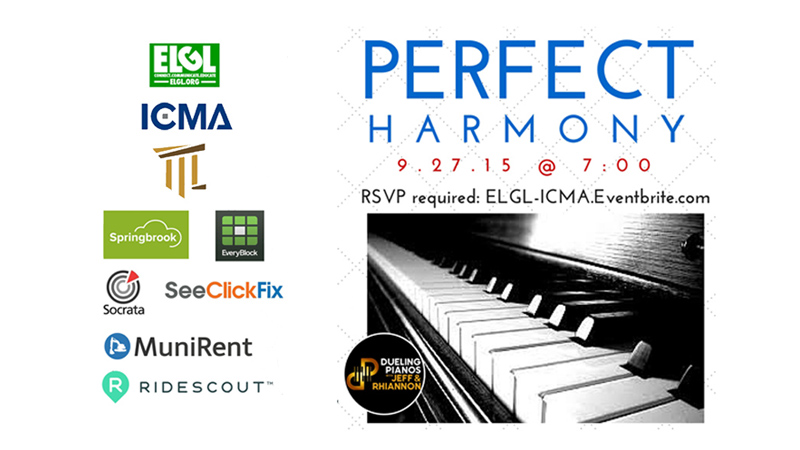 For the second year in a row, ELGL will be co-hosting an event at the ICMA Conference. This year we're bringing a couple of pianos and booking a much larger room. More than 500 local government professionals from all areas of local government will attend. Registration will continue until we reach maximum capacity. We recommend registering as soon as possible. Let's get prepared for the ELGL and ICMA "Mixing in Perfect Harmony" event by hearing from our guests.
If you could pick any three bands (dead or alive) as the opening act for the Dueling Pianos event, which would you choose? 
Pearl Jam
Mike Doughty
Rocky Point All Stars
(Complete the sentence) When I learned the ICMA Conference was being held in Seattle, I thought…ahead to my happy condition, surrounded by acres of clams. I grew up in Kitsap County, Washington, which I tell you with no bias is the most beautiful place on earth. (Okay, fine – it's tied with Colorado for the most beautiful place on earth. But both are incredible.)
(Complete the sentence) I knew local government was the career for me when…..… I kept going to neighborhood association meetings for fun after work.
Our #13Percent Initiative focuses on increasing diversity in the local government workforce. Give us your perspective — does local government have an issue? what, specifically, can we do to increase diversity in the workforce? 
There's work to be done there, but I also like to remember there are amazing women in this field – Colorado's own Kathy Hodgson in Lakewood and Jane Brautigam in Boulder are two sparkling examples – who do great work in this field and are role models for both men and women on their way up. Seasoned managers of all stripes help enormously when they reach out to mentor promising women (along with men) in this field, too. We'd love to learn from your experience!
Seahawks lost the Super Bowl by passing instead of running from the 1-yard line. Give us your best tip(s) for rebounding from difficult situations. 
(&!$%$. Thanks for bringing that up again, Kent.)  Having great family and friends who love you no matter what.