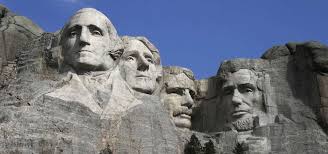 It's Mount Rushmore season for ELGL members. We're asking for your top four list on a variety of topics.
---
Alyssa Dinberg
City of Kansas City, MO – Cookingham-Noll Management Fellow
Connect: LinkedIn
---
Issues Facing Kansas City
New KCI Airport terminal, although this is no longer a problem as the KCMO voters passed it with 75% approval!!!!
Firefighter overtime
Distribution of $800 million GO Bond funds for infrastructure
The Chiefs peeking too early in the season?!?!
Dinner Guests
Barack Obama
Beyoncé
L.P. Cookingham
Both of my grandfathers
Thanksgiving Traditions
Everything but the turkey
Iron Bowl (Alabama vs. Auburn football game) Roll tide!
Inviting members of the community that are either new to town or without family to join us for dinner
Career Goals
Make it through budget season
Narrow my interests and land a sweet permanent position with KCMO after the fellowship is over
Become a City Manager or Assistant City Manager of a large city
Colors
Charcoal grey or a light aqua teal