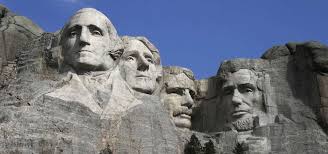 It's Mount Rushmore season for ELGL members. We're asking for your top four list on a variety of topics.
---
Lauren Freeman
AmeriCorps VISTA working in Albion, Michigan
---
Albion attractions: 
Albion's Historic Bohm Theatre – An amazing example of community collaboration and resilience, received prestigious Governor's Award for Historic Preservation, and has quite the interesting history.
Festival of the Forks – An annual festival to celebrate Albion's prime location at the fork of the Kalamazoo River and includes lots of great food, music, a car show, parade and much more.
Albion's Downtown – Our main street will finish up a huge rebricking project here shortly, which is a big step in our efforts to revitalize the downtown area. It's an exciting time to be in Albion!
The people – Albion is a diverse, small town community in Michigan with a lot of heart. Getting to know Albion residents has been on the greatest gifts of my year of service as an AmeriCorps VISTA.
Halloween candy: 
Honestly anything chocolate, but here are some of my favorites.
Almond Joy
Kit Kat
100 Grand
Twix
Dinner guests: 
Jane Jacobs
Matthew Desmond
Barack Obama
Lin-Manuel Miranda
Movies: 
Good Will Hunting
Interstellar
The Grand Budapest Hotel
Bridesmaids
Life goals:
Live in a big city.
Earn a graduate degree.
Own a dog.
Make a positive impact in Albion and other communities I work in throughout my life.