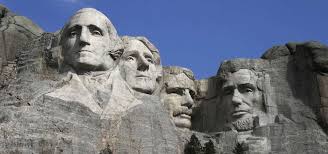 It's Mount Rushmore season for ELGL members. We're asking for your top four list on a variety of topics.
---
Louise Wyatt
Organizational Development Manager, Albemarle County, VA
Connect: LinkedIn
---
Issues facing Albemarle
Retirements and loss of institutional knowledge
Attracting and retaining quality employees (especially younger generations)
Increased urbanization of our County
Growing our economic development program
Holidays
Thomas Jefferson's birthday (April 13th. We get it off!)
Thanksgiving
Christmas
National Talk Like a Pirate Day
Dinner guests
Tom Hanks
Brene Brown
Sam Sanders
Tamara Keith
Career accomplishments
Helping the County articulate a vision and leadership philosophy, and working on implementing it…
Helping to establish and foster peer-to-peer job shadowing in the County
Helping to establish and lead the County's annual  6-month-long  Innovative Leaders Institute, starting in 2011
Helping to manage the County's Innovation Fund, which allows employees to get one-time funding to try something new!
Fall activities 
Visiting local wineries and cideries
Cheering UVA football
Pumpkin carving with my kids
Getting lost (and kinda terrified) in a corn maze with one of said kids
---
Previously