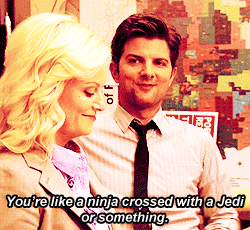 January 2017 is Local Government Mentor Month! All month long, we'll be learning from people about how to be an effective mentor (as well as celebrating the people who have mentored us). Blaise Caudill, Research & Management Intern at the Alliance for Innovation and also the city of Goodyear, Arizona breaks it down in this installment. Sign up to share your own mentoring story here.
Blaise Caudill
---
Like 99% of all local-government professionals, I too love the wit, truth, and inspiration of Parks and Recreation. Unlike a majority of that group, though, I didn't want to be Leslie Knope, but rather I have always just wanted to be in the same room as Leslie Knope– to understand her unfaltering commitment to public service, her undying passion for helping others, and her absolute resilience in the face of adversity.
And again unlike many Parks and Recreations enthusiasts, though, I am privileged to be able to have that desire realized in my everyday working experience through my mentor: Pam Weir.
As a member of the Marvin Andrews Fellowship at Arizona State University, I am privileged to serve a year-long management internship in a local Phoenix-metro municipality. About a year ago, I was working through what was seemingly the most important decision I had made in my MPA program: what city to work in the following year. Fortunately, at the same time, Pam and I met at a local management conference.
Pam had also served as a Marvin Andrews Fellow and understood my concerns and perspective. Beyond that, though, from the moment Pam and I met, I knew we belonged to a similar tribe: we were passionate about people and confident we could have a lasting impact on our communities. I knew I wanted to learn from her. I wanted to the platonic Ben Wyatt to her Leslie Knope and decided I wanted to explore the opportunity of working with her in the future.
In a stroke of luck only found in popular sitcoms, I was granted the opportunity to work with Pam in the city of Goodyear, Arizona a few months later. Since joining the team in Goodyear, Pam has approached all of our work with a brilliant outlook that would make Leslie Knope even envious (and probably cause Leslie to subsequently eat stacks on stacks of waffles in contemplation) and makes me excited to come to work every day. Be it through our one-on-one meetings, providing valuable insight into potential future career moves, or project advice, Pam always brings an optimistic and open-minded approach to our conversations.
Like so many other parts of life, a mentor/mentee relationship takes time and commitment. Luckily, for Pam and me, it was less of an effort and more of what felt like a reconnection with an old friend. Just like Leslie and Ben, Pam and I mutually learn from each other and our shared experiences. During our time spent together, we have grown to know each other and more, to truly understand each other, which had helped tremendously in times of stress, or when in need of advice, or even when we both just want some waffles.
It is a privilege to have the opportunity to mutually learn from each other and more than anything else, it is a privilege to know that we always have a cheerleader in our corner of life. I look forward to the day when I, too, can be a Pam Weir for someone else.
Share your own mentoring story! Sign up to write for ELGL here.
---
Supplemental Reading